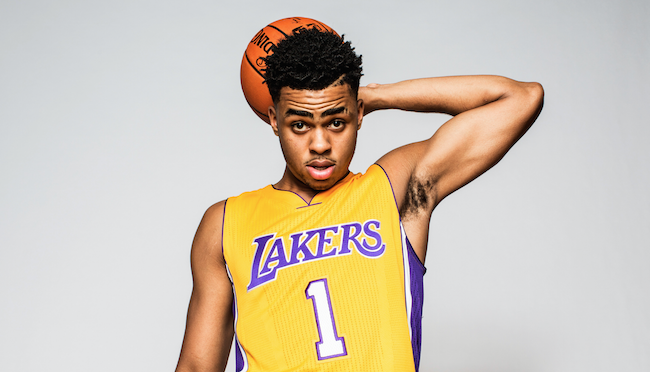 23 division titles. 31 conference championships. 16 Larry O'Brien Trophies.
George Mikan. Elgin Baylor. Jerry West. Wilt Chamberlain. Kareem Abdul-Jabbar. Magic Johnson. Shaquille O'Neal. Kobe Bryant.
It remains to be seen whether or not the Los Angeles Lakers will ever again enjoy the sustained excellence that they've so consistently had during their nearly seven-decade history. If draft position were a surefire indicator of future success, though, D'Angelo Russell is the next player bound to join the list of purple-and-gold luminaries above. But in terms of popularity, the rookie point guard almost certainly won't get there should he continue indirectly alienating the league's largest – and one of its most maniacal – fan bases.
Earlier this month, Russell made headlines when he tweeted that Tracy McGrady merits consideration as the greatest player ever. Lakers followers didn't take too kindly to that opinion, of course, almost universally and immediately coming to the defense of Bryant – and it's not like the five-time champion helped his new teammate's matters, either.
Kobe, though, was simply having a little fun with the 19-year-old – he wasn't actually offended by Russell praising one of his chief rivals. The pair even made clear there was no animosity between them as Mamba Nation continued its collective and wholly unnecessary uproar.
When asked about the incident recently, however, Russell didn't quite warm himself to the Los Angeles faithful. Here's the Ohio State product courtesy of the Los Angeles Daily News' Mark Medina.
"There's a lot of spoiled Lakers fans. I wasn't downgrading Kobe at all," Russell said Saturday in an interview with the Los Angeles News Group. "I was just watching a highlight tape of Tracy McGrady and I got excited. I tweeted and the whole state of California went crazy."
In Russell's defense, he was hardly criticizing Lakers fans. They have many, many reasons to be spoiled, including the reality of which they should be very proud. The list of greatest players in franchise history is a who's-who of basketball royalty, and Los Angeles has won more titles than any team save for the Boston Celtics.
But if the rookie wants to ingratiate himself to his new fan base, flattery is probably a more prudent means of doing so than a well-earned critique – no matter how tepid or unintentional.
[Via Los Angeles Daily News]