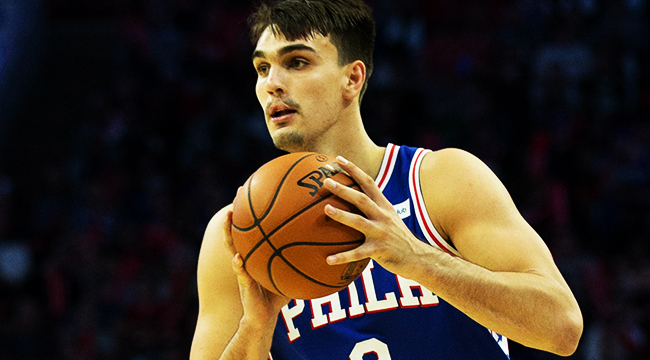 LOS ANGELES — In the back of a coffee shop a half mile from Staples Center, Sixers second-year forward Dario Saric relaxes in a Nike sweatsuit, all but anonymous to everyone else. As he sips his double espresso macchiato before his appearance in the Rising Stars Game later that day, a group of people take a seat at the table behind him and request to borrow an empty stool. Saric obliges, and one of the coffeeshop patrons drags the stool away, oblivious to the fact that they're talking to a starter on one of the NBA's fastest rising teams.
Outside of Philadelphia, Saric is not yet a household name, but that could change quickly following this year's playoffs. The 24-year-old Croatian affectionately known as "The Homie" has found his niche as a secondary star with the Sixers, slotting in alongside the effervescent Joel Embiid to make for one of the league's best young frontcourt combos.
Saric was, to some, the afterthought of The Process' many lottery picks. He selected 12th overall in 2014 by the Orlando Magic and flipped to Philadelphia in exchange for the No. 10 pick, Elfrid Payton. No one knew when, or even if, he would come over to join the Sixers' crowded young frontcourt.
Saric remained in the Turkish League, playing for Anadolu Efes for two seasons after being drafted. As is often the case with draft-and-stash players, Saric become forgotten to the masses. The corner of Sixers Twitter that consisted of the diehard supporters of Sam Hinkie passed his highlight tapes around, insisting that this 6'10 power forward would eventually come to fit in perfectly in the modern NBA with his ability to stretch the floor and his playmaking capabilities.
There were plenty of doubters that Saric would come over, pointing to the Sixers' ever-growing logjam of young frontcourt players with Jahlil Okafor, Nerlens Noel, and Embiid, if he could ever get healthy. When would Saric even play? Would he be willing to come over to be a fourth big in a rotation? For Saric, it was simply a matter of when he felt comfortable diving into the NBA, ultimately deciding to do so in July 2016.
Sixers Twitter loves to remind people of those questions now, mocking the old Saric doubters as they take their victory lap following a 52-win season and a 3-seed in the Eastern Conference. Embiid became an All-Star center, Saric's early success rendered Noel disposable, and Okafor failed to adapt as a big in the modern NBA, eventually being dealt to the Nets this season after completely falling out of the rotation. Once the afterthought of the quartet, Saric became a key factor in the Sixers' accelerated path to team success.
But like all players that come into the NBA for the first time, whether they're picked out of college or make their way from a club overseas, there was an adjustment period and some self-doubt Saric had to overcome.
"Everything is pretty similar, basketball-wise, but everything is faster," Saric told Dime. "People are more athletic and they're better players. Better one-on-one players, they can score in so many ways and defense was harder than I expected. Everything's just a little more difficult. The players are just unbelievable scorers, and you have to stay close to them because if you give them a little space, they'll find a way to score."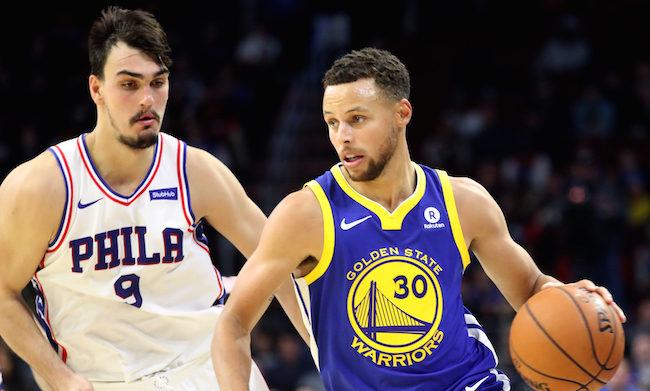 Saric vividly remembers one of his first "welcome to the NBA" moments. It came against the Houston Rockets in his rookie season. James Harden gave him a taste of how different it was to get switched onto the perimeter in the NBA compared to Europe by continuously forcing a switch and lighting him up over and over.
"In Europe I'd switch and I knew I could guard the guards there, but in the NBA when you switch and you get James Harden or Steph Curry, it's like a little bit different of a story," Saric recalls. "It was hard for me, I think Harden one game he scored like 15 points on me in like three minutes. He'd call my man, I'd switch, and he'd score on me. But I think that's one thing about growing up in the NBA. You're playing against the best players in the world and of course sometimes one player is going to sit on your back and try to score against you all the time."
Saric eventually found his comfort zone on the court while also learning to enjoy life in Philadelphia, embracing the city just as the city has embraced this young team. Life in Philly is quite the departure from growing up in small-town Croatia and playing for European clubs, but nearly two years into living in his new home, he's finding ways to enjoy big city life while also finding little escapes.
He can regularly be found at Gran Caffe L'Aquila in Philadelphia, which he affectionately refers to as "his place." It's a spot that lets him sip his beloved coffee and consume good Italian food — it makes him feel like he's at home. Saric found the first two or three months of his transition especially difficult, because he had to get into the rhythms of American life and the lifestyle of an NBA player, which is far more independent than that of playing in Europe.
"It was different. The lifestyle is different. Basketball life is different," Saric says. "It took like two or three months to learn everything from how to act, how to go on trips, how to drive every day to the facility. Everything is different. Like, in Europe, I'd go one day before to the hotel, you stay with the team and I had my roommate, and then the next morning we had our team breakfast, went to the gym as a team. We'd play, and then you could go home. Here, you're more on your own."
For Brett Brown and the Sixers staff, there's been an adjustment processl in working with Saric to learn NBA verbiage and, as Brown puts it, American phrasing. While he speaks English quite well — he picked up the language watching Batman cartoons as a kid — there are still some language barriers to overcome at times between he and Brown, who speaks with a thick South Portland, Maine accent.
Brown can tell there are still moments he's not quite on the same page with his power forward, especially when barking out orders from across the court, but he notes their communication is steadily getting better. It's one of the significant improvements he points to that's helped Saric improve this season.
"I think his knowledge of the NBA and my verbiage is continually growing," Brown says. "I think nobody really understands, despite how much high level basketball he played in Europe, the NBA words, learning American phrasing and my phrasing, that was all evolving and it's still evolving. Sometimes you'll see me talking to him from a distance on the court, and you can tell he doesn't understand and you have to go through it with him and he gets it and we move on. But people don't understand that side of development matters as well."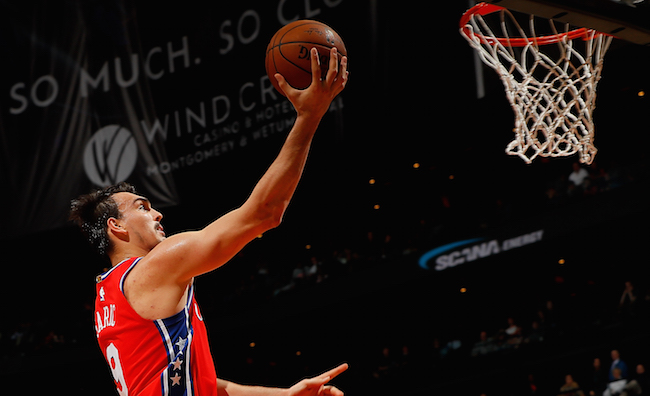 Saric's first taste of success in the NBA came against the Orlando Magic early in his rookie campaign. That 21-point performance in the third game of his career proved his style of play could translate to the NBA, but it wasn't until he was thrust into the spotlight for Philadelphia that Saric fully established himself as a potential standout in the league. When Embiid went down with a meniscus injury in late January, Saric was suddenly the Sixers' go-to offensive playmaker.
Right away, Saric recognized this was his chance to really establish himself in the NBA.
"We started the season playing two games at home and I really struggled and I thought it was going to be a hard year for me," Saric said. "After that I had a good game against Orlando and I started to think, 'Ok, I know this is one game, but I can play here and play with these guys.' After that all my games were up and down, up and down, and right before All-Star I had a couple good games and I realized it was my time. Joel was out, it was my time to come out and play hard and try to show myself. So I did that for a couple games before All-Star and kept it going after we got back."
Saric averaged 16.2 points, 6.8 rebounds, and 2.9 assists per game in Embiid's absence over the course of the final 40 games of the year, accruing 26 start and earning plenty of Rookie of the Year buzz in the process. Embiid's absence showed that Saric could be a major offensive threat, but with Embiid set to return to action, there was never any doubt who would become the focal point of the offense. Saric's job was to figure out how to play alongside Embiid and complement his style the best he could, along with learning to play with a new point guard in Ben Simmons.
With a dominant center that operates in the post and pick-and-rolls as well as Embiid does, and a point guard that is unstoppable attacking the rim but provides no threat from the perimeter, Saric suddenly needed to expand his range to fit into a new role during the 2017-18 campaign.
"It was hard, what I expect from myself," Saric says. "I knew how hard I was going to work at every practice and every game, I know that was the only thing I was 100 percent sure of. I would be tough, I would play tough, but I don't know how I would look on the floor. And now, especially when you've got Ben and Joel, you need to adjust in a new role and a new position, and for sure the beginning of this season was a bit hard for me. I would have one good game, two bad, and I tried to figure out how to play with Ben and J.J. and everyone. I think now I've found a way to play. I adjusted to this new alignment and new team, and have been able to find myself and my role, how to score and impact the game."

While it called for an adjustment on his part, Saric is quick to lavish praise on his superstar center, calling Embiid "the best defensive player in the league" and raving about what a unique and special player he is on both ends of the floor. Embiid's defensive prowess and rim protection have assisted in Saric's development on that end and generally made life easier on the power forward. On offense, Embiid has enough range to allow Saric to work in the post at times.
Still, it's no secret that Embiid is at his best around the basket and it often falls on Saric to provide room for him to work. A year after shooting 31.1 percent from distance as a rookie, Saric has become a much-needed marksman for the Sixers, creating space for the dynamic Simmons-Embiid combo to operate in pick-and-rolls and attack the rim.
When the time comes, Saric is ready to knock down a big shot when the defense collapses on the two stars. Saric is shooting 39.3 percent from three-point range this season on 6.2 attempts per game (up from 5.8 last year). He admits he got off to a bit of a bumpy start to the season, but has found his comfort zone since the start of 2018. Since the beginning of January, Saric has connected on 41.5 percent of his triples.
"Obviously when you have Ben on the floor, you need the big guys to be able to space the floor a little bit more," Saric says. "The coaches talked to me all the time about how three pointers are your future, and if you can figure out how to be really effective at the three-point line it'll be a new world for you. Especially with Ben, because you know that he's not taking those shots because he's a driving guy. It took some time to figure out how to play like that and it used to be hard, but I feel like I've adjusted to that now."
The Sixers' starting lineup is among the league's most dominant groups, as the five-man grouping of Simmons, Embiid, Saric, Robert Covington, and J.J. Redick boast an astonishing 21.4 net rating this season, lighting up opposing defenses to the tune of a 117.1 offensive rating and locking down on the other end with a 95.7 defensive rating. That group is exceptionally well balanced, with a trio of shooters in Redick, Covington, and now Saric making life difficult decisions for defenses when Simmons and Embiid attack the rim.
Provide help and it's a knockdown shot from, at worst, a 37 percent shooter (Covington). Stay at home and Simmons and Embiid are going to, more often than not, get a look right at the rim. It's a fairly astonishing turn for a team that was once criticized for its lack of balance from frontcourt to backcourt, thanks to the development of Covington into a stud on the wing, the addition of Redick, and the growth of Saric as a perimeter threat.

To find this level of success as a young team in the NBA is rare, but the relationships of Philadelphia's young core allows them all to take turns keeping each other in check and making sure everyone is staying in their role. Veterans like Redick and Amir Johnson have helped, but Saric says he, Embiid, and Simmons are all comfortable approaching each other with criticisms or thoughts on things they can improve on.
"I think everything's actually easier with the core of the team being very, very young and our ages are all similar," Saric says. "We are a good group of people and always try to be honest with each other and try to always talk. If something's going wrong, say with Ben, I grab the opportunity to say to him, 'Ben, you are doing this thing wrong,' and the same from Joel to me and same between them. It's a very honest relationship and very respectful between each other. I think that's our strength. It's not like there's a difference in ages or anyone's jealous. We're all really young, but the most important thing is we respect each other."
Those strong relationships will be important for the Sixers as they enter their first postseason. They will face different challenges and find ways to adapt as teams attack them in different ways. Simmons and Embiid have been dynamic this season, but teams will undoubtedly look to force them to rely on their teammates to win games once Embiid returns from orbital surgery.
That means the pressure will fall on Saric, Covington, Redick, and others to not only provide the same support they have all season to their star players, but to step into larger roles when needed. For Saric, the postseason might be a chance for him to flash his playmaking capabilities more should teams try to take the ball out of Simmons and Embiid's hands.
Saric's passing ability was touted as one of his chief strengths in the draft process, with scouts raving about his basketball IQ and playmaking from the power forward position. Those skills were honed as a kid, when he was made to play point guard despite being bigger than everyone else so that he would learn how to dribble and see the floor. He grew up idolizing Magic Johnson and later, as did most of his generation, LeBron James. But the players he wanted to mimic on the floor were Manu Ginobili and Lamar Odom.
Since coming to the Sixers, he's been able to flash those abilities at times, but has been forced to improve in other areas of his game, chiefly as a spot-up shooter. However, his playmaking could be an x-factor in Philadelphia's playoff run as he can provide auxiliary help in that area when teams key in on Simmons and Embiid.
If that ends up being the case and the Sixers make a deeper postseason run, Saric may become a recognizable face outside of just Philadelphia. He'll probably never eclipse his two superstar teammates in popularity, but he's fine with that. The Homie knows his role and he plays it well, but when the time comes for him to step up and have a big game, he'll be ready to make the NBA world take notice.