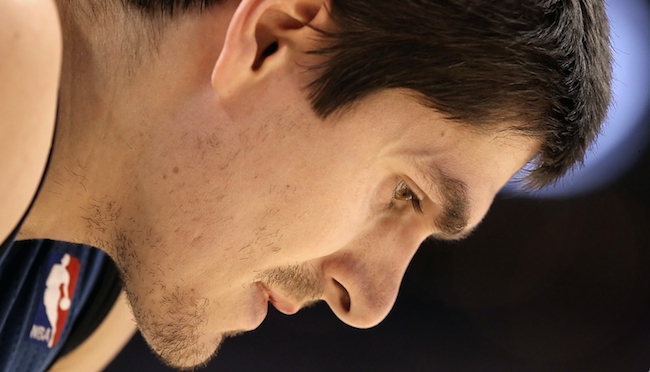 Darko Milicic never lacked for talent. The second overall pick of the storied 2003 draft routinely flashed the unique ability that made him such a tantalizing prospect throughout a nine-year NBA career that will forever live in infamy. That's the unfortunate and inevitable reality that accompanies a completely serviceable player being selected between LeBron James and Carmelo Anthony, a pair of future Hall of Famers.
Those who spent time with the seven-foot Serbian during his time in the league, though, describe his relative ineffectiveness differently than the masses. It wasn't ability that kept Milicic from living up to expectations, they say, but an approach to the game and overall attitude that directly clashed with the often cutthroat nature of NBA basketball.
Case in point: his assessment of Kobe Bryant.
In a lengthy interview with Blic Sport, a Serbian newspaper, Milicic details his arduous path from basketball prodigy to washout over the course of a long, long decade. The 30 year old's discomfort with the antagonistic competitiveness of NBA players is especially evident when he recalls this exchange with Dikembe Mutombo.

It's his take on Bryant, however, that might be most telling of Milicic's more laid back on-court demeanor. Translation courtesy of HoopsHype:
"Nobody in particular annoyed me, but Kobe Bryant is the dirtiest player with the things he does on the court. But without a doubt he is a beast. He was amazing."
Dirty?
Bryant is a lot of things: relentless; driven; maniacal; even outright mean. But "dirty" is a new word used to characterize the five-time champion. Unless, of course, Milcic means it in the positive sense young people use that adjective.
For instance, Bryant not flinching after Matt Barnes shoved the ball in his face is "dirty."
Yeah. That's definitely what Darko meant, right?