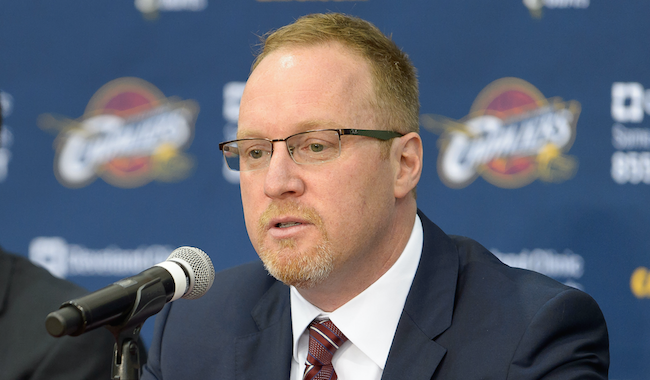 The 2019 version of the NBA trade deadline was one of the more chaotic ones in the league's history, with big names like Kristaps Porzingis and Tobias Harris changing teams and another, Anthony Davis, asking for a trade that ultimately never came to fruition. All of that traffic had David Griffin reminiscing about his time as the general manager in Cleveland, and the pressures of needing to get better in mid-February under the weight of a championship or bust mindset.
"I think I, over time, got more comfortable in my lack of comfort, which takes time," Griffin told Dime. "By the end, the trade deadline was a really enjoyable process. In the beginning, when you've absolutely got to get better, it's pretty stressful."
Griffin has now watched two consecutive trade deadlines pass as a member of the media instead of working the phones deep into the night. He's a regular contributor to NBA TV, and recently helped judge four contestants who were put through the ringer of general manager duties to see if they have what it takes to run a successful NBA franchise. The show is called "GM School," and it debuts Wednesday night.
Griffin is still eyeing a return to a front office himself, and while he waits for the right opportunity, he took some time out to talk to Dime about that crazy trade deadline, Kyrie Irving and LeBron James patching things up and when it might be time for him to run an NBA franchise again.

Dime: Tell us about "GM School." It sounds like a pretty cool concept.
David Griffin: SAP did a great job of putting together four really diverse contestants with totally different backgrounds and totally different strengths. Obviously the analytics portion was significant. NBA TV helped out with Rosalyn Gold-Onwude as our host, she does a phenomenal job. She sort of oversees the entire process, all of the challenges, etc. Evan Wasch from the NBA's analytics department takes them through a draft-related analytics exercise. Kevin McHale took them through an exercise as well.
I just think we had a neat approach to it. I think there's a little bit of drama, there's a little bit of that reality show contestant feel, but there's also a pretty deep basketball conversation. So I hope it ends up talking to both the analytics nerds that I might be and more casual fans that are just intrigued by the NBA.
Has there been the rise of any advanced stat in the last few years that you think have really changed the way we view the game of basketball?
I think in large part due to SAPs partnership with the NBA and nba.com, I think you see far more robust data sets that are available to fans that ever have been. Second Spectrum and the advancement of the on-court cameras, I think, has been mind-blowing to me, in terms of the data sets it offered. In fact it's so robust you almost can't have enough programmers to break it all down. I think that has surprised me to some degree.
Honestly, I think the most important advancement is just the understanding that it's not the answer in and of itself. I think it's been a leveling of the playing field for owners who have bought in, who might not be career basketball fans. I think it's helped sort of bring everything into a common language for people, and because of that it's made your ability to analyze data really significant relative to decision making and leadership in a front office. But it's also made it so that you have to understand the limitations around it, and that is there no sort of holy grail number that's going to tell us without fail that someone has what it takes, or that you should run this sort of play or that you should run your defense this sort of way. There isn't one of those, and data is only going to be as useful as the quality of questions we ask it to solve.
I think that's probably where we've gotten now. We might have the data available to answer the type of questions that can really be the difference between winning and losing. The teams that use that data the best are still going to be the ones that go the furthest.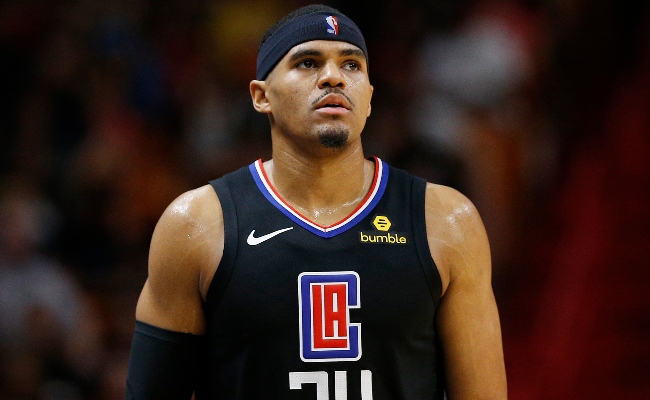 This was maybe the craziest trade deadline the NBA has ever had. Was the trade deadline stressful for you?
It is when the only thing that's going to mark success is winning a championship, because your margin for error is much smaller. A lot of people can go into the trade deadline really fixated on, "I'm only going to make a deal if it's a great deal and it makes me look good." We (in Cleveland) didn't have that luxury. We went into the trade deadline needing to get better, and I think you saw there were teams in the league that recognized they needed to get better.
It's why I had so much appreciation for — whether you like that individual deals or not — I had a great appreciation for what Milwaukee, Toronto, Philadelphia, what they did at the deadline. They declared a side, and then went all in to a huge degree. When you do that, yes, you have a radically more stressful trade deadline.
We were really blessed in Cleveland, because Dan Gilbert will spend whatever it takes to win. We were able to build an incredibly deep, very good staff. Most of those people are still there, and the quality of decisions you make as a franchise has everything to do with the quality of information you're getting and the strategies that you're employing. Dan supported that process with incredible financial resources and was a big part of the decision making process that led to that infrastructure as well. I think we were blessed to be in a situation where we knew we would be brokering in better information than most at the trade deadline.
It seems like, from Kyrie Irving to Jimmy Butler to Anthony Davis, players are making their preferences known in a much more public way. Do you think that's made things more challenging for front offices?
I think this perception that players are more vocal now or more willing to share their opinion is probably not entirely fair, but I think it comes from a confluence of different events that have transpired in the last few years. The most recent CBA changes were really designed to help small markets teams keep stars, but the unintended consequences of that is it sort puts an alarm clock on. It says, "Hey, look, you're going to take the super max at this point and if you don't want it from the team you're going to get it from, you need to burn their house down." And I think that's what agents have, that's what they're applying to the super-max and what it was intended to do.
Unfortunately now the money around the game is so great, guys that are signature shoe guys, by way of example, make so much money off the court, the money that you can give them in a super max contract isn't enough to mitigate the money they can make off the court. Whereas the original consequence that was intended was, you're more likely to keep a star home, I think what you've seen is the star recognizes, "I don't want to be forced to stay here, I want to make my own decision." Their reaction is to do what you've seen done.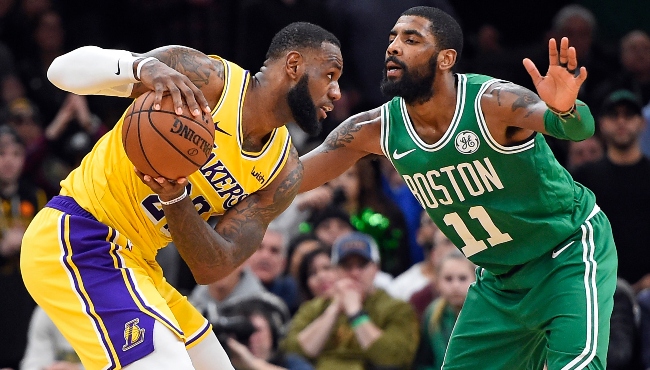 You spent a lot of time around both Kyrie and LeBron during your time in Cleveland. They seem to be in the process of repairing a relationship that appeared to be fractured when Kyrie asked out of Cleveland. What are your thoughts on where their relationship is now?
For me, what I publicly perceive that relationship is viewed as is what I always viewed it as to begin with. I never looked at their relationship as being strained. We had a natural collision of things. We had probably the greatest player of his generation in LeBron James, who was going to be the most ball-dominant, most efficient dictator of outcomes on the floor in Finals, and he's always going to be that. And then we had a 23-year-old Kyrie Irving, who had already made the most important shot in franchise history, who knew he was capable of more and who wanted the opportunity to do more in terms of leading a franchise. It didn't have anything to do with "wanting his own team."
At the time (Irving) made it clear that he might be happier elsewhere, I think he was at a point where he was just looking for a platform to see how good he could really be and he was not going to get that on a team that had LeBron James, because if your goal is to win a championship, any coach in the world is going to put the ball in LeBron's hands because he's the most efficient, ball-dominant play-creator in Finals history. So he's going to have the ball, and that's problematic if the way you're going to grow and evolve is to prove that you're capable of making people better at a similar rate. It was natural that eventually they're going to need different platforms. I think from a human perspective, what people now perceive to be a thawing of their relationship is where they always were. It's just that their basketball realizations were different.
Whenever a GM position comes open, your name seems to get attached to it. Where is your desire at, in terms of returning to a front office? Do you still have that itch?
It's fascinating actually. Projects like "GM School" and NBA TV that I've been able to do have made it possible for me to be more selective, and it's also been eye-opening for me. I've learned a lot being removed from the day to day of a team that I really believe will make me better if I ever go back.
I'm sure there is a situation that would speak to me, an ownership group that I could be in lockstep with and a head coach that could deliver the vision that we have. I think if you can be in a situation where you build a family that loves each other enough to tell each other what they need to hear, if you can be empowered to do that and be part of that with ownership, it's an exciting situation. I think there's fewer and fewer of those, so it's a blessing to be able to be removed from it and really pick and choose your spot.