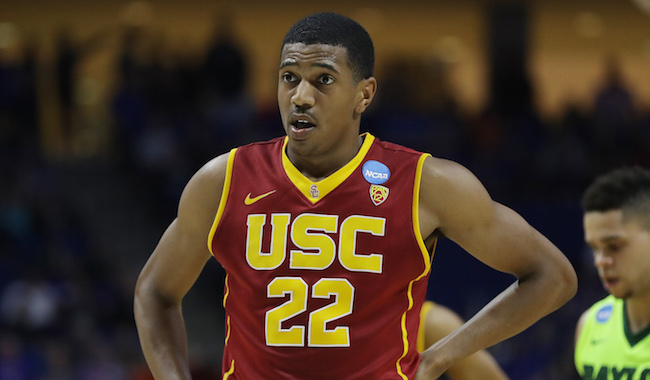 It seemed too perfect a fit not to happen: The draft's analytics sleeper landing with the Houston Rockets. Where OG Anunoby was the Sexy Blogger Pick a year prior, as Fran Fraschilla put it on draft night, De'Anthony Melton represented the spreadsheet darling of sorts, possessing exactly the kind of profile that would seem to endear a player to Daryl Morey and company. Heading in, though, there didn't seem to be any good reason Melton would slide to them. With no pick until No. 46, how would the Rockets get so lucky?
The answer, it turns out, is a mix of factors. NBA teams operate in a more risk-averse and security-seeking manner than objective outside analysts have to work with, for example. Not all teams operate under the Best Player Available approach, depending on where they are on the competition curve, where they're picking, and what immediate needs they think a rookie might be able to fill. Melton is also a little undersized if he's a two and not yet a pure point if he's to play the one, and last anyone saw him in game action, his shot mechanics looked to need some minor tweaking.
And then there's the whole matter of Melton having not played competitive basketball for an entire year. Occam's Razor would suggest the year off is probably the biggest culprit in Melton sliding to what seems like a pretty great situation for him in Houston. Melton was caught up in the adidas/NCAA/USC mess of an improper benefits scandal, and a few months after USC suspended Melton indefinitely, he opted to declare for the draft.
That put heavy pressure on Melton both at the combine and for the pre-draft circuit. Melton measured 6-foot-3 in shoes with a 6-foot-8.5 wingspan, and even as one of the lighter players in the draft at 193 pounds, that's good positional size for a combo-guard. He also plays bigger than his size, embracing physicality and using his toughness on the defensive end and rebounding extremely well for a guard. Factor in his open-court speed, vision on the break or in the pick-and-roll, and an extremely high motor defending on or off the ball, and Melton checked a lot of boxes from a scouting perspective.
His numbers were even more alluring. He only shot 28.4 percent on a modest volume of threes as a freshman at USC in 2016-17, but nearly everything else popped. Namely, Melton had elite steal, block, and rebound rates for his position. He also racked up assists well for a lower-usage player with some minor turnover issues. All told, Melton projected very well despite an average true-shooting percentage and pedestrian scoring stats. That he turned 20 just before the draft surely helped, and while a sophomore season plateauing can sometimes be a negative harbinger, no sophomore season at all left room to project what may have happened, had he played and delivered on the breakout season some were anticipating.
"Analytics, that's like numbers?" Melton half-joked when asked about that element of his pre-draft reputation. "I mean, kind of, yeah. I heard that a lot. But I just play my game, and those numbers just come. I try not to look for stats, and if they come, they come. I just play hard, play smart, and play within the team."

Ahead of the draft, he looked like a first-round pick even with the year off. Jacob Goldstein's player projection tool at The Stepien graded it as very unlikely that Melton would bust. In fact, his model gave Melton just an 11.1-percent chance of not being at least a rotation-level contributor at his peak, as well as a 51.1-percent chance of being a starter-level contributor and an intriguing 22.2-percent chance of producing like a top-25 contributor at some point during his career. ESPN's model ranked Melton 13th in the class, and Kevin Pelton's personal model had him 12th. Meanwhile, even through more qualitative lenses, Melton looked like a first-round pick. Of 14 pre-draft rankings we averaged, Melton's average rank was 20, and only Kevin O'Connor of The Ringer had him graded as a second-round talent of the ranking surveyed, way down at No. 32.
Even tempering expectations, Melton looked on paper (or bandwidth) like a potential high-value role player, and if the year off helped his offensive skills come along, he could have been a steal in the late first round. As a flier in the middle of the second, the potential for the Rockets to wind up with surplus value here is immense. It took a bit of luck for the Rockets to have the opportunity to take him, and they made sure he knew they were happy with how the draft played out.
"Right after I got drafted, I got a call from them. They just felt real confident in me, and I felt like I was admired by the organization. I felt like I was really loved there. So no matter what, you play better when you feel like your organization's behind you," Melton says. "They just said they like the way I get up and down, play defense, and they felt like my shot is getting back to where it needs to be. Although I didn't play this year, I feel like I was one of the better players in the draft. I respect 'em for that. It's really love over here."
Through four Summer League games, he looks every bit a steal, even applying caveats for the context and sample size. He's averaging 16.5 points, 6.5 rebounds, 3.3 assists, 2.8 steals, and 0.8 blocks, and after turning the ball over nine times in the first three games, he turned in a 4:1 assist-to-turnover mark on Wednesday. That game also saw him bang three threes as Morey watched with a smile at midcourt (Mike D'Antoni's expression did not change), bringing him to 10-of-29 on the tournament, a respectable 34.5 percent.
More notable than any stat, Melton is fitting the role of point guard well, getting the Rockets out in transition after stops and turnovers. Los Angeles Clippers Summer League coach Casey Hill lamented Monday that the Rockets were getting across half court with 24 seconds still on the shot clock, and Rockets Summer League coach Roy Rogers identified it as one of Melton's biggest keys to success, here and at the next level.
"We've been on him since we started training camp for Summer League. We wanna get out and run. As coaches, we don't wanna be standing up calling plays," Rogers says. "You know what I've seen from De'Anthony? From the first few days, he was like a little shy, trying to figure out his role, how he fits in, and every day you can see him just gaining more and more confidence. You know, we're sitting there tonight as a coaching staff looking at each other going, 'Wow.' If he keeps improving at this rate, he has a chance to be a really good player in this league."

It's a small, noisy sample, sure, but there are also some strong priors that suggested Melton would be quite good, and the early evidence supports that. Melton doesn't have to be a star, either, just very good in his role. He figures to back up Chris Paul — whose camps he was attending not too long ago and against whom he played in the Drew League — and spend some time spotting up and defending around Paul and James Harden, a heck of an environment to learn the offensive intricacies of the point guard position in.
"He didn't know who I was then but you know, he definitely knows me now," Melton says. "Backing up CP, you know, that's a very good thing. Learning from Chris, James, especially with Michael (Carter-Williams) with us now, too, I can learn from a lot of guys, guys that got some years in the league now."
This is assuming the Rockets sign him at some point between now and the start of the season, which seems a forgone conclusion. Houston is getting tight to the tax with 12 players under contract and Clint Capela's restricted free agency still to sort out, and filling out the roster affordably figures to be a priority. Melton can help, and Houston could offer him a two-year deal at the minimum or use a chunk of their mid-level exception to extend beyond two years. For a draft in which they surrendered their own picks for Paul and Shawn Long and had the No. 46 pick only from flipping the draft rights to Dillon Brooks to Memphis a year earlier, coming away with what looks like a great fit and a likely steal in Melton is a nice piece of business.
Sometimes things seem like too obvious a fit for good reason.