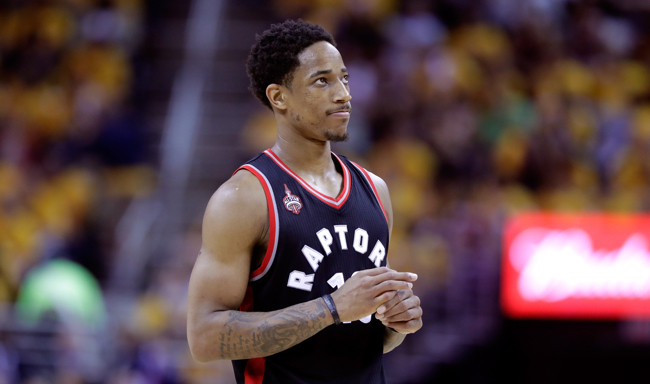 DeMar DeRozan may be capable of dunks so powerful they momentarily freeze Kevin Durant's brain, but he's just as touchy about his reputation as any of us. He proved this when he took to Twitter to understandably vent his frustration with his ranking in Sports Illustrated's Top 100 NBA Players.
On the bright side, DeRozan can at least take heart that he is nearly fifty spots higher than rising stars Devin Booker and Aaron Gordon, and that his love for the Raptors and Toronto have no doubt endeared him to an entire nation of fans who have to share one NBA team between them.
No. 46 may seem low for the 27-year-old, but it makes a certain sense. DeRozan is something of a throwback in this modern NBA, which, when it comes to shooting guards, values the twin platonic ideals of either a super-efficient scorer (James Harden) or a three-and-D defensive specialist. High-usage, low-efficiency guys who make their living in mid-range and aren't great defenders don't tend to get the same sort of love. And it's not as though he hasn't proven his worth over the years. He's an All-Star (in the East)! He won a gold medal! And most importantly of all, Kyle Lowry really enjoys his company! Okay, most importantly he scores a lot of points as one of the pillars of a very good Raptors offense.
Unfortunately, raw points scored don't translate to the same sort of social capital in the NBA that they did even five years ago, and the consensus on DeRozan has always seemed to be that he needs to up several facets of his game before he's likely to crack the Top 20 of any ranking listicle. He's been in the league for over half a decade now, and it's hard to imagine him suddenly casting off all his bad habits at once.
So, look, nobody's wrong. DeMar has been very good these past two seasons! Just very good in a way that's a bit anachronistic amongst the hyper-efficient scorers that populate the modern NBA. In fact, that he's done so much with a "limited" skill-set is to be commended! Good job, DeMar!
Now go drop 46 points on opening night and don't forget to tweet about it.