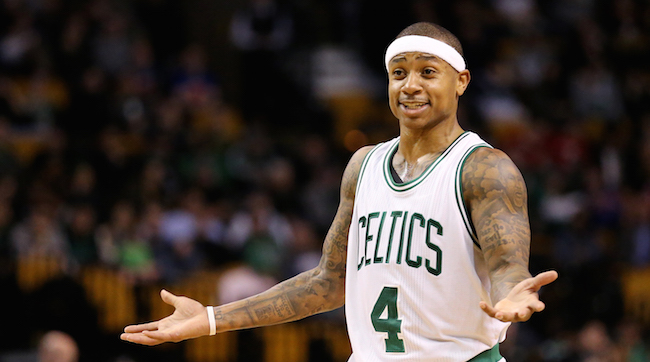 DeMarcus Cousins' final act as a member of the Sacramento Kings was playing two minutes in the NBA All-Star Game on Sunday night in New Orleans. Cousins will remain in The Big Easy after being traded to the Pelicans in exchange for Buddy Hield, Tyreke Evans, Langston Galloway, a 2017 first-round pick and a second round pick.
The trade came hours after rumors began swirling that the Kings were exploring trade options for Cousins, and it caught everyone in the NBA world off guard, including Cousins himself. Fans and members of the media rapidly tried to wrap their head around the concept of Cousins and Anthony Davis playing together in the same frontcourt and it not just being for the Western Conference in the All-Star Game, and we all tried to understand what the Kings were doing by taking back this haul.
NBA players were reacting right along with us all, as they couldn't believe what was happening. Celtics All-Star point guard Isaiah Thomas, a former member of the Sacramento Kings where he was teammates with Cousins, found the pieces going back to the Kings so hilariously bad that he joked that you wouldn't even be able to do that on NBA 2K17 (which he's right about because someone tried it).

A number of other current and former NBA players had similar reactions to how stunning this trade was.