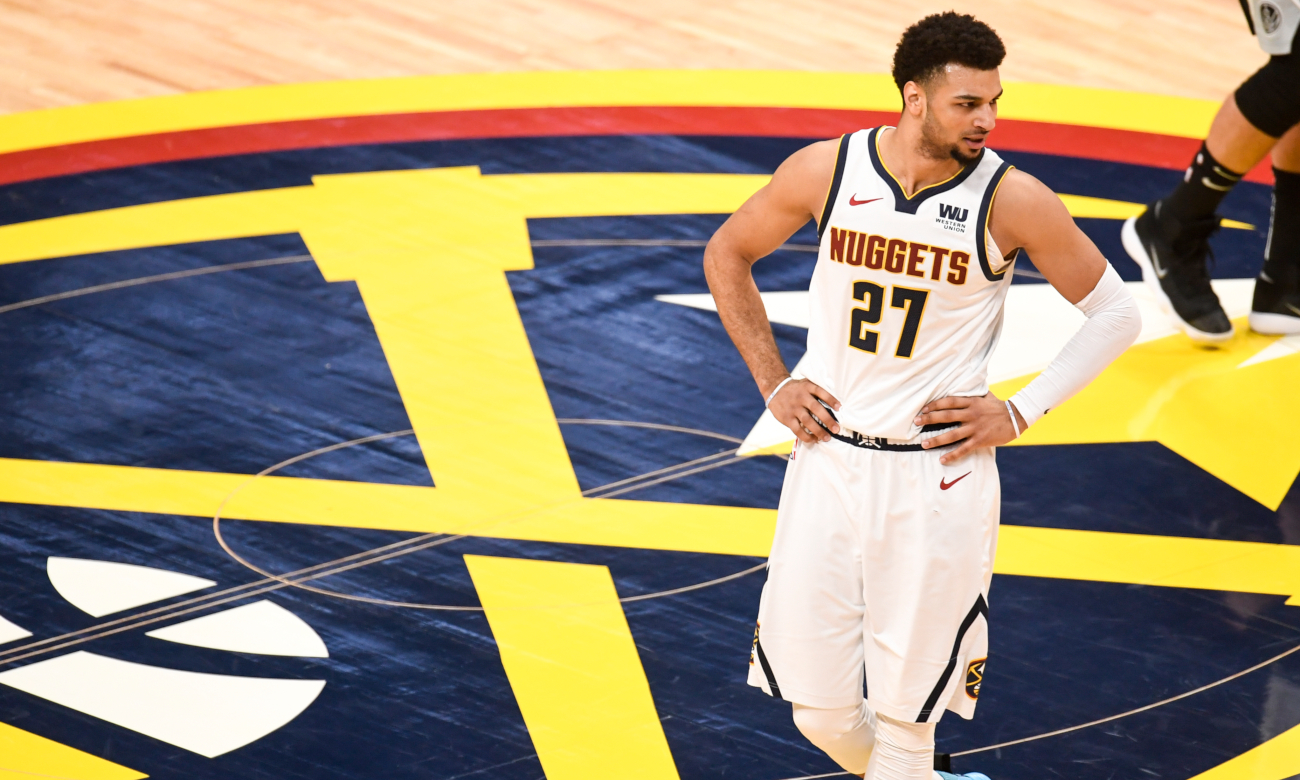 The Denver Nuggets have been one of the most pleasant surprises of the 2018-19 NBA season, earning the No. 2 seed in the West a year after being the odd team out after losing to the Timberwolves on the final day of the regular season.
Denver's improvement to this year has been nothing short of astonishing, as seemingly everyone on the roster managed to take a step forward at the same time. And still, despite pulling in the 2-seed, Denver heads to San Antonio tied at 1-1 in their first round series, requiring a miraculous comeback in Game 2 to avoid the indignity of dropping both home games.
That comeback effort was led by Jamal Murray, who caught fire in the fourth quarter scoring 21 points on 8-of-9 shooting, almost single-handedly dragging the Nuggets back into the game and ahead of the Spurs in that final period. Through two games of this series, the same trend that followed the Nuggets this season has emerged. Nikola Jokic and Gary Harris are going to be their most consistent performers, win or lose, but Murray and Paul Millsap will hold the keys to how far Denver can go.
Of that core group, the play of Millsap and Murray has been the biggest determining factor in whether the Nuggets offense thrives or crashes and burns. When the Nuggets win, Millsap and Murray are uber-efficient catalysts for the offense. When they lose, according to NBA.com their efficiency numbers drop off a cliff, as does the Nuggets' offense (and defense) with them on the floor, leading to the two worst net ratings, by far, of any of Denver's core group in losses.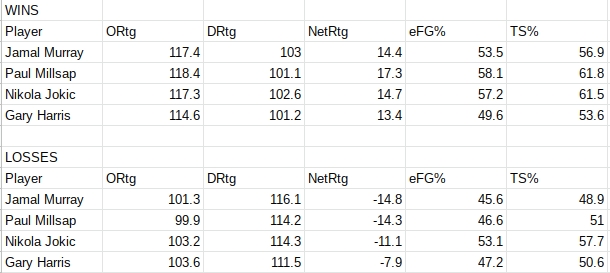 Now, it's not surprising that all four players have great net ratings in wins and bad net ratings in losses, but the more important part of this is how dramatic the dropoffs are in efficiency for Murray and Millsap offensively compared to Jokic and Harris, who see minor slippage but nothing quite as spectacular as their teammates. The four play significant minutes together, so they're fairly tied together when it comes to success and struggles, but it's not hard to see what leads to the Nuggets offense coming off the tracks.
So far through two games in the playoffs, those trends have continued with Murray and Millsap on somewhat different scales. While Murray's fourth quarter, justifiably, garnered the headlines Millsap had a spectacular game as well, going 7-of-10 from the field for 20 points. Harris has taken on a larger role offensively in the playoffs and is actually leading them in scoring through two games, and like in the regular season, even taking on a bigger role he's been the steadiest of the Nuggets starters in Game 1 and Game 2.
Murray is the spark plug for Denver's offense and is the poster child for the hot hand theory, while Millsap provides a much needed counterpunch in the frontcourt when teams send extra attention at Jokic. Whether those two can be consistent will likely determine whether the Nuggets get past the Spurs in the first round and can make any noise against either Portland or Oklahoma City in the semifinals.
For Millsap, it can often be as simple as shot selection and getting to better spots on the floor. In wins, Millsap takes 49% of his attempts within five feet of the rim compared to just 40 percent of his attempts coming from that range in losses, correlating in an uptick in efficiency. When he settles for jumpers, he unsurprisingly sees his efficiency drop compared to when he's aggressive in attacking the rim.
Murray is a much more difficult case, because he takes just about the same shots in wins and losses — many of which are difficult. He gets to the rim at about the same clip (46% of attempts in wins, 44% in losses) and hoists about the same number of midrange attempts (31% in wins and 34% in losses), and it simply comes down to whether he hits his shots. It truly is a make or miss league for Murray, who hits 51% of his midrange attempts in wins and 43% of those same attempts in losses.
It's part of what makes Murray such an enigma and tough player to figure out, not all that much unlike his counterpart in DeMar DeRozan. Neither player takes what most now would define as "good shots" a lot of the time, but when they're on, they make them at an above average clip. When not, they become inefficient and can sink their team's offense, which is part of what makes this such an intriguing series because it's a rebellion, of sorts, against the modern NBA from the most prolific perimeter scorers on each side.
If Murray is able to win that battle, and Millsap can avoid trying to get in a midrange shoot-off with LaMarcus Aldridge and be committed to attacking the rim as he has to start this series, the Nuggets can move on. If not, it may not matter what Jokic and Harris do, Denver may have an early exit and have the whispers about their legitimacy as a top team out West grow to full volume discussions.