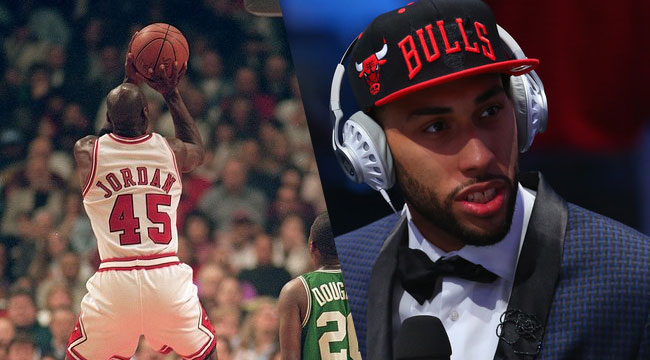 The Chicago Bulls will look very different next season than they did in the last few, with Derrick Rose traded to the Knicks and Joakim Noah likely to follow him out the door. More than just subtractions, however, the Bulls are gaining something new in their first-round draft pick, Denzel Valentine out of Michigan State.
Though he may be new, he's going to come in a familiar package for Bulls fans:
It gives you a small sense of Michael Jordan's impact when he's still the first name that comes to mind regarding a number he wore for only his truncated initial return from baseball in 1995, but his image is inescapable when considering a Bulls number 45. Then again, if you want a good name to replace Jordan, Valentine is as catchy as it gets:
https://twitter.com/chicagobulls/status/747473137088946176/photo/1
Before you go claiming that Valentine is trying to invoke the spirit of Air Jordan, remember that Valentine wore 45 in college, so unless it's a more generalized tribute to Jordan (fellow Spartan Draymond Green did and does wear 23, after all), it's probably unrelated.
Valentine wouldn't be the first to wear 45 since MJ switched back to 23 in 1996, but he certainly is the highest profile — according to Basketball-Reference, Paul Shirley, Luke Schenscher and Rasual Butler have all put it on their backs for a season in Chicago. Valentine was a four-year player at Michigan State, and he'll be 23 for nearly all of his rookie year. With all the offensive versatility he displayed in college and his advanced age for a rookie, that number 45 should be making an immediate impact for the Bulls.