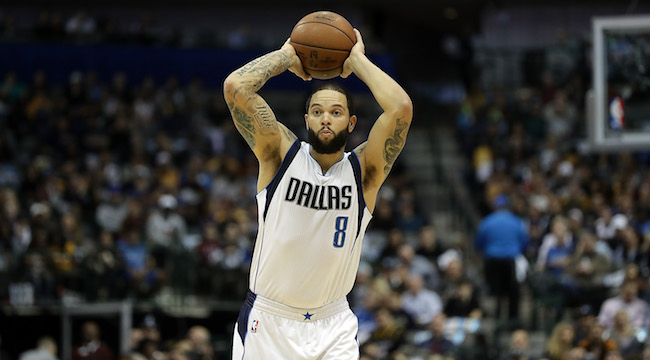 At one point in time, there was a legitimate debate as to whether Deron Williams was the best point guard in the NBA. That is, of course, no longer a rational line of thinking in 2017, but on Tuesday evening, word broke from Marc Stein and Tim MacMahon of ESPN that Williams might be getting back to his roots in the form of a potential reunion with his former team, the Utah Jazz.
Williams, now 32 years old, has taken a large step back in production since operating as an elite player with the Jazz from 2005 through 2011, but the former Illinois standout can still contribute at a high level. In 40 games with the Dallas Mavericks this season, Williams is averaging 13.1 points and 6.9 assists per game in 29.3 minutes, while providing a steady hand for the offense.
However, one sticking point may exist with the potential move, as Williams would have to approve any deal involving Utah or any other NBA team:
Williams can't be traded without his consent, thanks to his one-year, $9 million deal with the Mavericks after playing the previous season in Dallas, because the 32-year-old would have to forfeit his free-agent Bird rights if dealt to another team.

It's also important to note that Stein and MacMahon said no deal is imminent. Additional, the pair reported that Williams "remains fond of Utah and has maintained an offseason home in the Salt Lake City area despite his trade to the Brooklyn Nets in February 2011."
If the deal comes to fruition in Utah, Williams would serve as a secondary piece, with George Hill entrenched as the starting point guard for the Jazz. Still, he would be a sharp upgrade over the likes of Shelvin Mack, Raul Neto and project guard Dante Exum, and it is easy to see why the playoff-bound Jazz would have interest in bringing back an old friend.
On the Dallas side, the report also indicates that the Mavericks are looking to move on from fellow veteran Andrew Bogut, though nothing is "imminent" on either front. It will be interesting to see what type of assets the Mavericks could extract in such a deal, but the reunion between Williams and his old team would certainly be at the forefront of the story.