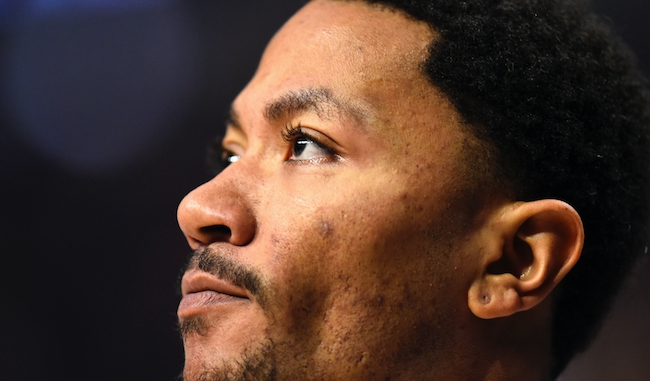 It can be a bit of a forgotten fact, but Derrick Rose is still pretty good at this basketball thing. The Chicago Bulls point guard is finally healthy after an unimaginable stretch of injuries that shortened or otherwise completely ended his last four seasons. More specifically, Rose has sustained serious ACL and meniscus injuries in both his knees.
But for the first time since the 2010-11 season, Rose has stayed generally healthy throughout the entire year. He doesn't have the speed or quick twitch that he used to, but he still has some of it, and he's not afraid to let anyone know.
"I don't know if everyone knows, but I feel like I'm a damn good player," Rose told Jeff Zillgitt of USA Today. "For someone who went through what I went through and come back and change their or modify their game to where I'm still productive on the court without using my speed all the time, it tells a lot if you know basketball."
While Rose isn't averaging career numbers this season, he is playing at a high level. Zillgitt notes that Rose is averaging 18.8 points, 4.6 assists and 3.7 rebounds and shooting 47% since the New Year. With the Bulls clinging to a final playoff spot with less than a month left in the regular season, this is the time of year when Rose can prove just how good he still is.
Rose will have one more season before he's a free agent, so the true test of both his health and ability will likely come in 2016-17, but it's good to see Rose has been able to bounce back from multiple injuries and play productively. A lot of guys can't do that after one injury, let alone a handful.
Yes, the Rose era in Chicago to date has been a bit of a punch line with all the injury issues, but Rose obviously doesn't lack confidence. For the most part, he's been able to back it up.
(Via USA Today)