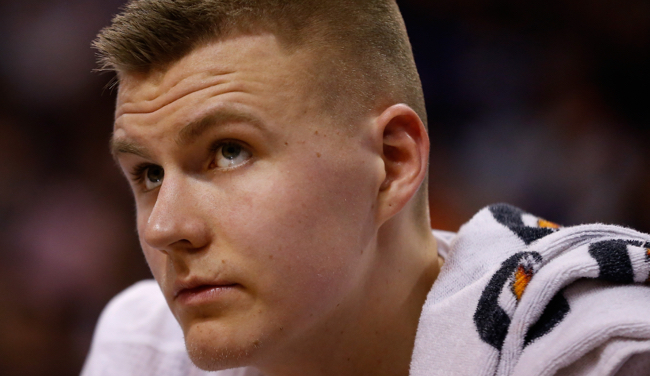 A quiet, but not-so-quiet week in the NBA. What does that mean, exactly? Some stories flew under the radar, when really they shouldn't have. There's turmoil within the Sacramento Kings (surprise surprise!), a supposed beef between Kyrie Irving and the rest of the Cleveland Cavaliers (another shocker), and Kurt Rambis is trying to Kurt Rambis Kristaps Porzingis (dear god please no make it stop). Let's Pic And Roll!
I Know Why The Caged 'Staps Sings
Kurt Rambis was head coach of the Minnesota Timberwolves when Kevin Love was just coming of NBA age. One of Love's greatest strengths: his versatility. He had range that could stretch defenses well beyond the three-point arc. He may not have been fully formed as a three-point marksman yet, but that's what a coach is there for! To develop his players and harness their gifts to the best of their abilities. So what did the ever-wise Rambis do? He prevented Love from shooting threes.
Now let's fast forward to today. Rambis is the interim head coach of the New York Knicks. One of his players is Kristaps Porzingis, a uniquely talented 7-foot-3 big who would be running away with Rookie of the Year were it nor for Karl-Anthony Towns. One of Porzingis' major weapons is his range. He can easily make three-pointers from 25-plus feet, giving defenses migraines, especially frontcourt players assigned to cover him. He's also got tremendous agility and handles for his size, making him a threat to drive against slower opponents — which most of his matchups often are. So, what does Rambis want to do with Porzingis? Why, have him stop shooting threes andplay him at the small forward, of course! Because this is the 1990s and size — not speed or space — rules the NBA, apparently.
Now, hopefully, Rambis doesn't remain as head coach beyond this season. To remove the interim tag would be a disaster for the Knicks and especially Porzingis. He needs a coach who will let him bloom into the awesome force he's capable of becoming; he doesn't need one intent on turning him into something he's not because of some outdated notion of how the game is played. That's what causes stars to leave, and New York simply can't afford that.
Sacramento Kings: Civil War
You have to hand it to the Sacramento Kings. No one has mastered toxic dysfunction quite like they have. Star players feuding with coaches? Psh, that's a cake walk for the Kings. Discord between the head coach and the general manager? Like taking candy from a baby. How about this: A head coach, so vindictive after nearly being fired, only to be kept on board because the minority owners didn't want to pay yet another coach to go away, exiles the owner's preferred pick to be the interim head coach. That's right. George Karl is so pissed at Vivek Ranadive that he's taking it out on an assistant on his bench, Nancy Lieberman. Sam Amick of USA Today has more.
The wildly talented Cousins is a lot of things, but he's no dummy. He sees the justifiable criticism of Ranadive, whose refusal to stand by the only NBA coach who truly connected with Cousins, Michael Malone, in December 2014 was one of the many plot twists that helped cause this mess. He sees the in-fighting on the coaching staff, with assistant coach Nancy Lieberman identified as a Ranadive confidante and thus unofficially exiled by Karl months ago.
Sounds like quite the enjoyable work environment. Karl can have his feud with Ranadive; he can hold however strong of a grudge as he wants, for as long as he wants. Taking it out on one of his coaches, though, who had absolutely nothing to do with the hostile, toxic environment surrounding the Kings (one Karl helped create), is absolutely inexcusable. The Kings need a total and complete teardown. They need someone who can come in and change the pervasive losing culture seemingly stained in the very fabric of the building. You know who's done a remarkable job of that in Denver? Michael Malone. Awkward.
Oh, Look! More Turmoil For The Cleveland Cavaliers!
Because it just wouldn't be a week in the NBA without some sort of drama coming out of Cleveland. The latest episode: Kyrie Irving isn't passing enough. This has often been a critique of Irving's game. While he's a gifted passer and possesses terrific vision, he doesn't always use those gifts to the extent that he seemingly should. Yet, if you look around at the rest of the NBA, Irving plays more in the mold of the modern point guard: a scoring guard more so than a lead guard. When he plays with LeBron James, that's not as big of a deal, since LeBron is often the one dishing assists. When LeBron's out, as he was for the game that sparked this controversy, it can get Irving into trouble, even if the Cavaliers win. Does Irving need to find a better balance between scoring and facilitating? It's not an easy answer, because that infers there's something naturally wrong with his balance currently. His teammates may feel that there is, but would they really be happy with a scoring-neutral Irving? Would the Cavs be any better?