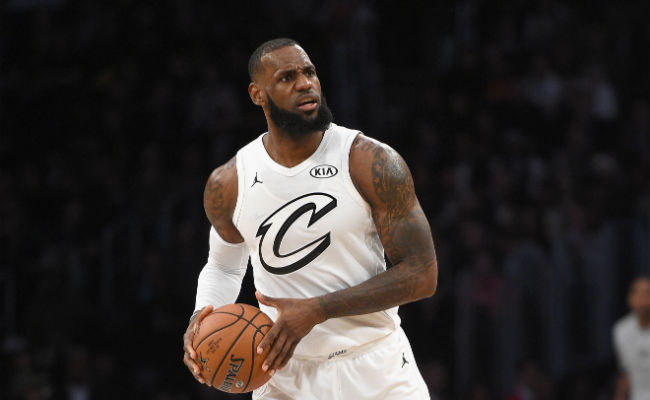 LeBron James' decision to leave the Cleveland Cavaliers in free agency and sign with the Miami Heat in 2010 is one of the most notable sports stories of the last decade. It changed the way free agency is thought of in the NBA, created a dominant team in Miami and influenced a number of NBA stars to reevaluate their own careers in the process.
It also heavily influenced countless young athletes, including one who was in the audience at the Boys and Girls Club of Greenwich, Connecticut, back in 2010. It turns out one young star was actually there in attendance when James decided to leave Cleveland: Utah Jazz rookie Donovan Mitchell.
Yahoo's Dan Devine reported on Tuesday about Mitchell as part of a story about the younger generation of players in the league and their first interactions with the NBA. As it turns out, the Utah Jazz rookie and newest Slam Dunk Contest champion was indeed there when James made his now infamous Decision.
Mitchell told Devine that the first thing that came to mind was "The Decision," which is understandable considering it was such a landmark moment. However, as Mitchell explained, he wasn't just watching it on TV, but he was actually there and was one of the few that was pleased with the King's decision to take his talents to South Beach.
"It was in Greenwich, Conn., and I went to school in Greenwich [at Greenwich Country Day School]," he said. "So, as a big LeBron fan in the sixth grade, I forced my mom to let me go. I wanted him to go to Miami. I wanted him to get his first ring."

Young Donovan was glad to see one of his favorite players chart a course for a more successful future. Not everybody at the Greenwich Boys & Girls Club shared his enthusiasm.

"The people there who were Knicks fans … they weren't too happy about it," Mitchell said. "I almost got hit in the head with a Snapple bottle because they were just throwing stuff around outside. It was cool. I was just celebrating, so it was pretty cool."
It's a story that will almost certainly make you feel very old, but it's also a pretty remarkable coincidence. Looking back on it, Mitchell understands just how significant a moment that was, not just for the Miami Heat.
"That really changed the league, from that point on," Mitchell said.
The story has a lot of different cool memories in it, but Mitchell's is certainly the most unique. It's odd to think about how long ago 2010 was, and how much has changed since.