PORTLAND, Ore. — Just 10 games into his NBA career, Donte DiVincenzo made his first SportsCenter Top 10 as a professional, and not in the way he wanted. In the fourth quarter of the Bucks' 118-103 loss to the Trail Blazers, the rookie found himself isolated against C.J. McCollum and got dropped as he tried to prevent a drive to the basket.
"I'm pretty sure I made everything," DiVincenzo said after the game when asked about his viral moment. "I'm probably on House of Highlights and all that. But it happens, just got to come back and get better. Short-term memory. That whole rookie thing is out the window."
Blazers center Jusuf Nurkic, who has been on the receiving end of plenty of highlights in his day (most notably this vicious LeBron James dunk last season) knows it's just part of the deal when defending the NBA's best players.
"You know, rook, welcome to the league," Nurkic said. "It can be hard some nights. Put some ice [on] and you'll be fine."

If that wasn't enough, DiVincenzo got the High Noon treatment from Bomani Jones and Pablo Torre the following day.
That clip may be DiVincenzo's most high-profile "Welcome to the NBA" moment, but the No. 17 overall pick has been adjusting quickly to life in the league following his huge performance in Villanova's NCAA title run. He's already carved out a role on an 8-2 Bucks team that's become one of the frontrunners in a LeBron James-less Eastern Conference.
"He doesn't play like a rookie," Giannis Antetokounmpo said. "He plays hard, knocks down shots, does a lot to affect the game."
In his three years at Villanova, DiVincenzo built a reputation as an elite shooter, which has thus far not translated to the NBA. He's shooting just 30 percent from long range in his rookie season, but teammates have praised his impact in other areas, especially on the defensive end.
"He's adapted very well," Brook Lopez said. "His energy out there has been so noticeable and it makes a big difference for us. He's been great defensively — blocking shots and rebounding. Doing a ton just beyond scoring the ball."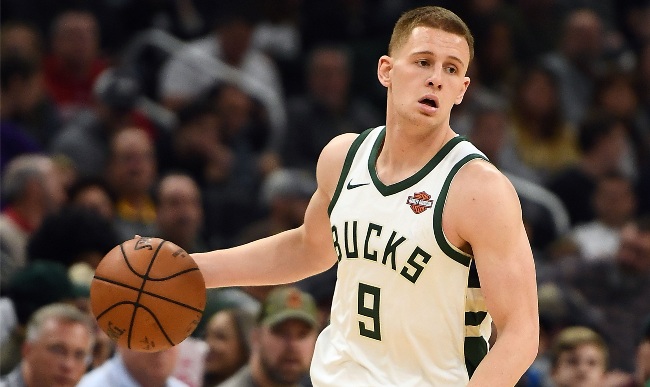 DiVincenzo is in an ideal position for a rookie. He wasn't lottery pick, and he was drafted by a good team, which takes pressure off of him to contribute right away. The Bucks have already made a major offensive leap from where they were last year, thanks in large part to new coach Mike Budenholzer's system, which places a heavy emphasis on outside shooting, just as it did during his years in Atlanta. Once DiVincenzo's shooting comes around, that system will be an ideal fit for his skillset.
"I'm sure he'd like to make more shots," Budenholzer said. "We'd love if he made more shots. But he's consistently been great competing, been consistently great defensively. The way he guards and rebounds, he just has a great competitive spirit. He does all the things that are about winning. When he starts making more shots, it's going to be even better, but I've really been pleased with him the whole time."
DiVincenzo hasn't had his breakout game yet. He's scored in double figures just twice — 15 points in a win over the Magic and 11 in a win over the Raptors. But he's been empowered to shoot, and until it starts falling, he's been finding other ways to help.
"Every night, I'm guarding one of the top guards in the league," DiVincenzo said. "Kemba, then the night after that is Kyrie, I guarded Dame tonight, C.J. Every night you're guarding one of the top players in the league. You've just got to be ready for everything."