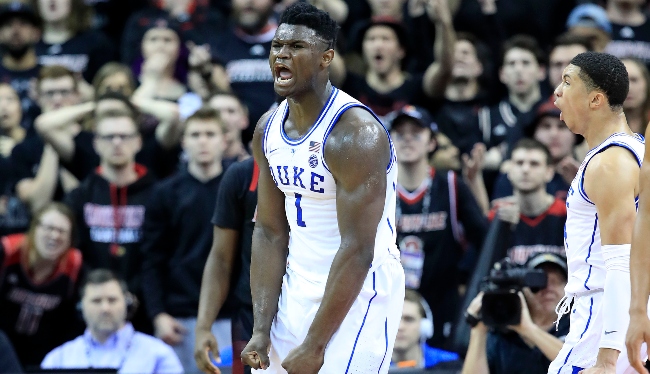 Not much went right for the Duke Blue Devils on Tuesday night in Louisville, as the No. 2 team in the country went on the road to take on the 16th-ranked Cardinals. Duke was down by 23 points with a hair over nine minutes left, trailing 59-36 at that time. And then, somehow, the Blue Devils won.
Duke caught fire over the game's final nine minutes or so, roaring back from that aforementioned deficit to win 71-69. It was an absolutely stunning comeback, one which produced a hilarious win probability chart for the biggest second half comeback during Mike Krzyzewski's tenure in Durham.
As is the case when the Blue Devils win games this season, Zion Williamson was at the center of it all. The National Player of the Year candidate scored a game-high 27 points on 9-for-15 shooting, while his 12 rebounds were tied for the most anyone had on the evening.
The most impressive thing might be that he did this despite being in foul trouble. Williamson went to the bench after picking up his fourth foul with 12:14 left. He then returned to the game, and the Blue Devils, from that point in the game's final nine minutes or so to the final horn, outscored the Cardinals 35-10. He did all the stuff you expect him to do, dominating the glass, pushing the ball in transition, and finishing through contact.
When Duke needed buckets down the stretch, it wasn't always Williamson getting the ball. Cameron Reddish was awesome down the stretch, scoring 10 points in the game's final four minutes or so. That included a pair of backbreaking triples.

On the night, Reddish went for 22 points, second only to Williamson among Duke players, with his torrid stretch to end the game pushing the Blue Devil comeback over the top. Still, after a pair of Reddish free throws to put Duke ahead at the end of the game, Louisville got one more shot. Senior guard Christian Cunningham got a decent, albeit contested, look, but it rolled out and Williamson secured the rebound.
Williamson was asked after the game what the players were told by Krzyzewski when things were looking especially dire, and the star freshman said his coach laid it out simply.
Louisville coach Chris Mack, meanwhile, could only sum it up one way.
Hey, losses happen. Might as well keep a sense of humor about this stuff, ya know?