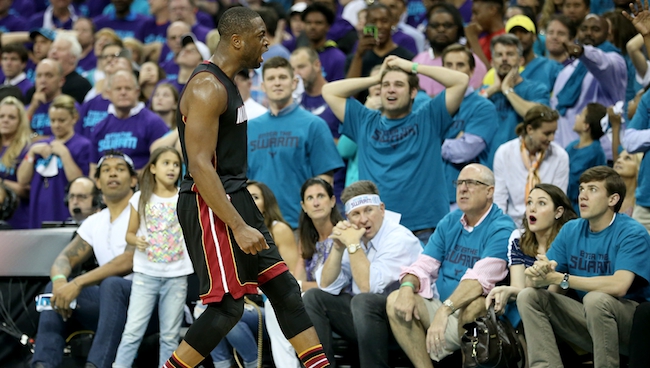 Dwyane Wade isn't his former self. He can't come close to running as fast, jumping as high, or cutting as hard as the live-wire superstar who terrorized the league for so many years in the late 2000s and early 2010s. Don't tell that to the Charlotte Hornets, though, because the Miami Heat legend turned back the clock with crunch-time play after crunch-time play in his team's do-or-die Game 6 victory.
The Heat beat the Hornets 97-90 on Friday night. Kemba Walker poured in 37 dramatic points while Luol Deng continued his shocking scoring output with 21 points of his own. Miami got a better effort from its supporting cast from the opening tip, too, and should have won Game 6 more easily as a result. When Jeremy Lin and Nic Batum combine for 14 points on 13 shots, it's safe to say Erik Spoelstra's team is capable of beating Charlotte fairly handily.
But a road win in an elimination game is just that regardless. Unless, of course, instant-classic postseason moments like Wade's somehow make a must-win victory in hostile circumstances even that much more memorable.

Wade gave the Time Warner Cable Arena crowd a preview of things to come when he drilled a three-pointer, his first since January, with 3:05 left in the game to put the Heat up by nine. But the Hornets stormed back from there on the broadening shoulders of Walker, whose bucket with 1:46 remaining made the score 90-88 in favor of Miami.
After an empty possession by both teams, Wade did this as the clock dipped below 50 seconds.
Charlotte, however, just wasn't quite done. Walker found Al Jefferson for a layup just a few seconds later, reducing the Heat's lead to 93-90. And when Miami's ensuing possession stagnated with the ball stuck at the elbow, it appeared the Hornets would have an opportunity to tie.
But Wade just refused to let it happen.
Heat's Dwyane Wade serves the Hornets w/ the clutch dagger then stares down the Heckler pic.twitter.com/ibP3mXEC2q

— Ben Golliver (@BenGolliver) April 30, 2016
After making it a two-possession game on one end, the future Hall of Famer made absolutely sure Walker and the Hornets couldn't steal a win with this block on the other.

Wade finished the game 23 points, six rebounds, four assists, two steals, and three blocks. He shot 10-of-20 from the field, 2-of-2 from beyond the arc, and scored eight of the Heat's last 10 points – and vacuum sealed a victory with the block on Walker above.
Game 7 is Sunday in Miami. Let's see if "Flash" makes another appearance.