---
RELATED: At Stake Tonight For Western Conference Playoff Seeding
---
---
The Eastern Conference playoffs still aren't set yet, and we've only got one more night of regular season NBA action left. So what's at stake? The No. 3 seed is still up for grabs between the Bulls and Raptors. Plus, there are two teams battling for the No. 8 slot after Indiana survived a double overtime game against the visiting Wizards Tuesday night. Let's take a look at the key games to watch for Eastern Conference seeding tonight.
First, Atlanta has secured the No. 1 spot and Cleveland will play Boston in the first round since the No. 2 and 7 seeds are also set.
BLEED FOR THE 3-SEED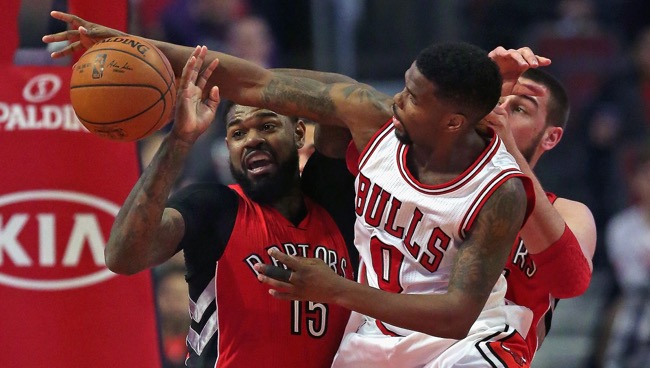 If the Hawks beat the Bulls tonight (8PM ET), and Toronto beats the Hornets (7PM ET), the Raptors will be the 3-seed, and will play the Bucks in the opening round. Milwaukee is locked in as the 6-seed. But Chicago will take the No. 3 seed just by beating ATL.
There is this, too: Whichever team finishes as the 4 seed, Chicago or Toronto, will play the Wizards in the first round, but avoid playing presumptive favorite Cleveland until the Conference Finals. We'd like to remind everyone Atlanta is the top team in the East, but a lot of people are already giving the Conference to Cleveland, and most teams would rather face the overachieving Hawks over a Cleveland team that found its stride mid-season.
THE FINAL PLAYOFF SPOT
This one is pretty clear-cut, just like it'll be for the final playoff spot in the West. The Pacers need only to beat the Grizzlies tonight (9:30PM ET) to get the final Eastern playoff spot and a first-round date with Atlanta. If that happens, it'll be the inverse of last season's first-round matchup when the top-seeded Pacers almost got upset by the 8-seeded Hawks, needing seven games and a Game 6 collapse by the Hawks in Atlanta to advance.
The Pacers can also get in if the Nets lose to the Magic, which might sound crazy since Orlando has been playing for ping-pong balls for a while. But it's the Nets we're talking about, and after Sunday's destruction at the hands of the Bulls, anything's possible.
Remember, we're basically talking about play-in games for the playoffs.
For Brooklyn to avoid becoming the most expensive team ever to miss the playoffs, the Grizzlies will have to beat the Pacers and the Nets will have to win over Orlando. An added bonus is Lionel Hollins' old team controlling the fate of his current assignment in BK.