There was a moment when Emmanuel Mudiay was staking his claim as the best point guard in the 2015 draft class and taking an early edge in a burgeoning rivalry with the no. 2 pick in that draft, D'Angelo Russell.
Now, both players, each only 22 years old, are on their second act, where they've somehow escaped the spotlight despite plying their trade in the Big Apple. Russell came to Brooklyn to help lead their next great team, while Mudiay's path hasn't been as clear cut.
It's been only three years since he was drafted, and it's somewhat remarkable that Mudiay is still a starting point guard after his time in Denver. But he's had a minor renaissance for the New York Knicks this season, even as the team plays out what will inevitably be a lottery-bound campaign.
Once the point guard of the future for the Nuggets, Mudiay became an afterthought last year. The former no. 7 pick had been usurped by Jamal Murray, drafted with the identical pick just one year after Mudiay, and was seemingly the lone Nugget who couldn't get his offense going on one of the highest-scoring teams in the league.
Two and a half seasons into Mudiay's career, Denver shipped him to the Knicks as part of a three-way deal that netted the Nuggets Devin Harris, who they viewed as a superior backup point guard for a team in the playoff hunt, even at the age of 35. (Harris ultimately found his way back to Dallas in the offseason, because the gravitational pull of Rick Carlisle's bench unit is overpowering).
Mudiay's opening salvo in New York was underwhelming. He was essentially the same inefficient gunner he had been in Denver, and with another young point guard in tow, Mudiay couldn't even find his way on to the floor at the end of the season. This year didn't figure to be any different, with Frank Ntilikina still around and Mudiay suffering a preseason ankle injury that kept him out of the rotation for the first eight games.
Nevertheless, a quarter of the way through the season, Mudiay is starting and playing well for the Knicks, and he's earning his minutes on the offensive end. What's changed is actually pretty simple – he's finally hitting jump shots.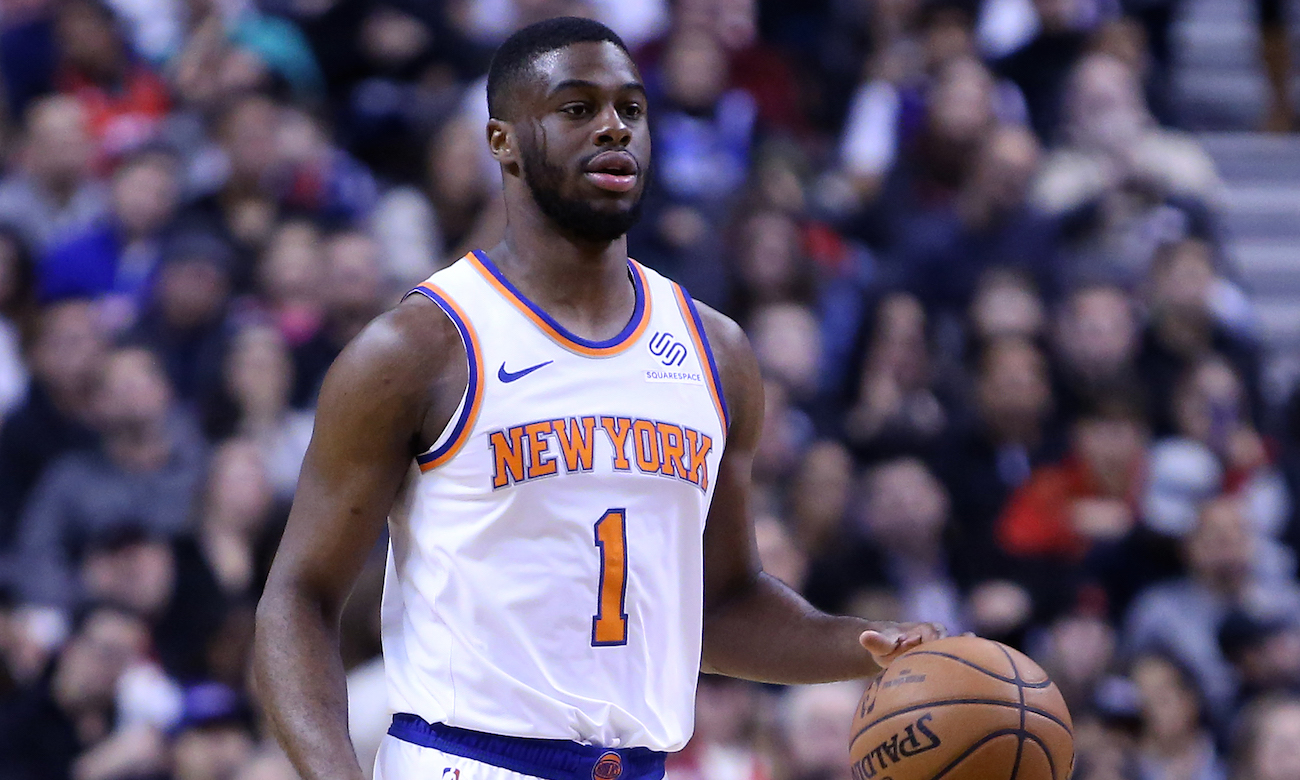 As a prospect, Mudiay was special because of his athleticism and size at the one, but he came with the qualifier that his jumper needed work and that bore out in his time with the Nuggets. He shot about 40 percent on twos and 32 percent from three in his first three years, but his jumper has come alive this season. Mudiay is on fire from midrange, hitting 59 percent of his long twos (per Cleaning the Glass). He's also made 19 of 50 threes, including 5 of 10 from the corner, resulting in his most efficient offensive season by a mile. In fact, Mudiay has the highest offensive rating (109.1) of any player on New York who has played more than one game.
Mudiay has always taken a high percentage of shots at the rim, around 40 percent throughout his career, which makes sense given his size for the position. However, despite his purported ability to finish with either hand, he's never been particularly effective at the basket, and he converted less than half of those shots in Denver. In New York, he has increased his efficiency to 56 percent around the basket, which is just below league average. Mudiay draws fouls on 9.4 percent of his shots, which places him in the 65th percentile for point guards, but he is leaving a lot of points on the line as a 73 percent free-throw shooter.
What's interesting is Mudiay isn't contributing a whole lot outside of shooting. His assist rate of 17.4 percent is the lowest of his career, and has steadily been declining since he assisted on 28.3 percent of his team's baskets as a rookie. He has a high block rate for a guard, but doesn't appear to use his size to great effect beyond that, since he has the team's third-worst defensive rating at 111.6.
The Knicks probably should prioritizing the development of Ntilikina over Mudiay, who will be a restricted free agent this offseason, but reason doesn't have a lot of currency in New York. Nevertheless, there is a chance that Mudiay could still be a franchise's point guard of the future. At various points throughout his career, he has demonstrated an ability to facilitate, to score efficiently, and to spread the floor. If you combine that all together, that's the makings of a solid offensive point guard, one who could fit nicely next to Ntilikina — who is somehow now the one who may or may not be in the Knicks' future plans.
Of course, this could all be a month-long shooting hot streak, a mirage that will disappear as Mudiay reverts into the player he has always been, and Trey Burke reassumes his mantle as the Knicks reclamation project. For now, we can appreciate witnessing what Mudiay could be. Stranger things have happened in New York.