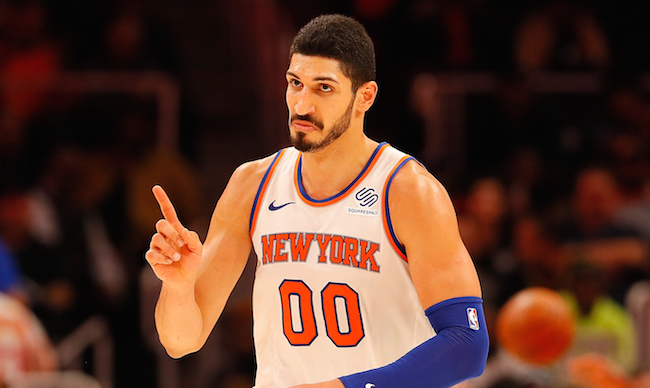 The Portland Trail Blazers have been a playoff fixture in the Damian Lillard era, but they haven't had much success in the postseason recently. The team was swept out of the first round each of the last two seasons, including last year as the 3-seed.
Portland appears to be a lock to make the playoffs again, and possibly host another first-round series, so the Blazers have the luxury of working around the margins to beef up their roster. Before the trade deadline, Portland acquired Rodney Hood to supplement the team's wing rotation. Now, the Blazers have hit the buyout market and acquired former New York Knicks center Enes Kanter to round out their bigs.

On the surface, this makes little sense. Kanter had a minus-9.6 net rating in New York, the seventh-worst among centers who have played at least 25 games this season. He had fallen out of favor with the Knicks and only saw spot minutes in the last month. Kanter hasn't played meaningful basketball since the 2017 playoffs when he was on Oklahoma City, and his most memorable contribution was a clear-as-day video of head coach Billy Donovan saying "can't play Kanter" while watching his center attempt to defend a James Harden-Clint Capela pick-and-roll.
Portland currently sits fourth in the Western Conference and would match up with the fifth-seed Houston Rockets if the playoffs started today.
Setting aside the obvious difficulties most big men face when tasked with defending Harden, Kanter simply doesn't fit with what the Blazers need to mount a playoff run. Kanter is a strong offensive center, but Portland already possesses the eighth-ranked offense in the league. Kanter has always been a good offensive rebounder, but the Blazers are already fifth in offensive rebounding percentage.
Where Portland could use some help is on the wing, where the Blazers have no one to guard the best small forwards in the NBA. Moe Harkless has been hurt and banged up much of the season, and Evan Turner comes off the bench. The center rotation appears to be mostly spoken for: Jusuf Nurkic has the best net rating on the team, and Zach Collins is essentially neutral as a backup. Portland also has Meyers Leonard as a stretch five option, which Kanter definitely is not.
The Blazers signed Kanter to a max offer sheet as a restricted free agent back in 2015. The Thunder matched then, but perhaps Portland has never lost its fascination with the one who got away. That is seemingly the only reason the team chose to invest a roster spot in a player who is duplicative of the talent the team already possesses and unable to help where and when the Blazers need it most.