PORTLAND – After an early afternoon practice for the Trail Blazers, players start to make their way off the court. One by one, they all begin heading to various rooms to get treatment, watch film, and dress down. However, Evan Turner is still getting up shot after shot. The courts are empty and dead silent, aside from him and the two assistants who are working with him. He's focusing on his three-point shooting as well as the incredibly smooth mid-range game he already possesses.
Grabbing pass after pass and transitioning into a catch-and-shoot scenario, Turner is drenched in sweat and continuing to push through. People may think he's gotten too comfortable on a big contract, but with every shot he's still trying to prove that's not the case.
Despite the injuries, the constant noise, and the fan criticism, Evan Turner is still spectacularly and unapologetically himself. The 6'7 swingman was signed to a four-year, 70 million dollar contract this offseason, which was the subject of a lot of scrutiny by the media and fans. That scrutiny hasn't gone away with the Blazers underachieving most of the year and Turner averaging 9.1 points on 42.8 percent shooting.
"I will never take anything for granted," Turner tells DIME. "I always try and stay consistent, doing my best all of the time. In this business and culture, everyone works hard from the players down to the film guys. Brad Stevens in Boston told me 'fall in love with the little things.' Everybody can do something when things are going well, but when things aren't going well, it's all about character. I believe in good karma when you're pushing through and doing things that you don't necessarily want to do. I just try and make sure I get myself into a routine, keeping my mind and body in the best shape in can be."
Turner knows where his value is and what he does best. Whether it's crashing the boards or going after a loose ball, he's there to do the intangibles that don't necessarily show up in a box score. In fact, most of his on-court numbers suggest he's not as good as other teammates in certain scenarios.


Turner hears all of it, but he's only focused on playing his game and letting that take care of the rest.
"For me it's all about my mindset and focus," Turner says. "I care about where my mindset is and how our team is playing, and that's basically it. Truth is, people are going to critique your game whether you're a starter or the 15th man. Elton Brand once told me 'it's not a real life, you get paid millions to set a screen and make a bucket.' My teammates and I can't go to Wall Street and tell you how to run things, but the guy sitting on the couch can tell you how to play basketball."
Turner doesn't choose if he's overpaid or underpaid, he took the contract he was given. People will always fault a player for getting paid, but the only thing he can control is what he does on the court – and how he approaches the game.
"If you made 17 million dollars a year, are you going to sit here and say 'I'm not doing this' or 'I'm not doing that' and not listen to the people that pay you?" Turner says. "I do what my coach and my teammates tell me. I'm here to help and that's what some of the best teams have. They have guys that are willing to play in whatever role you need them to play."
In a world where three-pointers reign supreme and teams are trying new, innovative offensive strategies, Turner brings a midrange game that analytics and stat-junkies hate. The same people that dislike DeMar DeRozan, Kobe Bryant, and other isolation, ball-handling, midrange shooters were already going to be leery of Turner and his approach.
Pair the contract and the money he was given, and it's easy to see why there's been backlash. But that doesn't mean he hasn't been valuable to the Trail Blazers, who are suddenly streaking and find themselves right in the thick of a playoff hunt.
"Who doesn't want to go out and shoot threes?" Turner says. "Most people can only shoot threes. It takes a lot of coordination to stop on a dime and pull-up. You play pick-up and people say 'oh, I hit eight threes the other day.' But no one is saying 'oh, I hit eight pull-ups.' I feel like a lot of the analytics that have been created are for people who don't play basketball so they can kind-of stay in-tune."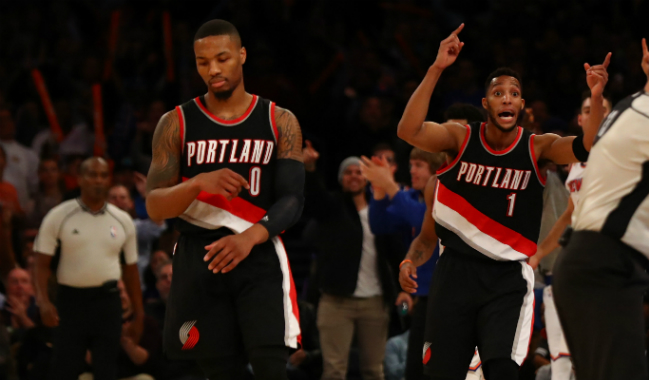 Turner's approach is one that's true to him, even if it flies in the face of where the game appears to be headed.
"To be honest, you take what the defense gives you," Turner adds "And everybody is great at different skills. Obviously, I'm not the best three-point shooter but I have a great ability to pass and attack, and when you put those skills with guys who can shoot on the outside, I think it's really hard to defend. Sometimes you play against teams and they're only good at one or two things. If you know they drive-and-kick out or just shoot threes, it makes it easy to defend, and really makes you vulnerable as a team."
The long two is something that's been looked down upon in recent memory. Players like DeRozan, the Toronto Raptors All-Star, is on one of the best teams, and yet he still gets negativity from the analytics crowd. It's a debate that's sparked a lot of interest and is really split.
However, even though basketball has changed so much, there's still an art to the midrange game.
"The game goes in waves," Turner says, "and I just think there is so much out there with social media and the internet that a lot of people out there don't know what the hell they're talking about. When I was growing up, I was a big fan of J.J. Redick and you see what Steph Curry is doing now, how can you not like that? But then you get guys like DeMar who will give you hell all over the court. He'll score 45 and shoot only one three but he's still the toughest player to guard. Nobody really speaks on what a good mid-range shooter can do if he plays the right way, distributes, and plays defense. If I can't shoot the three, but I can do nine to ten other things and everyone else is shooting threes, then whatever. I comprehend why people love the three-point shot, I comprehend the analytics, but you still need the other facets of the game."
Separate the contract from the player that Turner is and you have an experienced guard who's been put in almost every NBA situation in his career. From playing some to playing none to being injured or starting, his willingness to take a back seat on a young, growing Portland Trail Blazers team isn't something every player – especially not one who just got a big contract – would do willingly.
"He means a lot to our team," Blazers guard C.J. McCollum tells DIME. "He allows us to have another ball handler and decision maker throughout games and in crunch time. He's experienced and able to guard multiple positions. He has one of the funniest personalities I've ever seen. More importantly, he's a good dude. I have a good relationship with him."
Turner was once the second pick in the draft in 2010, and it'd be easy to get caught up in hype or expectations. Instead, he's using his time off the court to give him added perspective.
"I read a lot of books," Turner says. "Myself, [Andre] Iguodala, and some other NBA guys have a book club. The last book we read was Pour Your Heart Into It by Howard Schultz. But aside from that, I relax and I try and do a lot of things around the community. But once a day, I try to make it not about myself and about someone else."
Turner runs a prospect camp for kids who don't have the means or highlight reel to impress the big schools in hopes of getting high school players scholarships to help fund a bigger cause beyond basketball. While he doesn't openly discuss many of the off-the-court community projects he does, he's got reasons for why.
"I've always done a ton of things in the community," Turner says. "But I was never interested in getting attention for it because I feel like a lot of people take it the wrong way. But recently, as we've tried to grow my prospect camp my friends convinced me to put my name on it in order to grow the popularity of the camp. Last year, we got 87 kids scholarships that wouldn't have gotten it otherwise. I just hope we can continue to grow it and help kids get an education."


The former Ohio State standout took time to really gel with the Trail Blazers and find his role. Obviously, the high expectations of being the 2nd largest payroll in the league (even with the youngest team in the league) didn't make things easier. But once he started to find his groove in late November and January, a mid-season hand injury sidelined him for a month and interrupted the growth of his team chemistry and game.
"It's really tough to sit out," Turner says. "Who wants to do all that rehab and running when you can't actually play? Obviously, I enjoy watching my team play but sitting through all of it especially knowing all the work I put in during the offseason and early parts of this season, and the fact that you know you can be an extra body for your team is tough. But, it could be worse. When I broke my hand there were two guys who tore their ACL's, so it could be worse. So I'm not going to complain too much about the situation. It's all about your mindset and how you choose to approach every situation."
Now that Turner's back to full strength, the Blazers are in the midst of yet another late season playoff push. After beating Denver on Sunday, they won their biggest game of the season and look poised to make the playoffs for another season. With stops in Philadelphia, Indiana, Boston, and now Portland, Turner is the most tenured player on the Trail Blazers roster and will be needed in the locker room and on the court if the Blazers are to secure a playoff berth and push for an unlikely first-round upset.
While Turner's contract and statistics don't shout "valuable," his team is winning, he's contributing in the role his teammates and coaches want, and his maturity has helped him realize that he doesn't have to have the ball in his hands at all times.
"Those two guys [Lillard and McCollum] are the guys who do a bulk of the work," Turner says. "I'm just there to help and support them in anyway I can. The best thing I could've done for my career is not allow ego to get involved. Winning teams are created when you have guys willing to buy-in and take on different roles. I understand that and I think that's why we'll be successful."
From his outfits and attire to his outspoken nature and book clubs, Evan Turner isn't changing for anyone. That's one thing that'll never show up in the stat sheet. And if you have anything to say about it, he'll just shrug and fire up another shot in an empty gym.