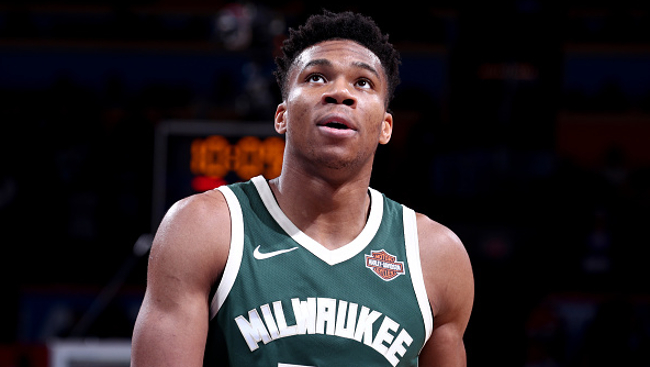 Giannis Antetokounmpo routinely executes plays that virtually no other human being can make on a basketball floor. That is the nature of his freakish length and athleticism but, on Tuesday evening, Antetokounmpo may have set a new bar even by his own lofty standards.
With the Milwaukee Bucks leading the New York Knicks by a 60-50 score in the third quarter, Khris Middleton led a fast break and eventually lobbed the ball in the direction of Antetokounmpo. Unfortunately for Knicks guard Tim Hardaway Jr., he happened to be in the way of the Bucks' MVP candidate. Antetokounmpo decided putting Hardaway on a poster would be boring, so he just casually jumped over him instead.
Yes, that is a 7-footer leaping over another NBA player to dunk on a fast break in the middle of a game. It was obviously insane, and because Gus Johnson calls Bucks games, you knew his call was going to be tremendous.

This dunk will obviously draw parallels to one executed by Vince Carter in olympic competition against Fred Weis and, in fairness, Hardaway is not the center-sized individual that Weis was in that instance. Still, Antetokounmpo is a massive individual in his own right and the fact that he could legitimately hurdle Hardaway Jr. without breaking stride is genuinely breathtaking.
This won't be the last time that Giannis Antetokounmpo does something that seems impossible. Still, this is absolutely a dunk of the year candidate, much to the chagrin of Hardaway.