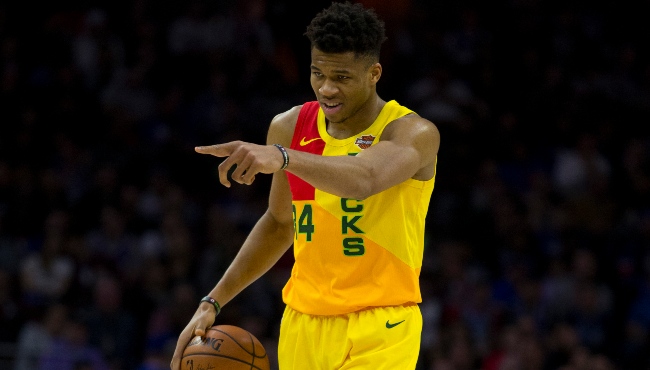 Before Thursday's scheduled tip-off against the Philadelphia 76ers on national television, Milwaukee Bucks forward Giannis Antetokounmpo was the betting favorite for the 2018-19 NBA MVP award. With that said, there was still a near-constant debate involving Houston Rockets guard James Harden, with the reigning MVP's candidacy stemming from the fact that he's been outrageous on offense this season.
However, Antetokounmpo sent quite a message during his 35 minutes of on-court time against Joel Embiid and the Sixers, putting together a masterful showing to lead Milwaukee to an impressive road win. As usual, Antetokounmpo showed off his unreal length and athleticism with high-flying finishes.
In this game, however, he also flashed an improving perimeter arsenal, including a respectable 3-for-7 clip from beyond the three-point arc.
Antetokounmpo continues a tremendous defensive force and he made a number of jarringly impressive plays, including five blocked shots.
When the dust settled, the 24-year-old produced a game-high 45 points (on 13-for-22 shooting and a 16-for-21 clip from the free throw line), 13 rebounds, six assists and five blocks. That is an MVP-worthy performance by any measure and, with their bias acknowledged, the Bucks' official Twitter account weighed in on the debate.
It should be said that one showing shouldn't slam the door on any further discussion surrounding the MVP award, especially given the unprecedented performances we've from Harden this year. Still, Antetokounmpo showed off his full arsenal in this particular spot, and he did so on a night when much of the NBA world was watching.
Following the contest, Bucks head coach Mike Budenholzer weighed in with his thoughts.
Harden is averaging 36.3 points, 7.5 assists and 6.5 rebounds per game for a playoff-bound Rockets team and, simply put, in any "normal" season, he would be the MVP front-runner. Even in this era of 24-7 sports talk generating endless debate, most would acknowledge that Harden's credentials are of the elite variety.
Antetokounmpo, however, reminded everyone why he is considered the favorite with a do-everything performance. When coupling his defensive impact with Milwaukee's status as the team with the best regular season profile in the NBA, it could certainly be said that he may have inched closer to the finish line with this individual effort.