The Golden State Warriors hadn't made the playoffs in half a decade.
Steph Curry was an undersized guard with ankle problems who settled for a four-year, $44 million extension. Andrew Bogut had yet to suit up in blue-and-gold, despite being acquired for a high-scoring fan favorite eight months prior. Klay Thompson was a one-dimensional shooter with a clear ceiling, and Draymond Green a gritty second-round pick who might make it after four years at Michigan State.
That's where the newly-minted Western Conference champs were on Nov. 1, 2012, a measly three seasons from now. The Warriors were still a laughingstock back then, trying so hard to claw back to mere respectability with a wholly unproven and mostly injury-riddled roster.
Not even the most optimistic Bay Area fans saw their team's meteoric rise from league bottom-feeder to potential champion coming as Golden State set its course for a future by inking Curry long-term. The reigning MVP was a sideshow, a skinny and preternaturally gifted shot-maker with a wildly improving yet horribly sloppy floor game. And worse, the 23-year-old was plagued by ankle issues it seemed he may never overcome.
The brightest outlook for Curry was a borderline All-Star.
Few knew what to expect from Bogut, either. The Aussie seven-footer didn't play for the Warriors in 2012 after being acquired in a deal for Monta Ellis, still recovering from his own ankle problems that would keep his debut season to 32 games. Once it became apparent Golden State's current defensive monster would never regain the offensive prowess he showed with the Milwaukee Bucks, many believed he was overpaid and overvalued; and the three-year, $36 million extension he signed in November 2013 only confirmed those fears.
Bogut was what might keep the Warriors from reaching their potential.
Thompson's promise was obvious yet limited, and Green was a flier. The Washington State product enjoyed a solid rookie season that flashed his immense shooting gifts, but suggested long-term deficiencies as a ball-handler and defender, too. The only thing to expect from Tom Izzo's ideal player, meanwhile, was a rookie season remembered for his presence alone. And though Thompson and Green enjoyed surprisingly effective 2012-13 seasons, neither's performance hinted at the players they've become in the interim.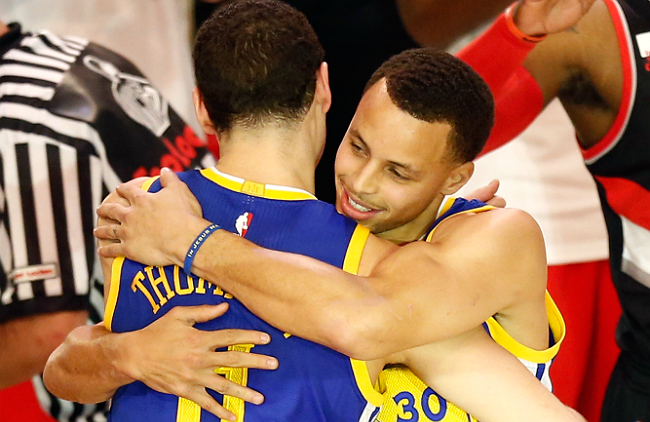 Golden State, the thinking went, had to get Curry better teammates.
Each of those guys exceeded those tepid expectations, of course, and Executive of the Year Bob Myers slowly surrounded that quartet with a group of solid players who largely reached their potential in 2014-15.