The Golden State Warriors hadn't made the playoffs in half a decade.
Steph Curry was an undersized guard with ankle problems who settled for a four-year, $44 million extension. Andrew Bogut had yet to suit up in blue-and-gold, despite being acquired for a high-scoring fan favorite eight months prior. Klay Thompson was a one-dimensional shooter with a clear ceiling, and Draymond Green a gritty second-round pick who might make it after four years at Michigan State.
That's where the newly-minted Western Conference champs were on Nov. 1, 2012, a measly three seasons from now. The Warriors were still a laughingstock back then, trying so hard to claw back to mere respectability with a wholly unproven and mostly injury-riddled roster.
Not even the most optimistic Bay Area fans saw their team's meteoric rise from league bottom-feeder to potential champion coming as Golden State set its course for a future by inking Curry long-term. The reigning MVP was a sideshow, a skinny and preternaturally gifted shot-maker with a wildly improving yet horribly sloppy floor game. And worse, the 23-year-old was plagued by ankle issues it seemed he may never overcome.
The brightest outlook for Curry was a borderline All-Star.
Few knew what to expect from Bogut, either. The Aussie seven-footer didn't play for the Warriors in 2012 after being acquired in a deal for Monta Ellis, still recovering from his own ankle problems that would keep his debut season to 32 games. Once it became apparent Golden State's current defensive monster would never regain the offensive prowess he showed with the Milwaukee Bucks, many believed he was overpaid and overvalued; and the three-year, $36 million extension he signed in November 2013 only confirmed those fears.
Bogut was what might keep the Warriors from reaching their potential.
Thompson's promise was obvious yet limited, and Green was a flier. The Washington State product enjoyed a solid rookie season that flashed his immense shooting gifts, but suggested long-term deficiencies as a ball-handler and defender, too. The only thing to expect from Tom Izzo's ideal player, meanwhile, was a rookie season remembered for his presence alone. And though Thompson and Green enjoyed surprisingly effective 2012-13 seasons, neither's performance hinted at the players they've become in the interim.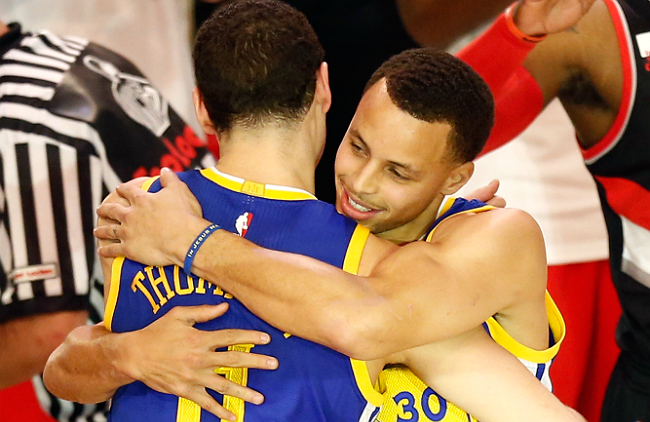 Golden State, the thinking went, had to get Curry better teammates.
Each of those guys exceeded those tepid expectations, of course, and Executive of the Year Bob Myers slowly surrounded that quartet with a group of solid players who largely reached their potential in 2014-15.
Harrison Barnes embraced a lighter offensive load by choosing scoring opportunities and maximizing his defensive energy. Andre Iguodala willingly accepted a bench role while emitting a calming, crucial two-way influence. Shaun Livingston fit in seamlessly; Festus Ezeli and Marreese Speights played the best basketball of their careers; and Leandro Barbosa and David Lee remained upbeat and ready to play despite roles that hardly befit their well-earned place as big-name veterans.
The sweeping tangible and intangible impact of Steve Kerr and his staff can't go unnoticed, either. The Warriors had a solid offseason by bringing Livingston and Speights aboard, but this team was largely the same it was a year ago… it just didn't play that way.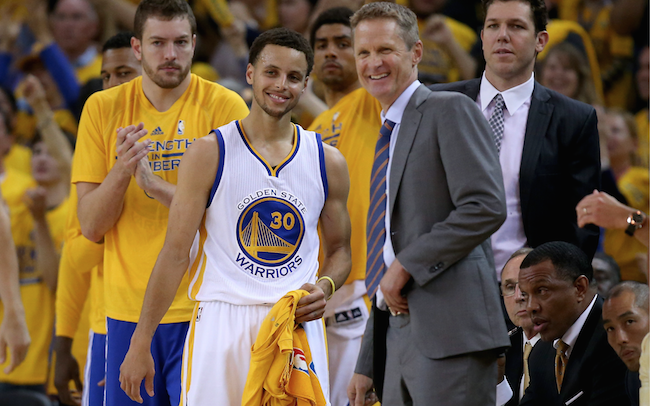 Everything came together for Golden State in 2014-15, and its been rewarded with the franchise's first trip to the NBA Finals in 40 years. Regardless of what transpires against LeBron James and the Cleveland Cavaliers, this season has been a success. If the Warriors make good on their status as near consensus title favorites, though, it will be hard not to look ahead.
This group has everything it needs to become the league's next dynasty. Offense, defense, superstars, depth, chemistry, and the collective understanding that a whole is greater than the sum of its parts.
Make no mistake, the Warriors will indeed be paying whatever it takes to retain Green come July. And while that will surely mean luxury tax territory, Golden State will shed Lee's contractual relic as Barnes becomes a restricted free agent a year from now and the league reaps benefits of its initial cap boom as a result of new TV money. Curry, Bogut, Iguodala, Thompson, and Livingston are signed signed through 2016-17, too.
With an established core in tow for at least the next two seasons, the Warriors' championship window should remain wide open. There's a good chance they'll be here again next spring and again the one after that. But that possibility of sustained success reminds of just how quickly it can become all too fleeting.
Look around the league.
The Cavaliers, amazingly, are here despite the complete loss of one three-time All-Star and diminished capacity of another. The just dispatched Houston Rockets made it this far without their starting point guard and power forward. The Atlanta Hawks, Memphis Grizzlies, Chicago Bulls, San Antonio Spurs, and Portland Trail Blazers had legitimate title hopes thwarted by varying degrees of injury to stars or key contributors.
And the Oklahoma City Thunder have been sitting at home for weeks, dreams of winning the Larry O'Brien Trophy dashed by health misfortune for a third consecutive season after they came so close to doing it in 2012.
Nothing is given in this league; everything is earned. Yet even that's an optimistic depiction of all it takes for a team to have a chance at ultimate glory. It's impossible to simply practice, play, and hustle to a title. Luck is a far bigger factor in deciding a champion than anyone is comfortable admitting.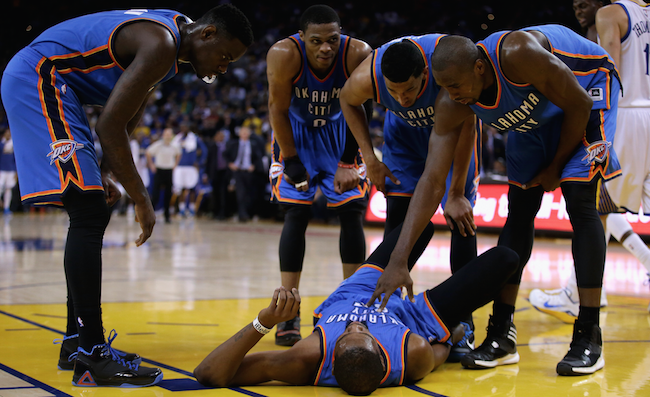 It's why the feat of James embarking on his fifth-consecutive Finals appearance should never be taken for granted, and why another Golden State trophy ceremony next month won't even mean a remote possibility for the same one next year.
The body breaks at random. The ball bounces funny. What if Thompson took a knee to the face in Game 1 as opposed to Game 5? What if Curry hadn't got his hand on James Harden's dribble in the waning moments of Game 2? Golden State wouldn't be celebrating on Wednesday night, but preparing to go to a raucous Toyota Center and come away victorious in a must-win Game 6.
The line between winning and losing a game is razor thin. That's obvious. But if there's anything this league exhibits on a yearly basis, it's that the one between winning it all and losing any chance at a title is nearly as narrow.
Kerr's club hasn't been forced to realize that fact like so many of its peers. The Warriors have avoided major health problems in the playoffs and managed to do so all year, too. And, frankly, they might be good enough to have rendered those potential issues moot, even though so many other teams couldn't.
Should Golden State do as many expect and end its fateful season with a championship, it will seem like the beginning of something even greater. And that might indeed prove the case, too. These Warriors are young, driven, and über-talented; in a vacuum, they could run the NBA for years.
But that's not how this game is played. Golden State's title window could close even more abruptly than it opened so wide. While that's a humbling reality, it should be one easy for the team and its fans to stomach – it was just three and-a-half years ago, after all, that no one could feel any breeze whatsoever.
And with the Bay's wind whipping harder than it has in decades, the Warriors must take advantage.