Things have been less than ideal for the Golden State Warriors to start the season.
As if adjusting to life without Kevin Durant and Andre Iguodala wasn't hard enough on its own, the Warriors have had to do it without their All-Star shooting guard Klay Thompson, who suffered a torn ACL in Game 6 of the NBA Finals and isn't expected to play this season. Then, on Friday, it was announced that two-time MVP Stephen Curry will miss at least the next three months with a broken hand he suffered against the Phoenix Suns last week. That's not to mention the nagging injuries that Kevon Looney, Jacob Evans, D'Angelo Russell, and Draymond Green are currently dealing with.
If help is on the way for the Warriors, it might be too little too late when it arrives. However, that doesn't mean the team will be purposefully tanking this season. In fact, after a game where the Dubs trailed the Phoenix Suns by as many as 34 points — the same one that saw Curry get injured — Golden State owner Joe Lacob told reporters that tanking isn't in the team's DNA (via ESPN):
"It is against every single thing I and we stand for," Lacob said.

"We will fight like hell. Develop our young guys. Learn to win," he continued. "You don't get better by trying to lose. Our entire organization is about winning. And we will win. Some bumps in the road, perhaps. But we will never accept losing."
What it does mean, though, is that the Warriors will have to be extremely patient over the next few months.
With Curry likely sidelined until at least February, Russell will have to fill some big shoes upon his return from an ankle injury. The Warriors acquired the All-Star guard in a sign-and-trade involving Durant in July with the hope that he'd help take the pressure off of Curry while Thompson was sidelined. So far, that hasn't been the case.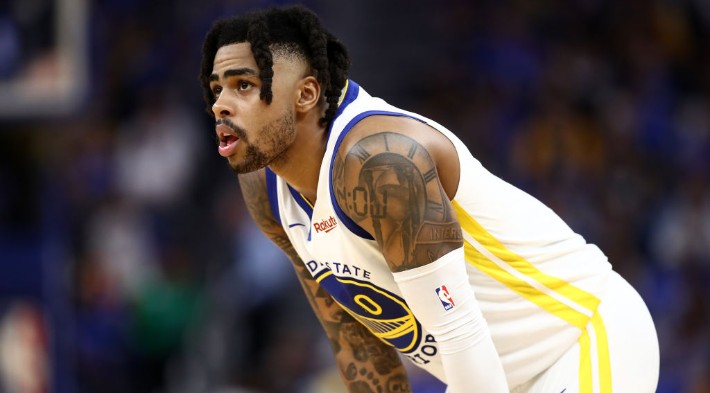 Through five games with the Warriors, Russell has averaged a respectable 19 points per game, but on a lowly 38.6 percent from the field and just 31.4 percent of his three-point attempts. In the minutes Russell has played, Golden State has allowed 126.1 points per 100 possessions. He's also posted the worst box plus-minus (-16.0) on the team. If staying competitive is the goal for the Warriors while Curry and Thompson are out, Russell needs to adapt to head coach Steve Kerr's style of play, or vice versa.
For the last five years, Kerr has had the privilege of coaching Curry, whose movement off the ball and shooting stroke is unlike anything the league has ever seen before. Russell is a shooter, but not a very efficient one. Last season, Russell posted a true shooting percentage of 53.3%, which, despite being a career-high for the third-year guard, would have ranked in the bottom-five on last year's Warriors team that finished the season with a 59.6% true shooting percentage as a group.
The types of shots Russell likes to take aren't what Kerr is used to, either — at least not from his star players. Because Russell lacks the speed that Curry and Thompson has, he's at his best when he's creating his own shots off the dribble. Last season, 69.6% of his made jump shots were unassisted. Compare that to Curry's made jump shots, which were assisted 63.9% of the time.
That's not to say Russell can't play off-ball, he just hasn't been terribly effective at it in his career. Last season, objectively his best as a pro, he still made just 39.3% of his catch-and-shoot field goals.
Russell can't fix Golden State's problems alone, but he's their best shot at exceeding expectations. Draymond Green, the team's other relatively healthy All-Star, will play a big role in that process, too, but Green's star shines brightest when surrounded by other stars. If Russell isn't making shots, Green's assists and points he generates off of screen assists don't show up in the box score. Additionally, if Russell can't stay in front of his man, Green's burden on defense only grows larger, which affects how efficient he is on that end.
If Kerr can get Russell to buy into the Warriors' style of play, he'll be in a better position to complement a healthy Curry and Thompson next season. If he can't, the Warriors need to make a concentrated effort to make Russell look as good as possible until their stars return, even if that means making significant tweaks to how they've done things in the past.
Outside of the core three of Curry, Thompson, and Green, Russell is the Warriors' biggest trade asset, provided he can live up to his All-Star production from a year ago. Russell signed a four-year, $117 million max contract in July, giving Golden State a salary ballast to use in a future trade they wouldn't have had otherwise. With Russell's recent play, it's hard to imagine the market for him is as robust as it was just a couple of months ago. His stock could rise again over the course of the season, though, as a result of Russell adapting to Kerr's system or Kerr building his offense around the only starting caliber point guard he has on the roster.
Even operating under the best-case scenario, Curry and Thompson won't be back until after the All-Star break. By then, the Warriors will know whether or not a trip to the postseason is still within reach. Given the makeup of the roster as constructed and the limited avenues to improve it as a hard-capped team, it's not unfair to assume they won't be in the hunt for a playoff spot come mid-February.
While that would end their seven-season playoff streak — tied for the second-longest active playoff streak in the NBA with the Houston Rockets — it could end up be a blessing in disguise for the Warriors.
With Curry, Thompson and Green taking a step back, the Warriors will be able to evaluate their young players like Russell and Eric Paschall, who has been tremendous for Golden State as they continue to deal with injuries. In the three games that Curry, Russell and Green have been sidelined, the 23-year-old rookie has averaged 26 points per game on 51.9% shooting from the field and 7.6 rebounds per game. On Monday against the Portland Trail Blazers, Paschall tallied 34 points and 13 rebounds, making him the first Warriors rookie to do so since Chris Webber in 1994.
Whether or not the Warriors are winning games, Paschall will have every opportunity to show he can be a foundational piece to the team. The same can be said of Jordan Poole, Omari Spellman and Evans.
Putting a priority on developing young talent as a result of unfortunate injuries to key players is different from tanking, even if it has the same result more often that not. For years, the Warriors have had to operate on a win-now timeline, which has been to the detriment of internal development for younger players that have passed through their doors. The result of that approach was five straight Finals and three titles, but it meant that this year, the roster had more questions than answers. Now that Curry is out for significant time, the expectations are gone and the focus can shift to a year-long evaluation and development of their roster to see who can help long-term.
If by the end of the season the Warriors have a rejuvenated Russell, a few promising young players and a high lottery pick, they'll be in prime position to re-tool their roster around Curry, Thompson and Green — a trio as formidable as any in the league when healthy. The Warriors may be down for now, but they're far from out — they might just have to wait a year until they're back to where they're used to being.