It's been a big year for Nike in terms of their partnership with the NBA. Not only did they become the league's official uniform provider, they got their first crack at designing the All-Star Game jerseys for the league's annual midseason festivities in Los Angeles last month.
Earlier in the season, they announced a very cool new initiative called the City Edition uniforms, a new line of jerseys for each NBA team with a logo design that featured visual touches that are specific to each city's rich history.
When the company started posting images of new alternate jerseys on their website earlier this season, we also got an initial glance at what would end up being new logo designs for a couple of NBA teams, namely the Memphis Grizzlies and Denver Nuggets. Conrad Burry of SportsLogos.net reports he has confirmed that both squads will have updated logos and color palettes next season.

Here's a look at the changes to their respective logos that will go into effect next season via SportsLogos.net. The biggest change is with the Nuggets, who will do away with the powder blue in their color scheme and return maroon into the set, as it was in the 90s, along with navy, yellow and white.
Memphis' color scheme will also see a change as the lighter blue will be going away, but won't be replaced by much else.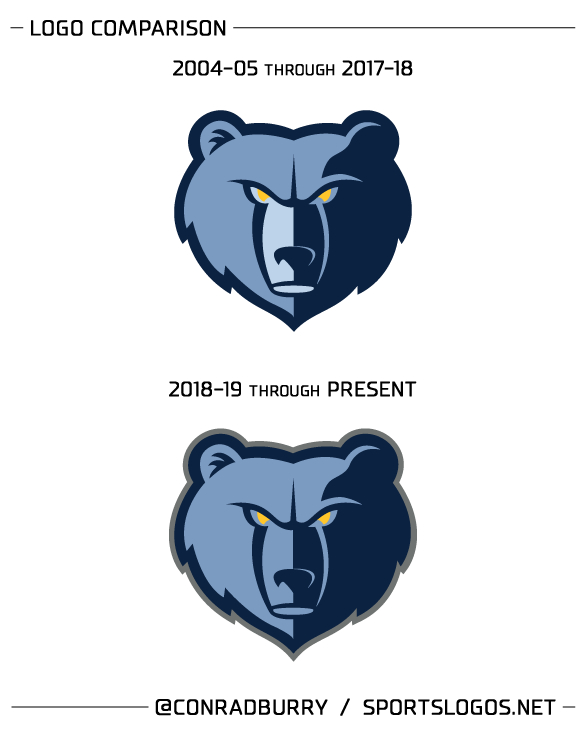 Denver's logo is essentially the same design but with an updated color scheme, while Memphis' features very subtle changes to the outside trim and the left side of the Grizzly's snout.

Burry and Chad Gersky also mocked up what the color change could do for potential new jerseys in Denver, such as a maroon primary on their City jersey. Click here to see mock ups for all four Nuggets jerseys.