The 2017-18 NBA season couldn't have ended on much of a worse note for Miami Heat center Hassan Whiteside. Injuries beget a struggle to find his form on the floor, which led to his role in Miami reducing, which led to open griping in the media from 29-year-old center. As the Heat saw their season come to an end in the first round of the playoffs, it led to plenty of rumbling about Whiteside's future in Miami.
But Whiteside hopes that a new season, coupled with a clean bill of health and a new approach to taking care of his body, will lead to those issues being a thing of the past when the 2018-19 campaign tips off in less than a month. Whiteside's back in Miami, and as he told Dime, he's been working to expand his game during his seventh year in the league, even working on things like his ability to hit jumpers and corner threes.
While one eye is on the season, Whiteside is also stoked about the latest release in his favorite video game series, Call of Duty: Black Ops 4. Whiteside spoke to Dime on behalf of the game, and in addition to his excitement about Black Ops 4, touched on the end of last season, Dwyane Wade's final year in Miami, and of course, why he found so much joy out of a dancing hot dog on Snapchat last year.
The big Heat news of the week is that D-Wade is coming back. Did you know that was coming or did you find out when we all found out?
I knew D-Wade was … I didn't know any inside information but I was kind of hoping, I kind of felt he was leaning towards coming back.
You do any recruiting or did you let his process play out a bit?
I always tell D-Wade, we had a workout the day before he committed so I said ,"Man, it's an honor. I think it'll be an exciting moment if you just come back for this city, for the fans, the organization." I just talked to him and I thought it would be an exciting moment.
What's it mean to get him back one more year where y'all know, at the end of the year, this is it for Dwyane Wade?
It's big. I think it's tough to really find people … you get to play with a future Hall of Famer. He's gonna have his jersey in the rafters, and I think just the younger guys, knowing who D-Wade is, I think it's good for the NBA and the fans. It's just the final one, so you know.
Something that fascinates me about the Heat is that, in terms of their roster, the team is running it back from last season. In your eyes, why is it the right move?
Just because we're gonna have everybody healthy. I think Dion's gonna come back healthy, he's gonna be like a new piece. Rodney McGruder back, guys that are there, essentially, that weren't there last year, so people saying it's the same team, but it's not gonna be the same active players. I think we can do a lot of things with these guys if they're healthy.
You had a pretty rough end to the season, but you said you had a productive, four-hour meeting with the team this summer. How did that meeting you had with Miami help mend whatever fences needed to be mended?
I had a tough year, physically and mentally just dealing with injuries. I was in and out the lineup, I come back, I get hurt again, and it was just a tough thing to deal with. It kind of threw off a lot of things that we wanted to do. I came back, I'm feeling healthy, my knee feels great, I feel great. Just a fresh start and we're excited.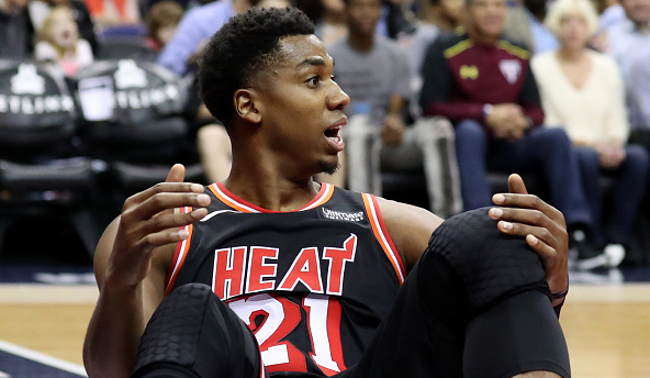 Has the end of last season and being banged up changed your approach this offseason or do you go into every summer trying to follow the same routine?
I change my approach. I'm trying to do a better job of just listening to my body even more as far as recovery goes, taking extra precautions with things like that. Just come back stronger and make up for it.
What's been the biggest thing you've worked on this summer?
I think really just strengthening my leg, shooting, staying consistent. Pretty much everything — ball-handling, shooting jumpers, shooting the corner three a lot more, shooting threes, mental focus.
People always talk about how the NBA is moving away from "traditional" big men, but right now, the league has so many fun and uniquely talented bigs. Who are the guys you have the most fun checking and why?
The most fun checking? I think that this is probably the most talent the NBA has at the big man positions in a long time. I really enjoy checking guys like Karl-Anthony Towns, because not only is he one of my close friends — he's a great friend, great person, so it's always good to get to talk junk with somebody you're friends with. So I really like that. And he's actually really good at Call of Duty, too.
I know Anthony Davis loves COD, too. How frequently do you get to play it with other NBA guys?
Any time they're in town or online. Pretty frequently, probably even more especially when this new one comes out. Any time we find free time, even more in the offseason than in season.
Correct me if I'm wrong, but you hit the court last year in a few different sneakers with Heath Ledger's Joker on them. What was behind the decision to rock those?
Yeah, The Joker's always been my favorite villain. The way Heath Ledger played The Joker was amazing, and I really found significance in his role.
Any fun sneaker designs kicking around your head before next season tips off?
I'm gonna figure out some things. I haven't figured out any yet, but I got some ideas.


You're a pretty unique player in that you are one of the more prominent dudes to go from the G League to the NBA. How'd going down that path help mold you into the player you are today?
I think it showed me how hard it is, how much work it takes, hard work and dedication it takes.
What needs to happen for the G League to become not as viable as going to college, but a path that is more commonly taken by guys with NBA aspirations?
I think as far as the G League, I feel like guys get an opportunity to play more like a pro game from the start. The defensive three seconds and having those long practices instead of having school hours, I think it kind of gives them a little bit of a different aspect of the game.
So before we get into COD questions, I need to ask: What was it about that hot dog on Snapchat that made you so happy last year?
Aw man, it's just hilarious. It's a dancing hot dog. Anybody that knows me knows I love hot dogs, I'm like a big time hot dog advocate. If they had, like, a hot dog festival in Miami or if there was one I could go to, if you know about one, I would go to it every year. I'm a big hot dog person.
So the fact that there's this smiling, dancing one of your favorite foods just killed you, I'm guessing.
Yeah, I love hot dogs. North Carolina, they do cole slaw with chili with the onions. So many different ways.
You're here with COD — have you gotten a chance to give the new game a whirl yet?
I played the Beta, that's about it. I just played the Beta, I haven't played the actual game. I'm excited about playing the actual game. The graphics on it are sick. I'm real good friends with NoahJ, I play with NoahJ, he's the Zombie guy. I'm excited about playing the Zombie mode, he's like a Call of Duty streamer, so I'm excited about playing zombies with him. I think the graphics are amazing, I think they did a really great job with the graphics and everything, and it's gonna take me a while to get used to it, get used to the new aspects of the game, but once I get used to it, I'm gonna be really good at it.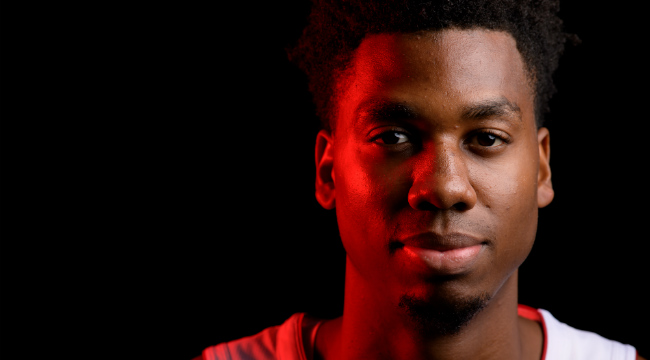 That new Battle Royale mode, are you new to that or are you a guy who plays Fortnite and PUBG?
I've been playing Fortnite. I got new to Fortnite when it came out, so playing with that Battle Royale — go find a weapon, go find a gun as fast as you can, I've started getting aspects of that. I think it's cool, I think it's a great idea. It's really good for the fans.
Has COD always been one of your go-to games?
Yeah, that's my favorite game. I tell people that all the game, that's my favorite game. Then it goes down to 2K and stuff like that, but Call of Duty has always been a game I put hours and hours just playing it, I can play it all day.
You've been in Miami for a while, I need you to be honest: Who's the best guy in that locker room and who's the worst when you're all gaming together?
Who's really good … I think I'm the best Call of Duty player. If I had to say the worst, it'd probably be one of the guys that don't ever play. Probably be a guy that never plays, maybe Justise [Winslow] or somebody, I don't know if they ever play video games. Oh, [Josh Richardson] or somebody, he never really plays first-person shooters.
If Hassan Whiteside gets to throw a squad together to play COD with any NBA players or any other people you're friends with, who are you picking?
I'm gonna take … definitely Karl-Anthony Towns, he's one of the best COD players I know, so I'll definitely take him. NoahJ, him and NoahJ are my 1 and 2.
Last question, didn't name DJ Khaled in there, what's he like on the sticks?
[laughs] I don't even know if DJ Khaled plays Call of Duty, but if he does, I'll definitely put him in there. He can be there for motivational purposes.
They don't want you to win, man.
They don't want me to win.