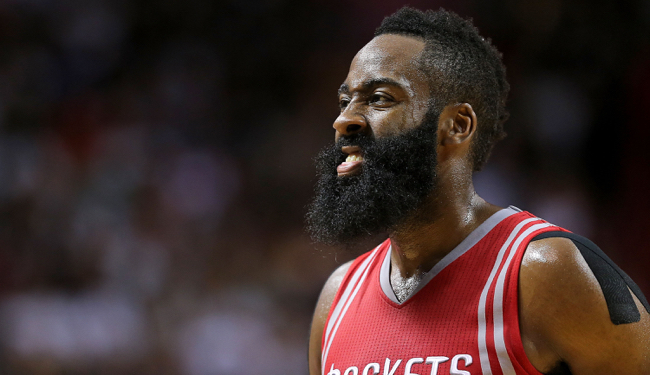 The Houston Rockets aren't right. After going up by 21 on the Heat in the second half on Sunday, they ended up losing by 20, 109-89. It was their third loss of the young NBA season, and the third time they were beaten by more than 20 points. That's never happened before. Like, ever.
Things are so bad with the Rockets, Reddit's r/NBA forum started a Rockets panic thread.
So far, Houston ranks in the bottom five for offensive and defensive rating, and their net rating is the worst in the league — three-straight 20-plus blowout losses will do that. The real problems stem from their superstar off-guard, James Harden.
In three games this season, he's shooting 9.4 percent from beyond the three-point arc. That is not a typo. He was 0-for-10 from deep against the Heat on Sunday (he's 3-of-32 overall this season). Things got so bad that, when James actually got a mismatch he could take advantage of when Hassan Whiteside switched out on him along the perimeter, he decided to take a step-back three-pointer. It was easily blocked by the seven-footer.
http://giant.gfycat.com/DefenselessBleakBlackandtancoonhound.gif
Of course, Lil B BASED GOD™ decided to bring up that silly curse he purportedly put on James Harden for supposedly ripping off his stir-it-up move.
So now we have to mention it in a blog post because it's 2015 and the world is routinely wedged into 140 characters or less. Also, let's stop calling Lil B a rapper. If you call Rakim a rapper, then Lil B shouldn't get that distinction.
But rather than blame an Internet rapper personality's fictional curse on Houston's best player for their opening-season ills, we can point to Beard's abysmal shooting and the Rockets' inability to get stops while Dwight Howard and Terrence Jones remain sidelined with injuries.
Clint Capela filled in ably at center last night, posting the team's only positive plus-minus (+5) and going 5-of-5 from the field. But he only got 15 minutes of playing time, and Miami's Hassan Whiteside dominated down low with 25 points on 12-of-15 shooting.
Plus, after Marcus Thornton carried them offensively in the first half, he and the rest of the Rockets reverted back to the team that just started the season worse than any team EVER.
The Rockets stink almost as bad as Lil B's flow. Almost.