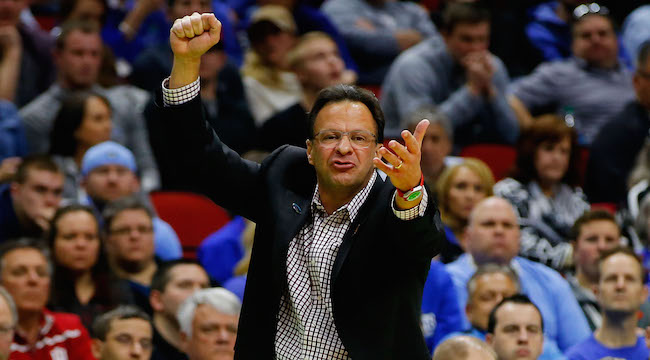 At 12:15 p.m. ET on Thursday, Notre Dame and Princeton tipped off in Buffalo to open the first round of the NCAA Tournament. At 12:16 p.m. ET on Thursday, Indiana announced it had fired basketball coach Tom Crean after nine seasons in a Hall of Fame worthy news dump.
Crean being fired came as little surprise to the college hoops world, considering he'd been on the proverbial hot seat for a few years and just lost in the first round of the NIT to Georgia Tech on Tuesday. However, what was stunning was the timing of the announcement, as the Hoosiers attempted to bury it in the excitement of the start of the first full day of the NCAA Tournament.
That news dump caused the internet to go nuts with jokes, both about Crean — long a favorite meme of college basketball Twitter — and Indiana's timing of the announcement. We'll start with the Crean jokes, because screencaps of a confused looking Tom Crean are always a winner.
Look, a person getting fired is a bummer for him and his family, and hopefully Crean lands back on his feet, but any reason for Twitter to break out the "Best of Crean" facial expression collection makes for a great timeline.
Then there were plenty that piled onto Indiana for their impressive effort to dump the Crean firing right on tip-off of the tournament.
Crean will have a job again soon. He won the Big Ten as recently as last year, after all, but it's not the internet if jokes aren't made at someone else's expense, whether they're let go during March Madness or otherwise.