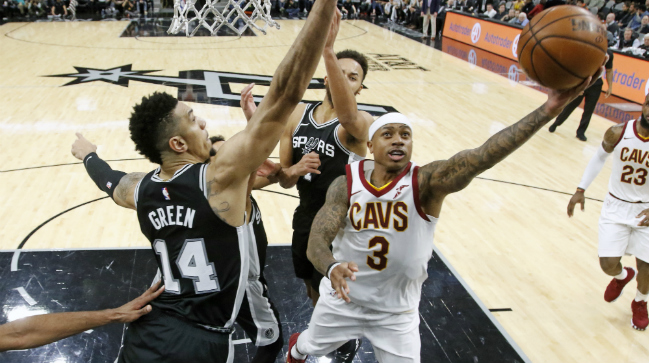 The Cleveland Cavaliers are struggling on defense, and never was it more clear than on Tuesday night when Andre Drummond and the trade-depleted Pistons that didn't have Blake Griffin yet managed to score 125 points in a win over the Cavs.
Cleveland's defense has been bad all season, and despite losing Kevin Love on Tuesday night, it was Love that has sometimes been the scapegoat for the Cavs this year. But as the season goes on, it's clear that one of Cleveland's new acquisitions has not improved on the defensive end.
Isaiah Thomas has never been a good defender, but those deficiencies have been exposed in Cleveland to the tune of a decades-worst defensive performance this year.

There aren't many answers that make sense for Cleveland right now, but ESPN's Brian Windhorst has a strong suggestion: send IT to the G League and let him take some time to improve, as he said on ESPN Cleveland this morning.
The argument for Windhorst is that he's hurting the Cavs in the immediate sense, not helping, and so it's best that he gets better against weaker opponents.Thomas has complained he's not been able to get into a rhythm since returning from injury and going back to the G League would maybe provide that. But there's also a very cynical take hidden in there: Windy says Thomas on the Charge might actually hurt them, too.
What's clear is that Thomas needs to get better on defense for Cleveland to succeed. It seems unlikely that Thomas actually plays in Canton this year, but we've seen crazier things already this NBA season.