NEW ORLEANS – "I'm back."
Jahlil Okafor examines his fingernails and gives an affirmative head nod. After a relaxing manicure and pedicure session at Southern Swings, a nail bar on Magazine St., he gets comfy on a couch in the corner, where an illuminated neon sign reads "treat yourself." The conversation with those in the salon moves effortlessly from talk of the Game of Thrones final season to a discussion on horror movies — Ready or Not was a highlight.
The staff ribs Okafor a little bit for being gone for a couple weeks, as he's moved away from the neighborhood to be closer to the team's practice facility and hasn't made his regular appointment. In season, it's not exactly easy to stick to one spot, especially one that's now a bit of a drive away. There's a general self care revolution at play with Okafor, who is in his fifth season in the NBA and can be considered a vet, but who turns 24 in December. Most people in their early-20s aren't diving into sleep studies and bringing their CPAP machine as a carry-on. Most top-5 picks aren't shopping for oil diffusers, or weighing the pros and cons of hydrogen water on the advice of former Pels star Anthony Davis, even if Okafor is pretty sure it's purely placebo.
But most 20-somethings, even those at the top of the NBA Draft, haven't had the specific experience Okafor has had, and he's committed to using those first few years in the league as an opportunity to shape who he's becoming.
"It's owning up to some of my actions or some of the stuff that happened to me and not blaming anybody," Okafor says over dinner at Saffron, an Indian-Creole fusion restaurant Jrue Holiday recommended that has become his favorite spot in New Orleans. "Looking in the mirror and taking ownership over my career or anything that's happened to me. And the second I did that, I realized that I was in control. I felt like if somebody wronged me, it really makes me feel like you're not in control at that point. So once you take ownership of it, you realize that you're the reason for the situation that you're in. That makes you feel like you're a lot more in control. And once I had that realization, I wanted it for myself."
If it can help, and it can create that sense of control, Okafor is considering it. He's moved to more of a vegan diet and was tested for allergies recently with a sensitivity to shellfish, dairy, and gluten becoming present. He hired a personal chef to help keep things in check, especially in a food mecca like New Orleans. He's tried out meditation and actualization techniques, and spent the summer with Jrue and the Holidays near Los Angeles participating in their bootcamp of workouts to get prepared for this season. And he's continued to take care of his four-year-old Rottweiler named Natty, who recently had ACL surgery in Houston and will be rehabbing for a couple months.
As rookie Zion Williamson points out about Okafor's performance early on this season, "y'all see it on the court."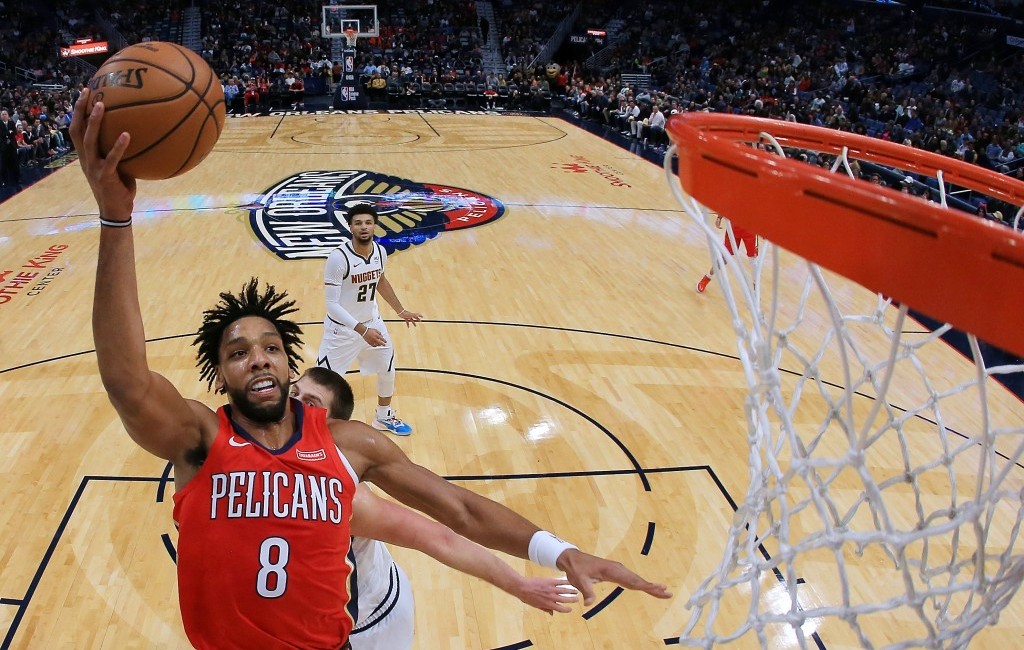 Okafor is averaging almost 10 points and five rebounds in just under 18 minutes per game, and is doing so on 66.6 percent shooting. It's by far his most efficient output since entering the league in 2015, and he's made strides as a rim protector as well, putting together 1.3 blocks per game.
"I think Jah has been been big for us," Holiday says. "Offensively I think he's gotten his confidence back to when he first got into the league. Obviously from college he was that guy. To come out here and do that is awesome. Defensively I think from the summer time just kind of going against us one-on-one and being able to just sit down and guard guards, is something for me that's been, I mean, I'm so happy for him. It's hard for me to guard people out here who are elite guards. For somebody who's 6'11, 270 to move his feet and slide, and still protect the rim and the arc is something I feel like is huge for him, but also helps us out tremendously."
Okafor's awareness and sensitivity are present even in limited interactions, and he presents a solid sounding board for a young team that's filled with talent, but has been a bit snakebit through the first month of the season. Top pick Williamson hasn't played due to knee surgery. Derrick Favors, Josh Hart, Darius Miller, Lonzo Ball, and even Okafor have missed time for various reasons. The Western Conference is grueling enough when you're healthy, and a gauntlet when you're trying to integrate so many new players. But to have injuries on top of that? That takes patience and understanding. Thankfully, Okfaor has plenty of both.
"We're going to figure it out pretty soon," Okafor says.
The Pelicans enter an emotional game against the Lakers on Wednesday night, one that sees AD's first return visit to New Orleans since the public trade demands and the summer move that sent several members of Lakers' young core to the Pels. Entering the game at 11th in the West, things haven't gone according to plan, but it takes vets and players like Okafor to keep the team steady.
Okafor can keep things in perspective based on his own trials and tribulations in the league, and he can use the knowledge gained from his time at Duke. Like most every Blue Devil, the place he played his college ball holds a special place in his heart..
"One of the things Coach K always talks about is never get too high, never get too low," Okafor says. "Never get too happy to the point that you're satisfied. Never get too down to where you just give up. That's the mantra I always try to remind myself, no matter what's going on."
Okafor has used his relationship with Mike Krzyzewski as a guidepost since leaving Duke, and finds himself drawn to Durham often. It's something he shares with a number of players on the Pelicans, who have organized "Duke South" in New Orleans. Okafor, Zion, J.J. Redick, Frank Jackson, Ingram, and general manager Trajan Langdon are all Blue Devils, and it's created a sense of community on the team as they've sought to develop camaraderie quickly despite there being so many new pieces in the Big Easy.
Following a road game against the Nets in early November, a number of players — including Jackson, Okafor, and Ingram — stuck around to watch the Champions Classic at Madison Square Garden as Duke took down Kansas.
"That was the most fun I've had at a Duke game in a long time," Okafor says.
"The Brotherhood is real," Williamson said at a practice on Nov. 7. "We look out for each other."
As Okafor drives past the Smoothie Center — right past an enormous billboard of Williamson that faces the arena — he can't help but smile and reflect on how he got here. He calmly turns up "I Want You Around" by Snoh Aalegra after making a wrong turn trying to get onto the highway. If his NBA career has taught him anything, it's that there's always another chance to turn the car around.