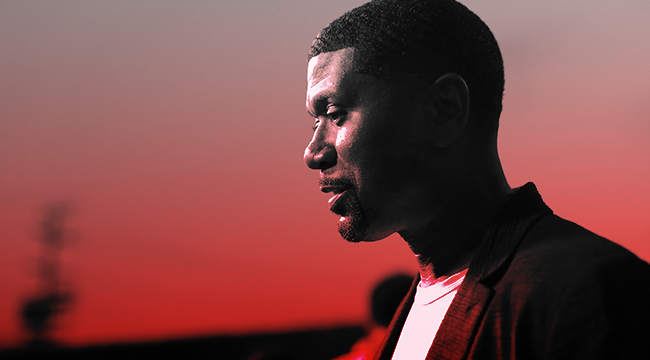 For more than two decades, Jalen Rose has been a ubiquitous presence around the NBA universe. Even before he got to the league, he made waves in the basketball world as a member of the infamous "Fab Five" at Michigan in the 1990s, which popularized an unapologetic style and attitude that ultimately revolutionized the sport forever.
After an NBA career that spanned 13 seasons and six different teams, Rose has since lent his inimitable voice to the broadcast world as an analyst for ESPN and as an influential podcaster on Jalen & Jacoby, which started on Grantland and eventually evolved into a television show on ESPN2 and a podcast on ESPN.
When he's not co-hosting NBA Countdown and Get Up!, he's directing his efforts toward more altruistic pursuits like the Jalen Rose Leadership Academy, a free public charter school in the Detroit area that that serves more than 400 underprivileged students.
We caught up with Rose last week to survey the landscape of the league as we head toward the postseason, and the result was a wide-ranging discussion about the true contenders in each conference, how the league should handle hostile fans, what's making players like Kyrie Iriving so testy with the media, and the NBA's podcasting boom.
We have some great matchups this weekend on ABC with the Thunder-Warriors and Bucks-Sixers (OKC and Milwaukee ended up losing their respective games). Starting with the OKC, where do you see them in the pecking order in the West?
I see the Houston Rockets and the Oklahoma City Thunder as legitimate threats to the Golden State Warriors. Not that the Warriors aren't my favorite. I'm not a betting man on sports, but, if you told me to take the Warriors or the field, I would actually take the field, and that's how legitimate I think those two teams are. Because both of those teams have a former MVP in Russ and Harden, both of them have All-NBA candidates in Paul George and CP3, and both have distinct identities.
Houston is shooting the three and putting up a lot of points, and then they've improved their defense over the last couple of years. For OKC, it's locking down on defense and being able to do a lot of switching on the perimeter, and you get quality offense from Russ and PG. So in order for OKC to actually make it happen, I'm looking at if they can make three-point shots consistently. Paul George is a knock-down shooter. [Terrance] Ferguson is knocking down shots, but can the rest of the players do it consistently.
Same question about Milwaukee. Should we consider them legitimate favorites in the East? What's the route they'll have to take to actually make it to the Finals?
I wanted to make sure I give them their level of respect. The Greek Freak is one of the front runners for MVP, with Coach Bud one of the front runners, if not the favorite, for Coach of the Year, and they've gotten good at allowing their players to flourish. Kris Middleton proved, and deservedly so, that he's their second All-Star. Then came Brook Lopez, a three-point shooter, Pau [Gasol] was a veteran, and lately Nikola Mirotic. I truly like their height and their flexibility with their roster.
But the playoffs are different from their regular season. The proving ground is always for teams that have not done it. They haven't had experience in advancing past the first round, but that's a collection that is skilled to do it. But it's just got to be a wait-and-see type of thing based on those dynamics I just explained.
We're gonna have the first postseason, it looks like, without LeBron in the last fourteen years. What do you think the implications are for the league as a whole, in terms of the fans, in terms of viewership, things like that?
Not having your most popular, arguably the best player in the game, not making the playoffs, that's not good for the league. It's always better when your top flight elite players are in the postseason. But at the same time, the Lakers, who are one of the most storied brands in all of sports, are going to miss the playoffs for the sixth straight year. The league is to the point where it's built on so many terrific performers and great characters, like the Golden State Warriors, who we refer to as a dynasty. It still has so many great and exciting storylines and exciting players to watch that people are still going to be enthusiastic about it once they start.
Commissioner Silver brought up this notion of unhappiness/loneliness/disconnection in the NBA. You kind of weighed in on it a little bit in regard to Kyrie Irving and just his general demeanor and how he deals with the media. What do you think might be the key for players who are battling the type of malaise that Silver described? Is it social media overload? Is it about not being connected to teammates in the way the players were in the past? You can speak to that from personal experience…
Well I have a few thoughts. First and foremost, I think Adam Silver has proved to be the best commissioner we have in pro sports. Just the way he handles things while building the league and continuing to make tough decisions and change rules when it seems like one thing needs to happen and be really progressive.
For young players adjusting to the league, now that you have that opportunity to play the game that you love, and you're also playing in the league that you dreamed about participating in … So what creates this level of disdain? The difference is, as an athlete, there's different types of media. There's sports media that you only need to talk to 5-10 minutes before and after competition ends. They're not bombarding you at your front door. Then, there's the ah-ha-gotcha-type media. For example, like TMZ or paparazzi. You can choose how you avoid it if you want to.
And then there's social media, which you can deliberately avoid as much as you want if you want to ignore it. At that point, it's about what you're allowing to get into your conscience, what you're allowing yourself to consume. With the sports media, you know what they're going to ask you. They're going to ask you about the game and the practice you had yesterday. They're going to ask you about your free agency. You know what to do. Go ahead. If you're able to approach it and be upfront and be direct, then it doesn't seem like much of a chore. When it seems like it's getting under your skin and you're standoffish, that's going to make it worse.
Earlier this week, Russell Westbrook got into an ugly verbal altercation with a fan in Utah that ended up getting the man banned from the arena. And now we have the NBPA calling for a zero-tolerance policy with that type of heckling from the fans. Have you personally had an experience like that where you thought a fan really went over line and they needed to be removed from the arena? What's your perspective on how to handle these situations?
After a game, Pacers and Knicks, walking through the tunnel in the Garden, there was a fan there to support the hometown team and was upset about the result. Straight threw a towel at my face. That did happen to me. I don't want to disparage all fans because the low percentage of those that seem irresponsible are the true reflection of most people that love the game, support the game. They have a major, positive, influence in the game. That's why I support the technology now. The heightened technology can help heighten the security. You can have those officers in the arena listening for the disrespect, the curse words, or any racist chants, and they can remove the fans to send a message. That's what Utah is doing with a couple fans, and I applaud that approach.
I wanted to talk a little bit about podcasting. You were in there early on with the Jalen & Jacoby show, giving us an insider's perspective on the league from a former player. And now we've see that blow up a little bit, and you see a lot of current and former players starting podcasts or appearing on podcasts. What is it that draws people to the medium, which is kind of a throwback to radio, especially with the way media has moved more and more towards video? What is that you think that draws both the listeners and the players to the format?
Absolutely. By no means am I acting like I'm the first person to have an original idea or something like that. But I will tell you what motivated me. Mass communication, radio, TV is pretty much what I majored in in college. I was fortunate enough to be working in media from 2002 to 2007 while I was still playing in the league. Once I retired in 2007, just like any profession that you hope to get into or any job you hope to secure, I always tried to find what I always call a "hole in the coverage." No one in my lane is doing it. In those years I just described, John Sally was the only former NBA player that was participating on a Monday to Friday show. I'm not talking about guest appearances. When you hit the guide their name is on it for everything. I was like "oh, I want to do that too."
I'm actually fortunate enough to have Get Up! and fortunate enough to have two, now that Jalen and Jacoby, the former podcast as you just mentioned, has become a TV show. What a podcast creates for an athlete, I think, is what reality TV has created for so many people who have gotten into that world. It creates a voice outlet, gives you a chance to talk about sports, entertaining you with politics. And, it's unorthodox. Once you sit in the room and those cameras are rolling versus having a camera man, people holding the camera, and a crew and that type of thing, it's a relaxed atmosphere where you can really express yourself like they're not present, like there's no one else in the world. You can do it at your own time. You can record it at your time. You listen to it at your own time.
I think that's the attraction, and I want to make sure to shout out Bill Simmons, who we call the Pod Father, for giving me additional opportunity. Another thing is it gives a chance to get out of your comfort zone and/or break any stereotypes because some former basketball players are only talking about basketball, or they only care to talk about the sport they played. But there may be some, like myself, who love football just as much as I love basketball. I love baseball. I actually have more than one interest.
What ends up happening is you get pigeonholed into only talking about one thing, and a podcast allows you to spread your wings and break out of that. That's one of the dumbest things I ever hear people say, and they get irritated when they see somebody that played one sport talking about another sport. That's like saying a woman shouldn't cover NFL football because there's no women in the league. Or because you play one sport, why are you talking about another sport? That's the dumbest thing. But you work hard, you become knowledgeable, you become a student of the game. Then, in time, people actually trust and say you know what you're talking about.