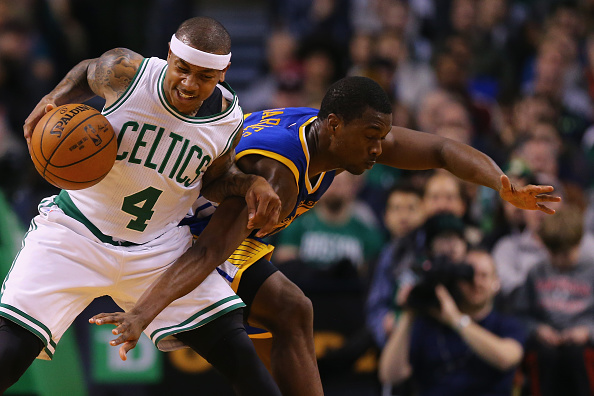 Golden State's 23-game winning streak to start the 2015-16 season is obviously impressive—more than impressive, really. To be the defending champions and come out firing like this is almost unbelievable. Without a doubt, the Warriors are in the running to best the Bulls' 72-10 regular season record.
Could it be, though, that one of those losses comes Friday against the Celtics? NBA broadcaster Jeff Van Gundy thinks so. Speaking to ESPN's Zach Lowe on "The Lowe Post" podcast, Gundy made the bold prediction that Golden leaves Friday's game 23-1 instead of 24-0.
"I think Boston will get 'em on Friday," Gundy said. "I think Boston is such a great defensive team, with a great home court. But the truth be told, I thought Toronto would get them as well … but the Warriors proved they could handle that too."
The Celtics would certainly be a trendy pick to pull the upset. Boston has won six of its last eight games and is tied for seventh in points allowed per game (97.9). The Celtics also rank fourth in the NBA in point differential (+5.3).
Van Gundy went on to say he's more impressed with the Warriors' win streak than them winning the championship last season. Since Golden State has already won a title, and is easily a favorite to repeat, it's hard to disagree with Van Gundy here.
(Via ESPN)