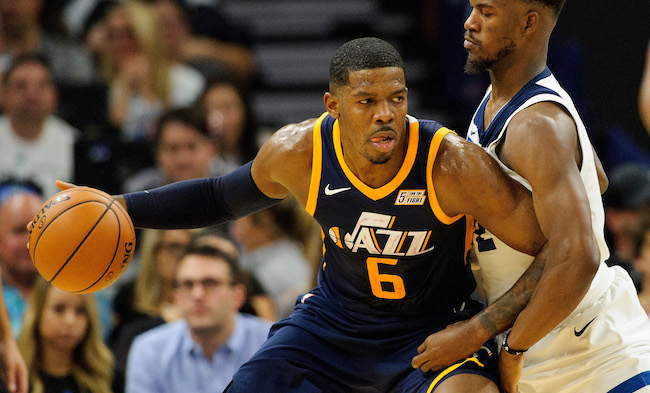 When Gordon Hayward opted to sign in Boston this summer rather than returning to the Utah, the Jazz suddenly went from being a growing threat in the West to simply being a team that would be fighting for a playoff berth.
Compounding the issues of losing Hayward this summer have been the numerous injuries the Jazz have dealt with to star center Rudy Gobert and others, which has led to a 22-28 start to the season and dwindling hopes of reaching the postseason. It appears to be time for the Jazz to have an eye towards the future, with rookie Donovan Mitchell emerging as one of the biggest steals from this draft.
With that being the case, there's little reason for veteran shooting guard Joe Johnson to stick around in Utah. Johnson was an integral part of last year's Jazz run, but this season has not gone nearly as well for Johnson or the Jazz, as he's averaging 7.3 points per game with some dismal shooting splits. With the trade deadline looming, Johnson is apparently hoping to find a way out of Utah and onto a contender.

Johnson's $10.5 million expiring contract could be useful in trade negotiations if the Jazz need to match salaries to land a higher priced player, but it also could prove difficult in moving if a larger package isn't in the works. In that case, Johnson could work with Utah on a buyout like Greg Monroe did with the Suns and look to go to a contender on a minimum deal.