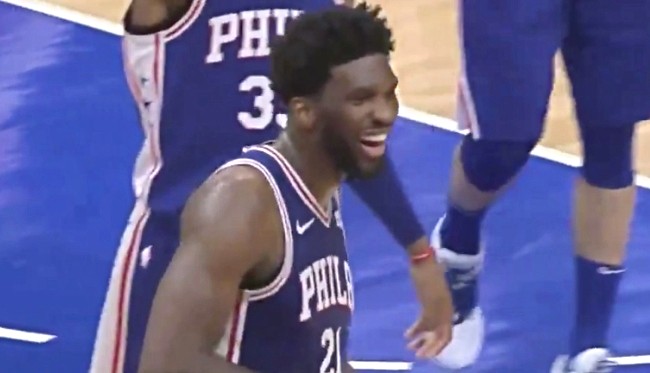 Joel Embiid has made a handful of rivals during his NBA career, one of whom is Detroit Pistons center Andre Drummond. During one matchup last season Embiid credited a big game against the Pistons to the fact that Drummond "doesn't play any defense." He followed that up by saying that Drummond "can't shoot" before their next game against one another, and when Drummond got tossed during that ensuing game, Embiid pointed to the exits, much to the delight of the fans in Philadelphia.
Both guys dapped one another up following that game, but there is still a history between the pair. The latest chapter in this rivalry was on display on Tuesday night, when Embiid baited Drummond into getting a technical foul and, as a result, getting tossed.
The Pistons and Sixers were in the midst of a game in Detroit that would end up going to overtime. Embiid scored on Drummond late in regulation to push Philadelphia ahead, then committed as egregious of a flop as you'll see.

Here's the full clip of the flop, which includes Embiid working the officials and Drummond getting a technical foul. It was the Pistons big man's second tech of the night, so he got tossed as Embiid grinned from ear to ear.
This seems ripe for a phone call from the league and potential fine for flopping, but Embiid probably doesn't care about writing the league a check, because he must think he's living rent free in Drummond's head by this point.