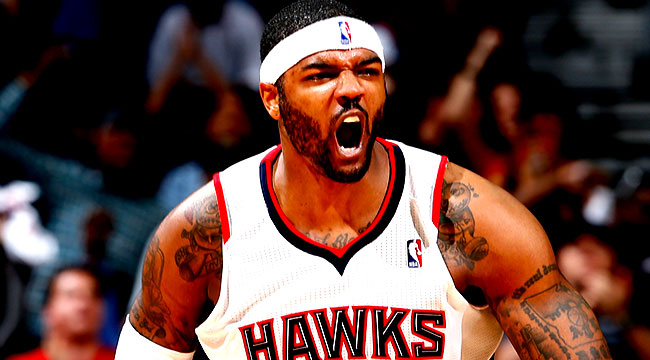 TORONTO – Last week, as Josh Smith wrapped up what would turn out to be his final practice with the New Orleans Pelicans by competing in a spirited scrimmage, head coach Alvin Gentry watched from the sidelines and spoke about the 31-year-old forward who signed with the team in late October after the league granted the Pelicans with an injury hardship exception.
"He's a smart basketball player, a good passer, and a streaky shooter but capable of making the three-point shot," Gentry said. "He's a multiple position player. Those guys usually have a lot of success in our league."
The success of Smith's NBA career has been debated throughout the years. Drafted 17th overall by the Atlanta Hawks in 2004, Smith belongs on the list of high schoolers who've had very productive careers in the league. At his peak, he was one of the league's best defenders. In 2007, he became the youngest player in NBA history to record 500 career blocks. In 2010, Smith finished second in Defensive Player of the Year voting to Dwight Howard.
Per Basketball Reference, Smith is one of 10 players since steals and blocks were recorded in 1946-47 to have over 1,000 steals and 1,700 blocks in his career. It's an esteemed list which includes Kareem Abdul-Jabbar, Tim Duncan, Kevin Garnett, David Robinson, and Hakeem Olajuwon.
Smith was an agent of chaos on the court with his ability to guard multiple positions and disrupt opposing offenses with his athleticism. Rajon Rondo – now on the Pelicans, where Smith had his latest stay – played with Smith in high school at Oak Hill Academy.
"He was the most athletic guy I've ever played with, probably still to this day," Rondo says. "He could bring it up the floor, he was a great playmaker, he blocked shots, he rebounded, he was one of those guys who could fill up a stat sheet with 20 points, 10 rebounds, five assists, five blocks, and get you five steals."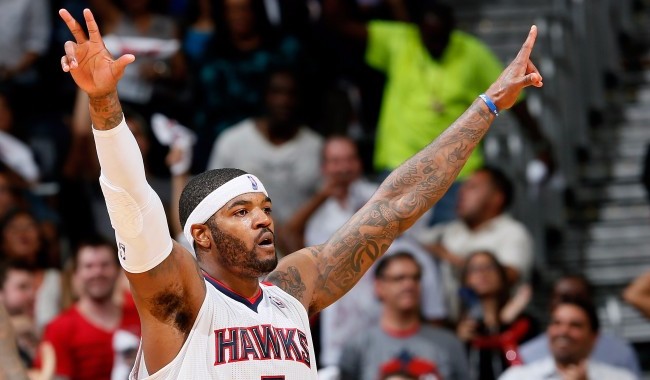 While he was stuffing the stat sheet, Smith's propensity to shoot – and miss – three-pointers began to define him and overshadow the positive impact he brought on the floor. In Atlanta, the home crowd would groan whenever Smith pulled up from beyond the arc. Among players who have attempted more than 1,500 three-pointers in their career, Smith has the third-lowest three-point shooting percentage at 28.5 percent.
Second on the list is Corey Brewer, at 28.2 percent on 1,626 attempts, and because basketball makes absolutely no sense sometimes, Smith and Brewer were part of one of the greatest comebacks in playoff history on a team that shoots three-pointers at a historic pace.
In Game 6 of the second round against the Los Angeles Clippers in the 2015 playoffs, down 3-2 in the series, the Rockets trailed by 19 points in the third quarter. With James Harden on the bench, Houston's season appeared over, until Brewer and Smith scored 15 and 14 points respectively in the fourth quarter to lead the team to a comeback win. Smith made four three-pointers in the win.
The Rockets won the series in seven games and advanced to the Western Conference Finals where Smith was the second-leading scorer on the team in a five-game series loss. Smith made 38.0 percent of his threes during the playoff run.
"It was an unbelievable experience," Smith said.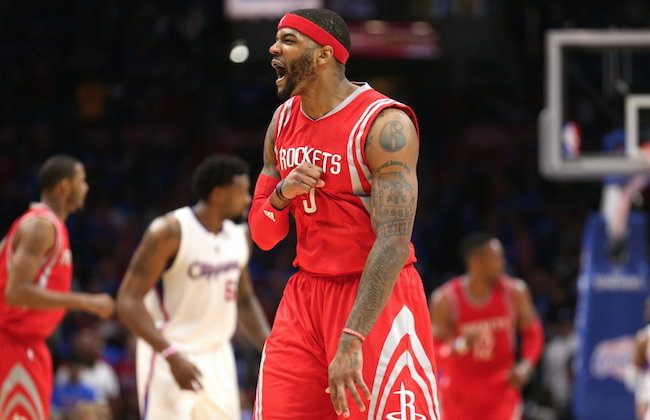 Smith followed his playoff run with an unremarkable season split between the Clippers and Rockets in 2015-16. Last season, he found himself stuffing the stat sheet in China with the Sichuan Blue Whales of the Chinese Basketball Association, where he averaged 18.8 points and 10.6 rebounds in 26 games.
"It was different," Smith said. "It was definitely a chance to experience the culture of a different country."
In Sichuan, Smith needed a translator to communicate with coaches. Away from the court, he would have the occasional meal with his local teammates. They introduced him to hot pot. He tried beef tongue for the first time. "I made it through it," Smith said, laughing. "It was okay."
The brief interlude away from the NBA was also humbling.
"I definitely wanted to be back in the NBA," Smith said. "But I wanted to make the best of my opportunity in China. I didn't want to be a sour apple or a primadonna. I was just gracious for the opportunity."
Smith spent this past summer working out with members of the Houston Rockets, including Chris Paul, Trevor Ariza, and James Harden, waiting for an opportunity with an NBA team. He was traveling with Maccabi Haifa of the Israeli Premier League when New Orleans called.
At practice in his last week with the Pelicans, Smith reflected on his career, and how family and kids have changed his perspective on basketball.
"A lot of people don't understand how much time we miss with our kids because of what we do," Smith said. "When I had kids, it became a whole different dynamic. My focus became about securing their future. I still have a lot left to give to this game, but your priorities definitely change when you have a family and kids."
The shorter schedule in China allowed Smith to spend more time with his family. He attended Father-Daughter days at school and watched his son's football games.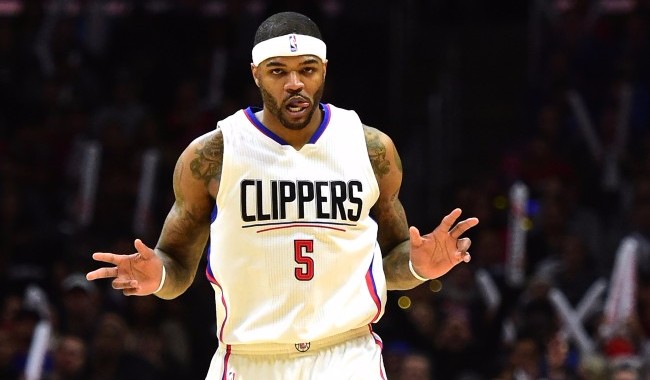 The last time Smith spoke about providing for his family, it created a mini-controversy. After signing for the veteran's minimum with the Los Angeles Clippers in the summer of 2015, Smith said the new contract would make it tougher for his family. Many reporters rushed to point out that he was still receiving $5.4 million from the Detroit Pistons from a four-year, $54 million contract he signed in 2013, and compared his comments to when Latrell Sprewell rejected a three-year, $21 million contract from the Minnesota Timberwolves and told reporters, "I've got family to feed."
Days after his comments created a stir, Smith published a response on The Players' Tribune, explaining that his comments were more about the hardships of having to relocate his family every season and not born out of greed. Like many players who once signed a huge contract with a team and then underperformed, the label of being an overpaid underachiever has followed Smith for most of the latter part of his NBA career. I asked Smith if he felt this was unfair.
"We all make more than doctors," Smith said, acknowledging the privilege of being able to play the game of basketball for a living. "I'm a humble individual. I came from nothing, and sometimes the media does a great job of taking what they want to hear and changing your words to make you look like a villain."
A day after we spoke, the Pelicans released Smith less than two weeks after signing him. He appeared in three games with the team, playing 12 minutes and scoring two points.
"It's a marathon, not a sprint," Smith said on his final day with the team. "I'm being a professional and keeping my body ready for when my name is called."


Whether he gets another chance with an NBA team this season remains to be seen. At 31, with his athleticism waning and the reputation of a below average long-range shooter, it's unclear where Smith will finish out the final act of his basketball career. But Smith knows the impact he has left on the game.
In an era where we've labeled multi-positional threats like Kristaps Porzingis, Giannis Antetokounmpo, and Joel Embiid as basketball unicorns, Smith remembers a time when players like himself, Gerald Wallace and Andrei Kirilenko did similar things.
"We were the main people to transition the whole process of the four being able to do multiple things on the floor and able multiple positions on defense," Smith said, naming LeBron James, Antawn Jamison, and Marvin Williams as well. "I think sometimes the commentators forget."