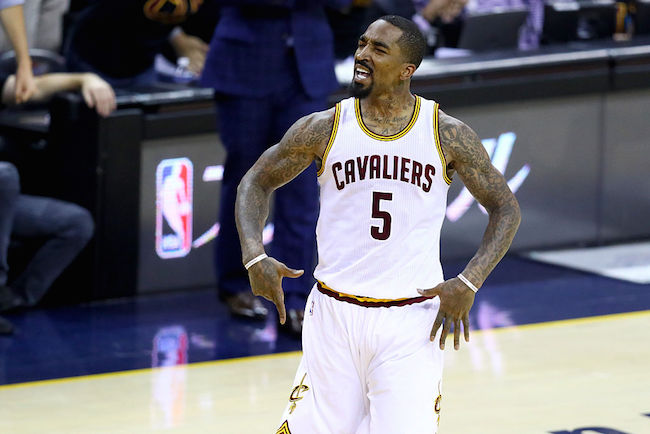 The sole question in the offseason after all the NBA chess pieces moved to their respective boards was: Do the Celtics have enough firepower to threaten LeBron James and the Cavaliers' domination of the Eastern Conference?
It's a fair question, and when a team adds Kyrie Irving, Gordon Hayward and a high lottery pick, expectations will be sky high. Especially when said team, the Celtics, was the No. 1 seed in the Eastern Conference last season, over the Cavaliers. However, when it came to postseason success, the Cavaliers dispatched the Celtics in a mere five games, showing the gulf in class between the two teams.
There's one member of the Cavaliers who thinks the Celtics aren't quite there yet in terms of competition: J.R. Smith. The former Cavs starter said he doesn't see the upstart Celtics as a threat to challenge them in the postseason, citing that the loss of Avery Bradley's defense will neutralize whatever Gordon Hayward brings to the table on offense.
Smith has a point, with the losses of Jae Crowder and Bradley, the Celtics are down to one above average defender on the wing- Marcus Smart. It will be up to second-year player Jaylen Brown to pick up the slack on the defensive end in order to keep the Celtics afloat on the defensive end, or else it'll be a repeat of last year.
One bit of news Smith did break was on the availability of LeBron James for Tuesday's opener against the Celtics. Smith emphasized that King James will be ready for the game, and James was even seen shooting in the practice gym while focusing on not making that left ankle worse. So if the stars align right, fans may see a Eastern Conference Finals preview Tuesday in the opening game, and while there will be 81 more games to go, to see who fires the first salvo will be all that much more enticing.