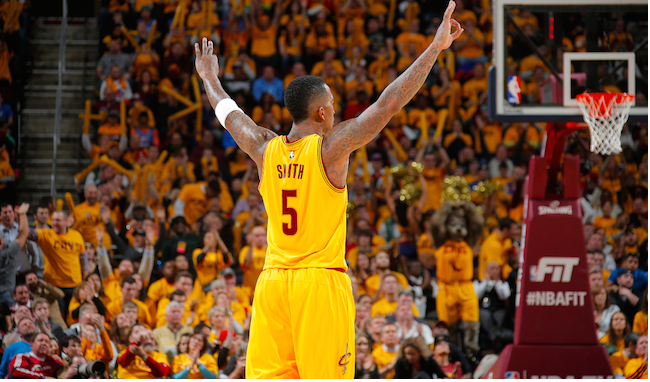 Up until Jan. 4, J.R. Smith was a laughingstock, and a microcosm of the New York Knicks' dysfunction and terribleness. A day later, the Knicks traded him and Iman Shumpert to the Cleveland Cavaliers for almost nothing. Phil Jackson jettisoned two of the most talented players on the roster to aid in the Knicks' tanking efforts, and presumably to jump-start a change in the culture that J.R. had come to embody.
What a difference LeBron makes. With the veteran superstar providing leadership and an example of accountability, J.R. has been able to harness the talent that everyone knew he had on a more consistent basis, and he and Shumpert have been absolutely crucial components of the Cavaliers' playoff run, which has now taken them to the Eastern Conference Finals. Being given away by one of the worst teams in basketball to one of the best is a reward in itself (New York/Cleveland nightlife disparity aside), and riding with that team deep into the playoffs makes it even sweeter.
But J.R. couldn't resist putting a cherry on top of his basketball sundae, so he threw some shade at the Knicks after the Cavs buried the Bulls in Game 6:
That's some quality gloating right there. The Cavs are riding high into the Conference Finals, and they look like they're having a blast (WARNING: NSFW language):
Cleveland promises to be a heavy favorite to advance to the Finals, regardless of who comes out of the Wizards-Hawks series. If they do make it past Atlanta or Washington, and if they bring a title to Cleveland, we can probably expect some more gloating from J.R., presumably ring-based.
(Via Instagram)