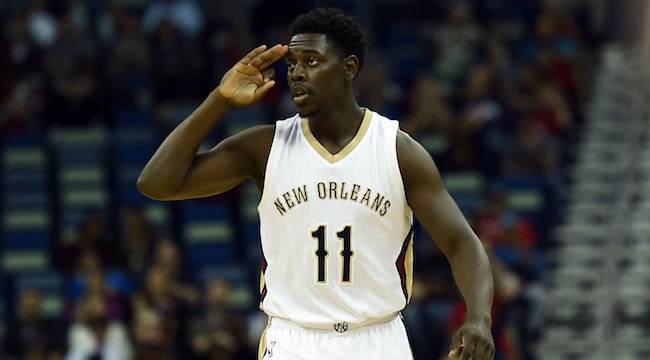 Family comes first and New Orleans Pelicans guard Jrue Holiday is putting that into practice under unfortunate circumstances. Lauren Holiday, a former member of the U.S. Women's National Team, has been diagnosed with a tumor on the right side of her brain and is need of surgery to treat the issue. As a result, Holiday will be taking an indefinite leave of absence from his NBA team to serve in the capacity of husband, caretaker and soon-to-be father to a newborn.
Lauren's due date is mid-October, but doctors are hopeful to induce labor in late September because surgery must wait until the baby arrives. to expedite her treatment. Jrue spoke with Jeff Duncan of NOLA.com about his decision to put basketball on hold in favor of far more important responsibilities. "My family comes before basketball. I'm obviously blessed to play this game and be in the position I am in," Holiday said, "but my wife is the most important thing in the world to me. She comes before anything else."
This is the type of story that remind the basketball-viewing public that NBA players are subject to some of the same life challenges of "everyday" people, and Jrue Holiday is absolutely doing the right thing here. Lauren Holiday, who is a two-time Olympic gold medalist and highly accomplished athlete in her own right, will undergo surgery within the next handful of months and, hopefully, that will be successful so the family can continue to grow and prosper moving forward.
(Via NOLA.com)