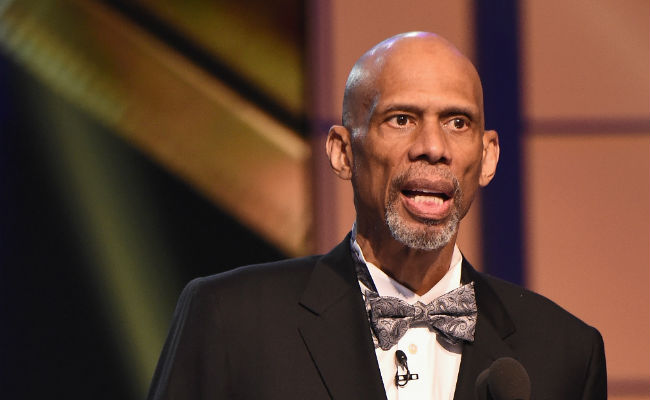 LeBron James has publicly criticized the 45th president of the United States multiple times on social media in recent days. Now it's time for another living legend of basketball to speak out against Donald Trump's response to violence and death in Charlottesville, Virginia over the weekend.
Kareem Abdul-Jabbar took to Facebook on Wednesday to criticize Trump for, well, everything he's done and not done over the last few days.
"Despite the cowardly first response of President Trump to the violence in #Charlottesville, real heroes emerged who deserve our praise and admiration," Abdul-Jabbar wrote, singling out Heather Heyer, who died when a car slammed unto a group of protesters in an act Trump refused to call an act of domestic terrorism.
Trump is taking plenty of heat for his irresponsible response to the violence caused by white supremacists and Nazis protesting the removal of Confederate memorials in the city. Jabbar was critical of his comments on Charlottesville as well as his dismissal of those resigning from his councils. The NBA legend called the CEOs who resigned "heroes" along with those who counter-protested in Charlottesville over the weekend.
"It is Mr. Trump who should be embarrassed," Abdul-Jabbar continued. "Fighting systemic racism is the new abolition movement."
The NBA is one of the most politically-aware sports leagues in America, both past and present. It's clear the anger and frustration with the state of the country and its leaders is real, and many NBA stars are willing to publicly criticize those in power they feel are not acting properly.