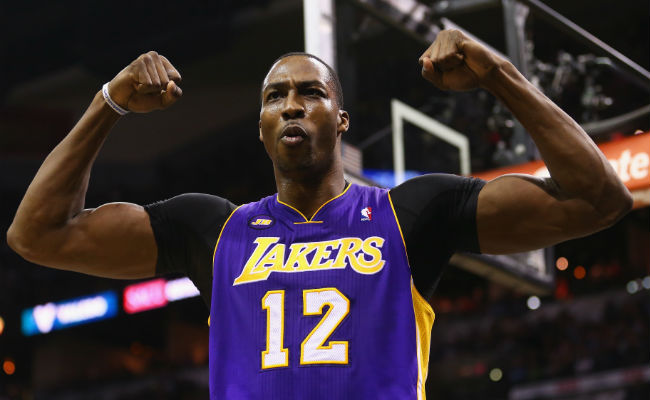 Kareem Abdul-Jabbar knows why Dwight Howard didn't work out for the Los Angeles Lakers: he didn't want it bad enough. The Lakers legend said he tried to be a mentor to Howard when he was acquired by the Lakers in 2012, but that Howard simply didn't want to put in the work necessary to succeed.
According to Lakers Nation, Abdul-Jabbar had harsh words for Howard and another former Laker, Andrew Bynum, in an interview with the site to help promote his new book.
"Well, Dwight Howard didn't want to do any work," Kareem told Lakers Nation. "Andrew Bynum did not want to do a lot of work, but Andrew was kind of getting the hang of it. I don't think Andrew was that interested in playing basketball.

"If he had stuck with it, I'm sure he would've done better. I'm sure he would've had a lasting career in the NBA."
Kareem speculated that Bynum just didn't like basketball much, and that he "didn't want to master" it. Dwight, meanwhile, seemed like a bigger disappointment because Kareem never could quite figure out why it never worked.
"Dwight Howard, I'm not going to say anything about him because I really don't understand what his thing was."
Whatever his thing was, it didn't last long. The mentorship Abdul-Jabbar offered to Howard fell apart soon after it started. Howard lasted just one season in LA before shipping off to Houston. He's in Atlanta, for now.