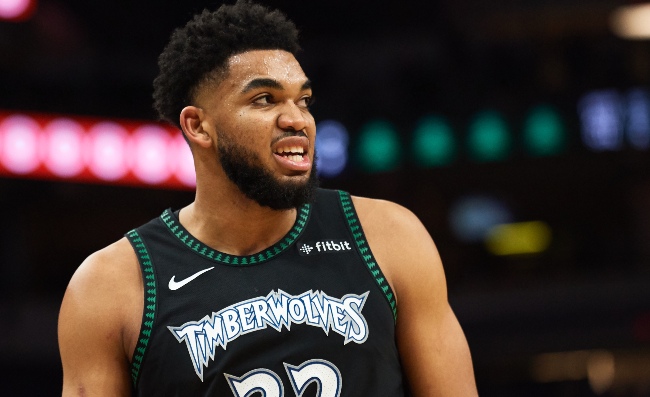 After a tumultuous 2018-2019 season, Karl-Anthony Towns and the Minnesota Timberwolves are taking the time to reconfigure themselves.
There's no more Jimmy Butler drama to deal with. Gersson Rosas is in charge of the front office as president of basketball operations. Ryan Saunders has been named permanent head coach after endearing himself to the franchise with the job he did stepping in for a fired Tom Thibodeau. And Towns is putting the weight of a franchise that's made the playoffs just once in his tenure, a swift first round exit at the hands of the Houston Rockets in 2018, squarely on his bulked up shoulders.
"(Timberwolves fans) deserve better," Towns said during a recent chat with UPROXX. "We gave them a taste of the playoffs, but they deserve better than a first round exit. They deserve better than not making the playoffs. We have to give them a product they believe in. They deserve better from the team, they deserve better from me and I plan to give them something they can be proud of."
Making a splash in free agency would go a long way to helping Towns turn those words into action, and he's hot on the heels of D'Angelo Russell, who is currently a restricted free agent with Brooklyn Nets. With less than two weeks to go until the official start of free agency, KAT took some time to talk with UPROXX courtesy of Gillette about his recruiting efforts, his bond with Saunders and how he's preparing to have the best season of his career.
You've been vocal about the Timberwolves having a chance to make major improvements via free agency. You've done some D'Angelo Russell whispering on Instagram. Have you paid attention to all the player movement and rumors this summer?
Yes. I pay very close attention to free agency. And D'Angelo is not getting whispers, he's getting more of a yell from a microphone. This is a big free agency period for us as an organization, so we're taking every step and exploring every avenue.
How long have you known Russell?
Forever. Me and D'Angelo have known each other for a very long time. We've talked about how much we want to play with each other, not even just in the NBA or college, but in high school. Who would've thought we're at this moment now.
Another big change in the organization has been making Ryan Saunders full-time head coach. What's your relationship like with him?
Me and Ryan, we go back. I remember when I did my one and only draft workout with the 'Wolves, he was the one who did it. Ryan and I have been attached at the hip since day one. Me and his dad have a special connection, obviously, me being the first No. 1 draft pick of the 'Wolves, and his dad made the decision to take me. We had a close connection by that already. We've just always been good friends, and Ryan is one of the best humans I know. We've grown together, from him being an assistant coach to head coach, to me being a wide-eyed rookie to where I'm at now and finding success in the NBA. We grew together through the same organization and now we're here at the top of our games.
Let's talk about this workout you just did that's been getting some buzz on social media. You flew home from your recent trip to China, and were working out, like, a couple hours later?
We got back pretty late from China. Got to the house around 3:45 a.m. Going to sleep around 4:45 -5 a.m.in Minny. I woke up and I knew I wanted to workout. So I went to workout early. I'm always the guy who likes to get the job done early in the day. I had sent a text message to my coaches that I was back and I wanted to work out. Ryan Saunders, one of the only head coaches you can think of that is into that much of the (player) development and doing hands-on work, he was ready to go, and we got the work in. We got the work real early.
It was not an easy-peasy workout. It was not a "welcome back to America" workout. It was a "you haven't worked out in four days, we're gonna make sure you understand this work" workout. So we went a good hour and fifteen minutes hard. Real hard. Like, in-season hard. Running up and down the court, doing 15-20 dunks in a row. We did a heavy, heavy workout. It was fun. I enjoyed every single moment. I love the sweat and the hard work we put in. It brings joy to my heart and it's what I live for. I'm a workaholic.
Speaking of workouts, we've seen you post clips of you boxing, too. What's the workout plan this offseason as you look forward to a big 2019-2020 campaign?
I like to stay in peak shape. I like to stay in shape all year. When I say I'm a workaholic, just the fact that we're in China, and me and videographer, my right hand man, you see him all the time in my Instagram, Chuckie Anthony. We're up at five in the morning putting heavy work in in the weight room, boxing, doing rounds every day. We're up and at it. We like to get the work in, to put that sweat equity into our craft and to our bodies. We're doing this all the time, we're workaholics. That's why we get along so well.
I've worked my health more than anything in the summer. My durability has always been my calling card, and that's not by accident. I'm able to play all those games and practices in a row is because I put the work in in the summer. It gives my body the ability to do it. It's not something most people would find fun or enjoyable, but you gotta do what you gotta do to be at the top of your craft. I'll put any type of work in, whatever it costs, to continue to be at the top of my game.
Finally, you're partnered with Gillette to help spread the word about the Gillette Skinguard and shaving with sensitive skin, as well as other style tips. How has your personal style evolved since you were a rookie?
There's outfits I wish I could take back. It's all about the growing pains. When I came in, I've been dirt poor my whole life, you think I'm gonna understand what a Ricco, Maison Margiela, Off-White…what is Off-White? Who is Virgil (Abloh)? That didn't resonate in my mind. I was thinking about Old Navy, GAP, Steve and Berry's for shoes. I never had the luxury of having a dollar. But I had the foundation of having great style, which is confidence. Whatever I wore, I had extreme confidence in. I had that foundation of being good with style, and I always had a good eye for clothes and stuff. Obviously, now I have more avenues open up for me to be more creative from a style standpoint. I'm really happy about where I stand right now with my style lookbook.
I love what Gillette brings to the table for people like me who are known to have sensitive skin. You never want to a time when you have skin irritation and you have sweat hit it, and it's the most uncomfortable feeling in the world. So I'm glad I get to help represent for Gillette.