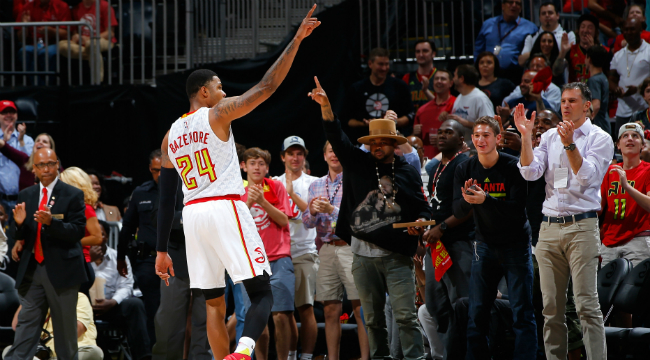 Kent Bazemore is going to get seriously paid, and after his journey to NBA relevance, he deserves it. Though he's publicly stated a desire to remain in Atlanta, he's also listening to other teams' pitches. Besides Atlanta, it seems that the Nets (proud new recipients of Jeremy Lin) and the Houston Rockets are the hottest teams on the trail:
Bazemore's length on defense, willingness to run on the fastbreak and ability to hit three pointers are perfect fits in the Rockets' system, and Bazemore's Hawks teammate Al Horford is also a top target of Houston. The Rockets could be hoping they can ink Bazemore quickly with a shock-and-awe campaign, and then turn around and use Baze to bring Horford aboard. In the wake of Dwight Howard's departure, that could be quite an offseason for Houston. They've definitely made an impression, that's for sure:
The Nets' pitch probably revolves around new coach Kenny Atkinson, as Aldridge mentioned, but also making Bazemore a vital part of team's long-term core. With Lin running point, Baze making things happen on the wing, and Brook Lopez inside, you could talk yourself into that team being at least fun to watch most nights. That's what you get with any squad that has Bazemore on it anyway.
For Houston, bringing Bazemore aboard would likely mean they'd have to move backup wing Corey Brewer, who had a miserable season after being a key bench cog in the second half of 2014-15 for Houston. Trevor Ariza fits the Rockets too well and is a far more valuable defender, so he's more likely to stick around.