The game itself was always easy for Kevin Garnett.
When the 19-year-old kid from South Carolina by way of Chicago tipped off one of the NBA's most defining eras in 1995, the basketball world had never seen anything like him. At a slim seven-feet with hands that hung to his knees and feet that must have been borrowed from someone eight inches shorter, Garnett was potential and possibility incarnate. Here was the guy who made team-building and public-relations risks associated with drafting a high-schooler for the first time in two decades seem well worth it.
Those otherworldly physical gifts, we'd come to realize as similarly blessed youngsters attempted to make the leap over the ensuing 10 years, would never have been enough alone. Not even close. But the teenage Garnett also had something the vast majority of prodigies who eventually followed his footsteps didn't: a burning desire to be great.
There was a time in the mid-2000s when Garnett was the best player on earth. He won MVP in 2004, Defensive Player of the Year four years later, and garnered All-NBA honors nine out of 10 seasons during a stretch that began in 1999. Garnett didn't just live up to the hype that inevitably accompanied the pre-draft eye test and curious nationwide fanfare of his professional debut. With the maniacal intensity and innate instincts that matched his unparalleled natural and nurtured ability, he somehow managed to leave it behind altogether.
Garnett was no longer the preps-to-pros trailblazer. The unprecedented present made it easy to forget the precedent-setting past, but also led to the widespread criticism that once marked his playing prime.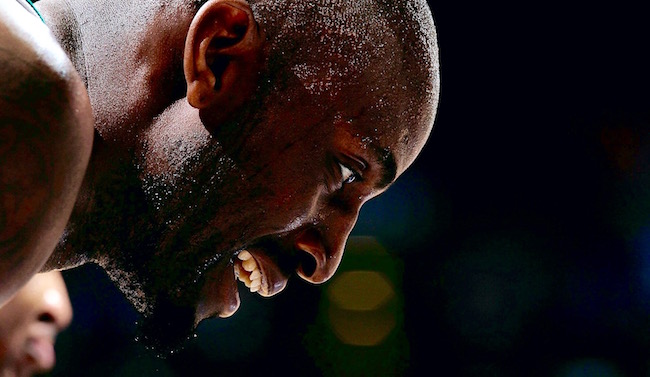 As Tim Duncan and Kobe Bryant traded championship trophies what seemed like every June, Garnett was failing to escape the first round of the playoffs. His Minnesota Timberwolves earned postseason berths each year from 1996-97 to 2003-04, only advancing that final season when they fell to Bryant's ever star-studded Los Angeles Lakers in the Western Conference Finals. The San Antonio Spurs would send the 'Wolves home after four games on either side of the new millennium, Duncan further distancing himself from Garnett as the game's greatest power forward in the process.
But those annual spring disappointments never told the entire story. No player of his caliber has been more stubbornly team-oriented than Garnett. Before young LeBron James was lambasted for eschewing hero-ball conventions in the waning moments of close games, it was another small-market franchise player who proudly bore the brunt of those critiques, consistently making the right basketball play despite retired talking heads insisting he adhere to the crunch-time principles first made famous by Michael Jordan and continually glorified by Bryant, Allen Iverson, and Tracy McGrady.
When Garnett, with a typical animalistic display of emotion, screamed at the top of his lungs mere minutes after winning his only championship, some couldn't help but notice the newest Boston Celtics legend had invoked the clichéd tagline of his primary endorser. Was Garnett really shilling for sneakers upon finally finishing his climb to the NBA mountain top? No way, but prevailing notions aligning with the type of player he supposedly should have been, ironically, sure made it easy to assume otherwise.
Garnett had proven that anything really was possible for his career now, including winning a title in the manner many thought he never could. It took sacrifices of touches and attention to do so, and there would always be those who short changed his crowning achievement because he didn't do it alone.
Unlike every other all-timer who raised the Larry O'Brien trophy with his homegrown team, though, Garnett wasn't afforded the luxury of a championship-level supporting cast in Minnesota. His best pair of teammates was Sam Cassell and Latrell Sprewell, two thirtysomething borderline All-Stars who helped Garnett lead the Timberwolves to the franchise's most successful season in 2003-04. They were both gone a year later, one clinging to his outsized role as a primary ball handler and the other unable to find a job in the league at all.
Garnett didn't have a David Robinson, Tony Parker, or Manu Ginobili, let alone a Shaquille O'Neal, Pau Gasol, or Lamar Odom. He had Wally Szczerbiak, Terrell Brandon, and Troy Hudson before Minnesota overhauled its roster to bring in Cassell and Sprewell. The talent and dedication of Duncan and Bryant made them preordained to become the centerpiece of respective dynasties, but destiny still wouldn't have taken hold if misfortune had been pulling the other way.
It did for Garnett.
His career, brilliant as it was, should have been better. That's no slight to one of the most influential players in history, but just a frequently overlooked acknowledgement of the luck that always seemed to elude him – especially compared to recently-retired legends who wore no colors but silver and black and purple and gold.
What if Stephon Marbury had been comfortable playing second fiddle? What if the Timberwolves hadn't lost four first-round picks in the early 2000s as the result of illegal salary cap maneuverings with journeyman Joe Smith? What if Minnesota was a glitzy free agent destination like Los Angeles? What if Garnett hadn't been lost for the year with a chronic right knee injury in February 2009, a season in which the defending-champion Celtics raced out to a 27-2 start? What if Kendrick Perkins was healthy for Game 7 of the 2010 NBA Finals?
And maybe most fascinating among an endless list of unrealized scenarios, what if Garnett had entered the league 10 or 15 years later? There's nothing more indicative of his vexing place in the late- and post- Jordan era than the Timberwolves initially making him a small forward. Just imagine prime Garnett in the modern NBA, playing his lion's share of minutes at center while spearheading an aggressive, switch-heavy defense and utilizing his vast array of skills on the other end as a full-court playmaking fulcrum at, like Flip Saunders used to say, "6'13."
That's an alternate reality worth dreaming about, and so is the one Garnett would surely find himself in if tragedy hadn't struck a year ago. Saunders, the man who made history by selecting a teenager with the No. 5 pick of the 1995 draft, passed away suddenly on October 25, 2015 due to side effects gleaned from Hodgkin's Lymphoma. After being reunited with his longtime mentor in Minnesota following a trade from the Brooklyn Nets at the 2015 trade deadline, reports surfaced that Garnett and Saunders had plans to buy a stake of the franchise they helped build from the ground up once the former's playing days were complete.
Given the circumstances surrounding Garnett's retirement, it's safe to say that likelihood will no longer come to fruition. Saunders' death coupled with the unceremonious departure of interim coach Sam Mitchell, who was Garnett's "vet" during his NBA indoctrination, probably ensures that the Timberwolves' official relationship with their most storied player is over for good.
It wouldn't be Garnett's career, after all, if time always passed how it would in a perfect world. Basketball always came easy for him, but outside factors beyond the realm of control ensured his hardware would never match his on-court impact. For Garnett, anything really was possible – including disappointment, which makes his wholly unique and forever lasting brand of success all the more distinguished.