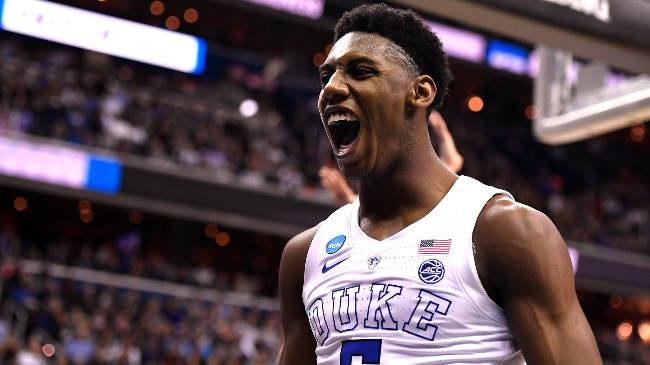 The Atlanta Hawks have three first round picks, including two in the lottery, and three second round picks in Thursday night's draft, and the expectation is for Travis Schlenk and company to be among the most active in terms of trying to make trades on draft night.
There's no doubt the Hawks will not be drafting six times for themselves, but the question remains what they can get for the picks they have and who they are targeting. With the Nos. 8, 10, and 17 picks in the first round, they have a good bit of ammo to try and leap up into the top 5, which has long been a reported goal of theirs, but finding a team there willing to take a pair of those picks is proving to be a bit more difficult.
According to ESPN's Jonathan Givony, the Hawks have made 8 and 10 available to the Knicks at No. 3 and the Pelicans, who now have No. 4, but were turned down by New York. New Orleans, on the other hand, is considering the offer.

Given the Hawks' young core of Trae Young, John Collins, and Kevin Huerter, and the fact that they just traded Taurean Prince, one would expect Atlanta's target to be one of the wings in this draft — most likely Jarrett Culver if they are looking to jump into the top 5. For now, they haven't been able to find that trade partner, and it's possible talks will drag out until the last minute on draft night as they wait to see who is picked where early on.
The expectation has long been that Zion Williamson, Ja Morant, and R.J. Barrett will go in that order in the top 3, but there's now a little buzz that the Knicks could be interested in Darius Garland out of Vanderbilt. The point guard is also a coveted prospect of some teams that could be targeting the fourth pick from the Pelicans as well, and if he goes earlier than expected, New Orleans may be more willing to make a deal with Atlanta.
Whatever the case at No. 3, it seems as though the Knicks are set on picking there. The Hawks are still the team to watch on draft night for trade excitement, but they'll need another team to be intrigued by the possibility of adding a pair of late lottery picks to get a deal done.