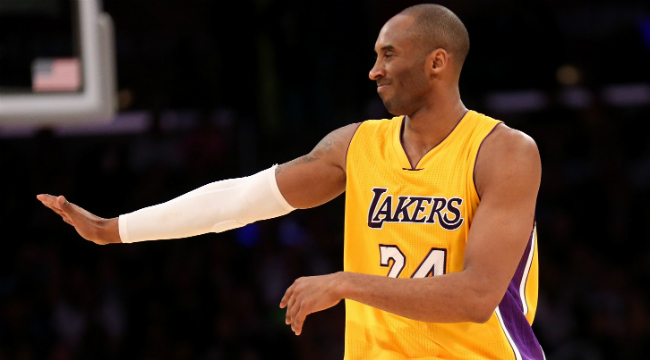 Kobe Bryant is entering the final year of his contract with the Los Angeles Lakers, over the life of which he's suffered numerous serious injuries. The Lakers are a franchise in transition, so it's reasonable to think that part of that transition will include Kobe's retirement. The end of his current mega-deal seems like as good a stopping point as any — even Kobe acknowledged as much. But anyone who thinks they can push Kobe out the door doesn't know Kobe, and the needle has predictably moved back toward uncertainty about the expiration date on Kobe's career.
The thing is, if Kobe wants to continue on past the 2015-16 season, he'll need a new contract, and the Lakers would be unlikely to give him another $15 million per-year deal when they're trying to build a future without him. That's possibly what led Phil Jackson, who even as a Knicks executive is considered (for better or worse) an authority on Kobe Bean Bryant, to speculate that Kobe might suit up in different colors next season. Like Tim Duncan outside of San Antonio, this is an unconscionable scenario, and, thankfully, one Kobe told Yahoo Sports will not happen.
"I'm a Laker, man. How many times do I have to say that?" Bryant said to Marc Spears. "Dude, I bleed purple and gold."
It's reassuring for Laker fans to hear, but if Kobe gets through this season in one effective piece and wants to keep it going another year, the pressure will be on the Buss family and Mitch Kupchak to bring him back at a price that both satisfies Kobe and allows the Lakers the flexibility to sign the marquee free agents they'll need to build another championship contender.
(Via Yahoo Sports)