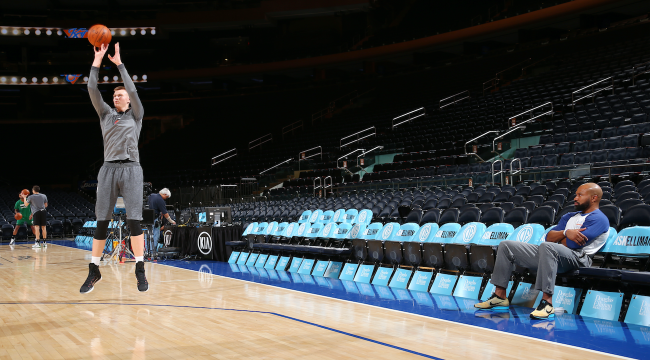 New York Knicks coach Derek Fisher says his team will treat Thursday night's exhibition finale against the Boston Celtics as a dress rehearsal for the regular season. It comes as no surprise, then, that Jose Calderon, Arron Afflalo, Carmelo Anthony, and Robin Lopez will start versus Brad Stevens and company. The fifth and final member of New York's opening quintet, though, is sure to raise some eyebrows.
According to Ian Begley of ESPN.com, rookie Kristaps Porzingis will be on the floor for tip-off not only on Thursday, but for the season opener October 28 at the Milwaukee Bucks, too.
New York Knicks coach Derek Fisher indicated Wednesday that rookie Kristaps Porzingis will be in the starting lineup on opening night.

Porzingis will start alongside Jose Calderon, Arron Afflalo, Carmelo Anthony and Robin Lopez in the Knicks' preseason finale against Boston on Thursday.
Most of the criticism surrounding New York's selection of the Latvian teenager at No. 4 in the draft centered around his supposed inability to help the team immediately. But those concerns, while certainly valid of any player so young, were always overblown.
Porzingis averaged 11 points and five rebounds in just 21 minutes per game last season for Baloncesto Sevilla of Spain's ACB League, and was even more impressive when the stakes rose during EuroCup competition. He obviously needs to get stronger, learn the NBA game, and hone his burgeoning skill-set, but was never the multi-year project a vocal majority assumed he'd be – and Phil Jackson suggested as much when he told ESPN this summer of his desire to play the 7'3 sharpshooter 20 minutes per game in the season's early going.

But just because a player starts a game doesn't mean he'll finish it, let alone play a lion's share of minutes. The Knicks have every intention of employing Anthony as a small-ball power forward this season, and free agent acquisitions Kyle O'Quinn and Derrick Williams have both impressed during preseason play. If New York finds itself in the thick of a playoff race after the New Year, there's a chance Porzingis' minutes could diminish.
Just as Fisher's decision to start the rookie says little about O'Quinn and Williams, though, so would his potential decision to lessen Porzingis' role as the season progresses. The Knicks are playing for the present and the future in 2015-16, a tricky balancing act that can naturally lend itself to sweeping changes once wins or losses mount.
Either way, that New York has seen enough from Porzingis during his brief time with the organization to anoint him a starter is certainly encouraging. Here's hoping he rewards that confidence with solid play to begin what should be a stellar career.
(Via ESPN)