When the latest voting results for the 2018 NBA All-Star Game were released last week, Karri Kuzma was just as surprised as all of us to see her son, Kyle, as one of the top ten vote getters among front court players in the West, ahead of names like Karl-Anthony Towns and LaMarcus Aldridge.
Since the NBA started counting social media votes for the All-Star Game, official team accounts have put together exhaustive online campaigns for their best players, while celebrities like Lionel Messi and Will Smith have helped amass votes for their favorite players as well.
Karri, meanwhile, started tweeting non-stop about her son, using the hashtag #NBAVote to accumulate votes for Kyle, and watched as Lakers fans started rallying around her cause to get the 22-year-old rookie forward to the All-Star Game.
"I didn't think I was campaigning," Karri told me on Monday morning. "It just kept escalating."
Karri, who lives in Flint, Michigan, has developed a bit of a routine lately. In the morning, before she leaves for work, she'll get on Twitter to get a few votes in. After a long day at the dental office where she works as an office manager, the first thing Karri does when she gets home is, as she describes it, "go Twitter happy."

That means plenty of retweets on her timeline of fans who are voting for Kyle, and it has helped her connect with many of the Lakers' fans online. One particular fan from overseas recently suggested that Karri join Weibo — think Twitter, but for China — to help increase Kyle's All-Star voting count.
There was only one problem: "I couldn't speak Chinese," Karri said. But with some help from one of her followers, she was able to set up an account on Weibo, where Kyle has been amassing votes.
Voting for All-Star starters ended on Monday night. The starters will be announced on Thursday on TNT, followed by the reserves next week. The entire campaign has taken on a life of its own, and maybe a little bit too much of Karri's, too.
"My boyfriend says I'm always on my phone," Karri said, laughing. "I told him to bear with me for just one more day."
Karri raised Kyle as a single mom growing up, and always preached the value of hard work as she bounced around several jobs to make ends meet. It has made watching Kyle's journey to the NBA, where he's leading the Lakers in scoring at 16.8 points per game, a thrill.
"It's fun to watch him go from where he came from to where he's at," Karri said. "He's worked so hard, and it's been pretty amazing."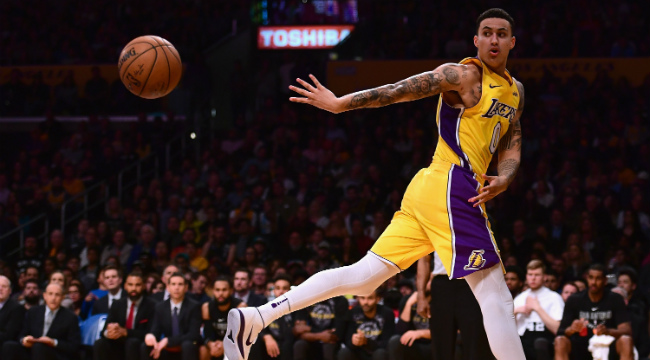 Karri talks to her son on a regular basis, and says Kyle "loves everything" everything about Los Angeles, from the warm weather, to its laid-back attitude, to the fact that "there are just way more things to do." While her son is adjusting to the bright lights of playing for one of the NBA's most storied franchises, life at home in Flint hasn't changed much for Karri.
"Everything's the same," Karri said. "I go to work and I come home. There might be a few people that stop me and ask if my son plays for the Lakers, but they're not stopping me when I'm walking down the street like they're doing to him in Los Angeles."
The campaign has helped Karri discover just how vocal the Lakers fanbase is online. As for her son, the two haven't talked much about Karri's online campaign, but she is sure Kyle is aware of it.
"If I put anything on there that he doesn't like, I'll get a text that says, 'Mom, please take it down,'" Karri said, laughing.
Karri is realistic about Kyle's chances of being voted into the All-Star game, and gives most of the credit to Lakers fans around the world for making this even a possibility heading into Thursday's announcement. Either way, Karri has already made plans to be in Los Angeles for All-Star Weekend next month, and Kyle is likely going to be part of the Rising Stars Challenge, which comprises of first and second-year players.

Still, with one day left to vote, Karri wasn't finished campaigning for her son.
"How awesome would it be to watch some rookies play against some of the veterans?" Karri pondered. "All-Star Games have gotten boring. They don't go out there and play hard. They just want to have fun. If they're going to have fun, why not mix it up and throw a few rookies in there?"
If Kyle does get voted in as a starter, Karri says it would be the second best thing with which she's helped her son. To her, making sure Kyle got his bachelor's degree in sociology at the University of Utah before he declared for the NBA Draft remains number one.
"Even if he doesn't make it to the All-Star Game, it's unbelievable that his name is even on the top ten list," Karri said. "Who is Kyle Kuzma? Nobody knows Kyle Kuzma. Even if he doesn't make it, he's already an All-Star in my mind."