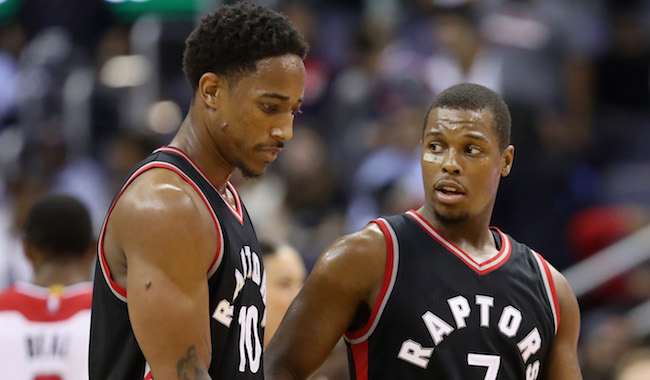 The Toronto Raptors have been a strong Eastern Conference team for quite a while but that regular season success has not translated into national recognition in the form of a Christmas Day assignment. In fact, the team hasn't appeared on the NBA's flagship regular season day since 2001 and, obviously, none of the current players were around to experience that particular endeavor.
This season, the Raptors are off to a tremendous start that includes a 22-8 record and the NBA's third-best net rating (trailing only the Warriors and Rockets) but, with the schedule coming out before the downbeat of the campaign, Toronto will be off with the majority of the league on Dec. 25.
Marc Spears of ESPN's The Undefeated caught up with Toronto's dynamic backcourt of Kyle Lowry and DeMar DeRozan this week and the duo made it quite clear that they would love to be featured on the regular season's biggest stage.

DeRozan led things off by describing the de facto snub as "definitely crazy" at this point.
"We've won. We've been one of the best in the league the past few years. To not get that look is definitely crazy. … There is really no excuse. We've proven we are a top team in the league for a reason."
Then, Lowry expanded on his teammate's thoughts by declaring that he would like to "frame" the shoes and jerseys teams get for the holiday. Additionally the veteran guard gave a window into his reaction whenever the league's schedule emerges each year.
"I care when the schedule originally comes out. But then, after that I say, 'All right, whatever.' I plan my Christmas Day. I get to be with my kids and all my family. So that's more important.

"That's one of the first things I look at. I know me and DeMar, that's one of the first things we see. … I'm not mad at it. We just want the opportunity. It would be really cool to play on Christmas."
The full piece is certainly worth a read, especially given the context provided from those inside the league tasked to create the schedule. Still, it is quite clear that win-loss record isn't the only factor because, well, the Raptors would be in the mix at some point if that were the case.
At the end of the day, it seems clear that Toronto's playing style and shaky playoff performance in recent years probably contribute to the absence on Christmas but, beyond, the apparent lack of "buzz" created in the United States probably plays a part. If the Raptors can continue to play as well as they have to this point in the calendar through May, the 2018 schedule could feature a Toronto appearance but, until then, Lowry and DeRozan will watch longingly as their colleagues take the floor on the holiday.