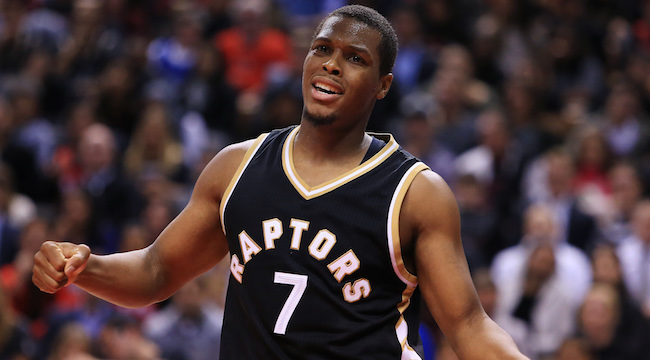 Toronto Raptors star Kyle Lowry participated in NBA All-Star Weekend, including a rough performance in the three-point contest and a 19-point performance in the game itself. However, the talented point guard was apparently banged up enough to miss Friday's game against the Boston Celtics, and the news is actually far worse for the Raptors.
Upon announcing Lowry's absence for the team's first game after the All-Star break, Raptors head coach Dwane Casey seemed to think Lowry could miss even more time. Via ESPN.com:
"That's a huge blow for us. I don't know how long he's going to be out. It's not going to be a one-day thing." Lowry's injury was described as a right wrist ailment and, in addition, Toronto indicated that the team's best player was actually injured <em>before</em> the break in a game against the Charlotte Hornets on Feb. 15.
While no direct correlation between All-Star activity and a lack of healing can be proven, it feels safe to say that Lowry would have been better served simply resting during the lengthy hiatus for the league. As a result, the Raptors will almost certainly undergo scrutiny, but the bigger concern for the organization is Casey's assertion that Lowry's injury won't be a one-off issue that affects only Friday evening's contest.
The Raptors went all in at the trade deadline, acquiring both Serge Ibaka and P.J. Tucker in an effort to compete with the best of the best in the Eastern Conference. Without Kyle Lowry, though, those dreams would evaporate in a hurry, and this is a situation worth monitoring quite closely in the coming days.
(ESPN.com)