NBA previews can be great, but they all have one significant problem: they're too long and too geeky. No casual fan wants to read 10,000 words about individual player shot charts and how player movement and coaching scheme will potentially boost a team's win total by 5.7 games at a high probabilistic value. This largely runs counter to the best effort that the NBA has undertaken over the past few years by democratizing fandom.
The league has been ahead of the curve in allowing rampant sharing of highlights (correctly judging it as free marketing) and encouraging players to speak their mind and let personalities shine through. As a result, there are plenty of NBA fans who just want to know what to watch for this upcoming season in the department of potential jokes or dramatic interpersonal conflict. So, let's cater to that market not only in what we discuss, but how tight we keep things geographically.
Instead of going through each individual team to remind you that almost all of them have at least 2-3 players worth paying attention to and new schemes, let's reignite a geographic rivalry. That's right: New York versus L.A. is a thing again! Well, it's probably not a thing this year, but it's coming. It feels like a return to normalcy, and it couldn't have come at a better time. For many, the allure of the cryptic social media posts and off-court dramatics are just as interesting as Al Horford's nuanced and extraordinary pick-and-roll defense.
It's perfect for this bi-costal rivalry. While the die hards have never left, the casual fan is, for the most part, back, and the two cities that inspire the most bandwagonism are relevant at the same time.
Los Angeles Lakers
2018-2019 Record: 37-45
The Same: The Greatest Player of the 21st Century, Alex Caruso, Kyle Kuzma, Rajon Rondo
Key Losses: Almost everyone else
Key Additions: Anthony Davis, Danny Green, Avery Bradley, The Ghost of Dwight Howard's Lower Back
For the Junkie:
Since his second stint in Cleveland, people have jokingly asked if anyone is actually coaching LeBron James. This is a somewhat shallow analysis, as Tyronn Lue and David Blatt both contributed to the success of the Cavs through offensive scheme and, in the case of Lue, excellent player management. But, it was hard to watch at times without wondering just how much of the traffic was being directed by LeBron.
The Lakers appear to agree as they brought in Frank Vogel, whose Pacers teams were consistently towards the top of the league in defensive rating. Vogel has toys like Danny Green and Avery Bradley to make his perimeter defense a nightmare and run shooters off the line, not to mention LeBron (when appropriate to use his energy thusly) is still capable of controlling a game with his defense for a few minutes at a time. With all that scheming on the defensive end, it frees up LeBron to do LeBron things on offense, including his long-awaited official debut as a point guard (for stretches, at least).
The Lakers gutted their entire roster to get Anthony Davis, perhaps the second-best teammate LeBron's had. On paper, the fit is incredible, like combining LeBron's two previous All-Star power forward teammates into one player and amplifying their skillsets. Teams will have to pray that LeBron's jumper is off, because that is the only way a Davis/LeBron pick and roll can be stopped consistently.
Still, the Lakers are shallow and the West is quite deep. Regardless of the talent of their top two players, the Lakers will have an uphill climb for a top-4 seed in the West and will run into a minimum of three other title contenders in the playoffs. If any of their starters miss time, they'll struggle to even secure homecourt in the first round of the postseason.
The key will be whether Kyle Kuzma is a budding star, or if he's just Dario Saric, with whom he shares remarkable statistical similarity.
For the casual fan:
Want to root for a team without knowing anything about basketball? Buddy, have I got the team for you. Everyone knows the Lakers, everyone knows the Lakers are "good" vaguely, and even the season ticket holders usually don't start paying attention to the game until there's five minutes left in the third quarter. You do not need to appreciate the nuance of well-timed shot contest when you are watching a team with LeBron James, because he is too busy slamming the ball off of the backboard and humiliating whatever opponent was foolish enough to lay it up in front of him.
Anthony Davis will dunk a lot. I should not have to tell why this is cool.
If you like off the court drama, you've once again come to the right place. The Lakers team president, legend Magic Johnson, quit on national TV last year without telling anyone he was going to do it. He and general manager Rob Pelinka take turns sniping at each other in the press. This is fun and sets up a potential atmosphere for coaching and management issues that bleed into the season. The Lakers are left with questionable power dynamics in the front office, and weak ownership and management has historically led to rumors about LeBron's coaches. Miami was the only place this didn't happen, because Pat Riley sat the whole team down and made them watch the Carlito's Way blu-ray while he talked about loyalty and respect from a video conference line on his speedboat. (Do not fact check this, it's more fun that way.)
Everything that goes wrong with this team will be traced back to LeBron somehow, which will range from the reasonable (he makes teammates adjust to him) to the insane (political tweets). At some point, LeBron will respond to this criticism with an Instagram Story where he is holding a glass of wine in his driveway with a dandelion behind his ear and a caption that says "Just minding my own" and everyone will talk about it for 72 hours.
Brooklyn Nets
2018-2019 Record: 42-40
The Same: Spencer Dinwiddie, Joe Harris, Caris LeVert, Jarrett Allen
Key Losses: D'Angelo Russell
Key Additions: Kyrie Irving, DeAndre Jordan, Kevin Durant (Out for Year)
For the Junkie: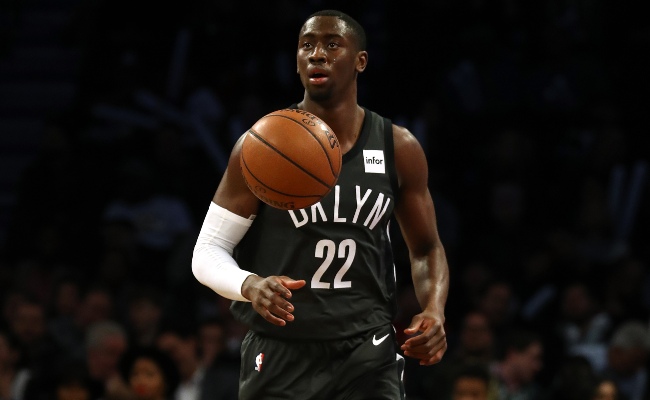 Brooklyn was already a decent team last year, with a gluttony of good-not-great players that fit around each other very well. Caris LeVert is already an excellent isolation scorer and is still on an upward swing. In his injury shortened 2018-2019 season, where he missed 42 games with a dislocated foot, LeVert was in the top-10 in isolation play frequency, ahead of even Russell Westbrook. He scored at a reasonably strong clip, but was particularly strong at finishing through contact, and it's worth noting that this was held back quite significantly due to his injury. Now healthy and entering his fourth season, the Nets will likely lean on LeVert for significantly more iso plays.
His isolation scoring likely comes from great tutelage on the squad: Spencer Dinwiddie is one of the most underrated iso scorers in the league. While he lacks the same height advantage as his new teammate, Kevin Durant, he and KD had remarkably similar isolation stats in 2018-19, both in volume and efficiency. In fact, on similar iso possessions per game, Dinwiddie was slightly better at drawing shooting fouls and finishing through contact. Dinwiddie has limitations on the defensive end and continues to struggle with turnovers, but he's as good of a scoring guard to lead a second unit as there is outside of Lou Williams.
The most significant loss is D'Angelo Russell, who thrived after his exile from Los Angeles. He's replaced, however, with Kyrie Irving, one of the biggest stars in the NBA and an unbelievable ball handler with a penchant for hitting big shots. He's also, however, a marginal upgrade over Russell. If Brooklyn makes a leap this year, it's hard to imagine it will be due to Irving's heroics and more likely a reflection of developmental jumps for LeVert and interior stringbean defensive dynamo Jarrett Allen. Irving will help create lanes for LeVert and Dinwiddie at a higher clip than Russell, as his dribble penetration is unparalleled, but it'd be foolish to look to him to surpass or even equal Russell's scoring. If he does, it will likely be at the expense of Brooklyn's record.
For the casual fan: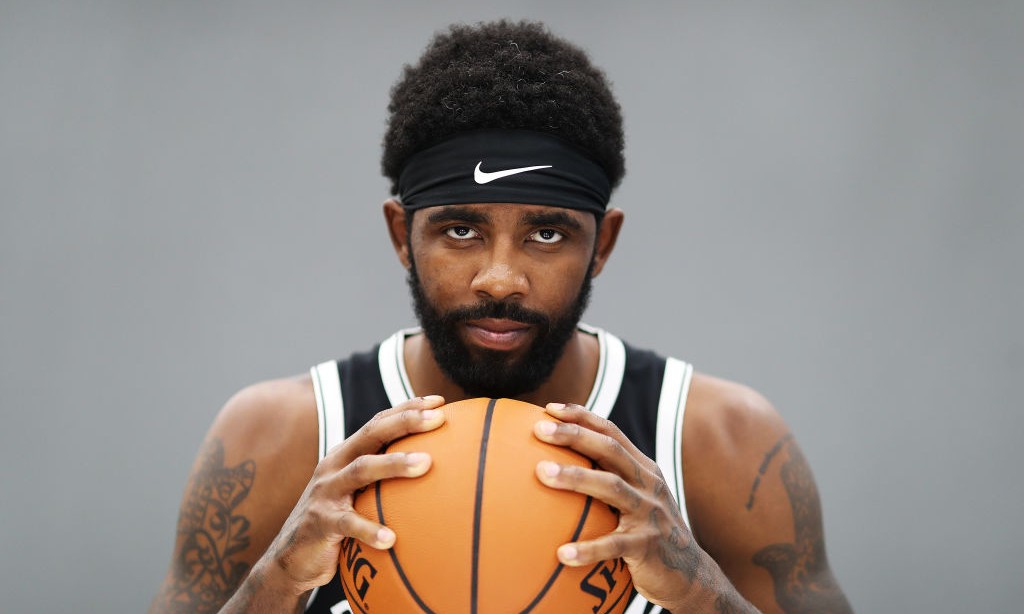 This is all about Kyrie, who is known as enigmatic among the basketball press. This is a very polite way of saying nobody ever has any idea what he's talking about.
Irving's musings sound the part, and if you don't try to process its meaning, you can trick yourself into thinking something reasonable, and perhaps even engaging, is being said, despite the fact that, well, no. People spend too much time on the absurdity of his flat Earth "social experiment" and ignore the fact that this was the only cogent thing he has ever said. On at least one occasion this year, Kyrie Irving will score 55 points on 40 percent shooting, and then two hours after the conclusion of the game, will post a picture of a stop sign on Instagram with the eggplant and Taj Mahal emojis as a caption.
Add in Kevin Durant — who will adamantly deny that he absolutely did NOT hear what you said about him, and even if he did, he definitely doesn't care — and you've got an excellent recipe for fun off-court weirdness. Durant has a pathological need to be loved, and an equally unquenchable thirst for faux ambivalence to the press. He will care what Irving thinks about him, and he will try his best to fit in, and as a result it is a sure bet that Kyrie Irving will have Kevin Durant putting healing crystals on his Achilles and speculating about crop circles in Iowa by mid-March.
Los Angeles Clippers
2018-2019 Record: 48-34
The Same: Lou Williams, Montrezl Harrell, Patrick Beverly, Doc Rivers, Landry Shamet
Key Losses: Shai Gilgeous-Alexander, Danilo Galinari
Key Additions: Moe Harkless, Paul George, Kawhi Leonard
For the Junkie: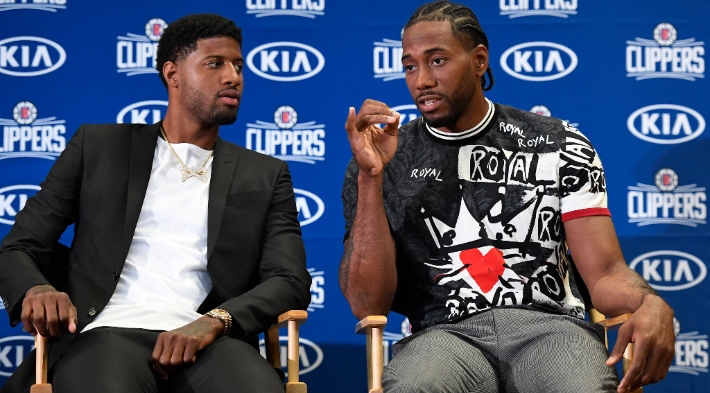 This wasn't supposed to happen. At the start of free agency, all anyone really cared about was where Kawhi would end up. KD and Kyrie all signed within moments of the free agency period opening, so all eyes turned toward the quiet Raptor fresh off of one of the more memorable playoff runs in the modern era.
Despite reports popping up saying he would re-join the Raptors or become a Laker, it was all a ruse. The Clippers got the air cover they needed to execute a deal that Kawhi practically requested outright: they traded for Paul George from the Thunder to entice him to join. They lost some assets to make it happen, including Danilo Gallinari and promising rookie guard Shai Gilgeous-Alexander, but kept core pieces like Patrick Beverley, Lou Williams, and Montrezl Harrell.
The Leonard/George pairing, on paper, feels nearly unfair to opposing wing players. These are extraordinary defenders and, unlike your average 3-and-D wing, can push transition after a forced turnover for extremely easy buckets. With Beverley harassing the guard position, it's hard to imagine any opponent having the proper roster makeup to consistently get into an effective offense. When they're not creating transition opportunities, they have Lou Williams, who is the literal god of scoring.
That's the good. The bad is that the Clippers need to hope that's the case, as they're quite vulnerable in the middle of the floor. Ivica Zubac and Harrell are both major pluses on the offensive end but are only marginally above average interior defenders. Neither are capable of major minutes, either, so a team with a dominant inside game — like, say, their building-mates, which have Anthony Davis — will have the opportunity to give them fits.
For the casual fan:
If you are a fan of NBA fashion, this team is stacked. George, Williams, Beverly, and Harrell are among the most consistently well-dressed players in the league, and consistently look like the coolest kids in SoHo that you actively avoid for fear of them making fun of your shoes. I mean, look at this picture from a post-game presser after a playoff victory against the Warriors.
The question is whether Kawhi will ruin this somehow by making the whole team wear "Fun Guy" shirts instead of their requisite BAPE and YSL. For all the love Kawhi deservedly gets for his on-court game, he's quickly reached JJ Watt status off the court: it's annoying how much people talk about how all Kawhi cares about is playing the game. I salute him for forcing Steve Ballmer to shell out more in salary and luxury tax money so that he can have more fun playing alongside a player of George's caliber, but it would be nice if the rest of basketball media would catch on to Kawhi's franchise manipulation via his camp as a tactic and discuss it more directly, instead of buying into the faux-humble marketing hype that New Balance and Kawhi's camp insist on pushing out into the world. Kawhi is a controversy-launderer, and Uncle Dennis makes sure his reputation comes back squeaky clean. It's fun for the casual fan to indulge in.
Besides the fashion and Kawhi's uncle getting yelled at a lot, you'll want to watch Ballmer, the end-product of an Excel spreadsheet and a labrador getting thrown into the machine from The Fly at the same time. He is the corniest man in the NBA, but it is endearing because unlike most other lame billionaire owners, Ballmer is fully aware that he is lame and goofy. He leans into it.
New York Knicks
2018-2019 Record: 17-65
The Same: The Pain of Existence
Key Losses: Dignity
Key Additions: R.J. Barrett, power forwards
For the Junkie:
Even for the basketball junkie, the Knicks are probably best consumed through tweets and quick highlights on the NBA subreddit. This is not a team for the faint of heart, and it is very difficult to imagine them doing much better than last year's sub-20 win season. After striking out on almost every major free agent in the 2019 class, the Knicks signed a very good Julius Randle and a very mediocre everything else.
This is not to say that the Knicks lack intrigue. Their awful 2018-19 season netted them the pick that landed R.J. Barrett from Duke. Barrett played second fiddle to the Zion show during their respective freshman seasons but was a clear standout with a long resume of success. Rangy and long, with an excellent shoulder fake and hesitation already on defenders who close out, Barrett could be a future star in the league. He's also prone to mistakes, as all young players are, and in college leaned too hard on his jumper instead of taking advantage of his size and speed advantage over competitors.
There is a part of me that wonders if Barrett is this generation's Tim Thomas: a guy who very clearly is capable of doing literally everything on the court who continually fails to pull it all together. It is far too early to speculate, as Barrett has not yet played a single game, but at times in college it felt like someone coasting on their natural gifts. Having said that, it's hard to view his forced pit stop in Durham as much else other than a showcase.
Besides Barrett, the player to watch will be Mitchell Robinson, a shockingly effective defender last year after being drafted 38th from Western Kentucky. He averaged a remarkable four blocks per 36 minutes while also finishing inside on the offensive end with a nearly 70 percent true shooting percentage. Unfortunately, he also fouls like hell, averaging nearly six fouls per 36. As such, he only saw the floor for about 20 minutes per game. If he can start controlling his body and picking his spots a bit better to prevent foul trouble, he'll be a terror.
For the casual fan:
Old habits die hard, and there is no industry more resolute in their refusal to let old habits die than sports media. This is largely fun for the casual viewer, because they will say things that make no logical sense to anyone with a functioning brain, like "watch out for the Knicks this free agency season."
Yes, the media continues to insist each year that players are absolutely interested in the Knicks, and they'd all kill for a chance to play 41 games a season In The Garden. And yet, we're getting to a point where today's NBA stars are all probably too young to remember the last time memorable NBA basketball was played in Madison Square Garden, and this mystique of the gym is something that only Joe Biden boomers and former Big East walk-ons remember. For today's stars, it's another team (albeit one with very cool colors and uniforms), one that has a lot of work to do before being worth consideration as a free agent destination.
The summer of 2019 was particularly humiliating, as the Knicks' neighbors in Brooklyn were the ones who scored the two free agents that everyone speculated all year would choose James Dolan's franchise in free agency. They then scrambled to spend a combined $57 million on four power forwards. To their credit, most of that money will be off the books by the 2021 free agency, but they'll likely be back to square one: lots of speculated interest, no actual stars.
Still, there will be fertile soil for casual fan content from the Knicks, as Dolan will ban reporters who don't buy his record and wear a fedora to shield his head from whatever fans decide to throw at him. He'll release an album in February called "Never Changin'" that's a concept blues record about a misunderstood billionaire who rides a talking motorcycle through the countryside and admires the "old ways." Fans will beg him to sell the team and he will instead somehow buy more of it, creating duplicate Knicks teams that are equally bad in each multiverse timeline so that literally infinite Knicks fans' realities are only ones where their team never wins but everyone keeps talking about them anyway.
Casey Taylor is a writer living and working in Pittsburgh, where nobody ever wants to talk about basketball because we haven't had a great player since the 70s. You can follow him on Twitter, where he screams into the void about the Sixers and our hell culture.